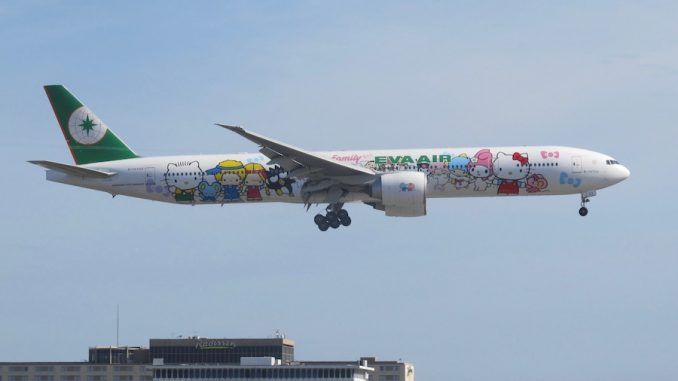 While it is common for movies and TV shows to have sponsorships with various corporations, usually the extent of these partnerships can range from appearing in the media to commercials. However, some marketing deals between studios and airlines tend to go a tad farther than a billboard aid or a show appearance, as these companies show.
The biggest name at special TV and movie jets is All Nippon Airways of Japan, who has been running special liveries since 1998. The first jets to wear a special promotion was a Boeing 747-400 and Boeing 767-300, which wore schemes for the Japanese anime and manga series Pokémon.
Service on the Pokémon themed aircraft would be different from traditional ANA services with crew members and cabin interiors being designed to match the aircraft's exterior theme. In total ANA would paint 11 aircraft in Pokémon colors, with the last special livery Boeing 777-300 being repainted to the standard livery in 2016.
However, the end of the Pokémon jets did not mean the end of themed flights as All Nippon had made an agreement with Disney and LucasFilm to offer special themed Star Wars flights. The first Star Wars jet, a Boeing 787-9 Dreamliner painted similar to the movie's popular droid R2-D2, started service in October 2015.
Following the release of R2-D2, three more Star Wars jets would be released with a Boeing 777-200 painted as C-3P0, a Boeing 777-300ER painted as BB-8 and a hybrid droid scheme Boeing 767-300. The aircraft interiors and service match the droid on the outside of the plane so flying different Star Wars aircraft lead to different experiences.
When it comes to popular Asian characters, none is more commonly seen painted in transportation than Sanrio's Hello Kitty. The manga, video game, anime and movie character has appeared across its homeland of Japan on both Japan Airlines aircraft and was even slated for a Sanrio themed Shinkansen bullet train starting service this summer, but Taiwan's Eva Air offers the ultimate Hello Kitty experience.
The airline originally signed the marketing deal with Sanrio in 2005 to offer Hello Kitty themed flights from Taiwan to Japan using an Airbus A330. The aircraft featured the anthropomorphic cat girl and her friends on the fuselage and had a special interior with even the flight crew having special Hello Kitty-themed attire. The flights were so successful that Eva Air expanded the program. Currently, there are seven Sanrio planes in Eva's fleet, with four of those jets specifically Hello Kitty colored and offering flights ranging from Japan to Europe to the Americas.
With the massive popularity spike that came with Sir Peter Jackson's The Lord of the Rings series in the early 2000s, Air New Zealand was betting on fans of the series wanting to visit the airline's home country and film site for the franchise. The carrier applied stickers to three different aircraft that featured actors and backdrops of the New Zealand landscape as the Oceanic carrier branded itself the 'Official Airline to Middle Earth.'
The original fleet of aircraft would be phased out over time but when the start of the 2012 prequel series The Hobbit would come around, Air New Zealand would once again claim the title of being Middle Earth's carrier. Special fuselage length stickers for The Hobbit and The Hobbit: The Desolation of Smaug were applied to two different Boeing 777-300ERs. The liveries would last till 2016, when they were returned to standard Air New Zealand colors.
While the ANA Star Wars jets are definitely a product of Disney marketing, the California-based movie and TV show conglomerate is no stranger of short-lived exterior only airline liveries. Movies such as Moana, Coco, and Planes have appeared on Hawaiian Airlines, Southwest Airlines, and Qantas for a short period of time before being removed soon after the movie leaves theatres.
Furthermore, the company has promoted their theme parks with liveries on aircraft from Japan Airlines, Alaska Airlines, China Eastern, WestJet, TAM, and Iberia. Currently, the only movie livery in existence is WestJet's Frozen livery on a Boeing 737-800 (C-GWSV), while sponsorships for Disney parks are currently on Alaska Airlines (Disneyland and Carsland), Vueling (Disney Paris), China Eastern (Disney Shanghai), LATAM (Walt Disney World) and WestJet (Walt Disney World).
Despite the success these brands have seen, they are not alone in promoting shows and movies with various programs appearing on aircraft. Fox's The Simpson's famously appeared on Western Pacific Airlines before the airline's grounding in 1998. SunExpress of Turkey has made special stickers for various movies, including The Smurfs, Home, and Despicable Me that would be removed once the movies left theatres.
Films like Batman vs. Superman, X-Men Apocalypse, Kung Fu Panda and Avatar would appear on Turkish Airlines, Air Asia X, Hainan Airlines and Virgin Australia, respectively. And it's not just movies alone, with TV shows and series like Asia's Got Talent, Discovery Channel's Shark Week and the EuroVision Song Contest being worn by airlines like JetStar, Southwest, and Austrian.
While these liveries are usually short-lived, for those who do last a while and provide special service it can be rewarding to fans of the series. Both Eva Air and All Nippon have stated that demand for special movie-themed airplanes has driven them to look to create more. Although the demand sometimes dies or contracts get terminated such as the Pokémon jets, for fans of the current running series of jets, there is always the chance to fly with your favorite characters from the big and little screen.
Although Ian McMurtry was never originally an avgeek, he did enjoy watching US Airways aircraft across western Pennsylvania in the early 2000s. He lived along the Pennsylvania Railroad and took a liking to trains but a change of scenery in the mid-2000s saw him shift more of an interest into aviation. He would eventually express this passion by taking flying lessons in mid-Missouri and joining AirlineGeeks in 2013. Now living in Wichita, Kansas, Ian is in college majoring in aerospace engineering and minoring in business administration at Wichita State University.
Latest posts by Ian McMurtry (see all)