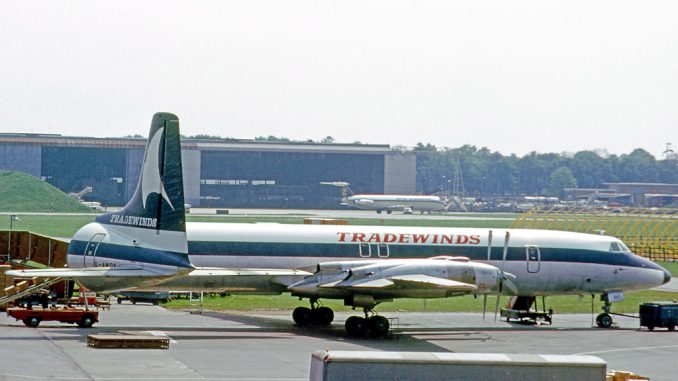 In 1969,  British cargo airline Tradewinds Airways was formed after the collapse of its predecessor Transglobe Airways. The new airline took to the sky with the launch of charter flights from their hub at London's Gatwick Airport and would serve a variety of destinations over the course of their history.
With their fleet of Canadair CL-44 aircraft, the airline had numerous interesting and unique charter operations at different times. Tradewinds started out with relief flights to Nigeria during its civil war, which enabled expansion throughout the region, in addition to the Middle and Far East, with its quad turboprop CL-44s.
Later operations included charter flights for the UK's Ministry of Defence for missile transportation to NATO arctic test ranges, transportation of Formula 1 race cars in Brazil during the Grand Prix and livestock transportation. The carrier lead the way with comfortable, effective transportation for champion race horses as well.
In 1977, however, Tradewinds was taken over by the Lonhro Group. The airline's fleet, consisting solely of aging Canadair CL-44s, was revamped in favor of new Boeing 707 jet aircraft. Additionally, new international routes to Toronto and Chicago were added to the already extensive international route map.
Within a few years, Tradewinds created joint ventures with Sudan Air Cargo and Dan Air. The cargo-only airline was highly successful and likely could have continued its upward trend of growth and success. Unfortunately, the Lonhro Group sold the carrier off as a result of financial hardship, and it rapidly faded away.
The airline ceased operations in 1990, 21 years after it first started operations.
Ashley is currently a senior in high school and plans on pursuing a career in aviation or journalism. Her favorite airplanes include the Boeing 777, 737MAX, and Airbus A350. She enjoys taking flights on various airlines to different airports and planespotting at her local airports.
Latest posts by Ashley Magoon (see all)