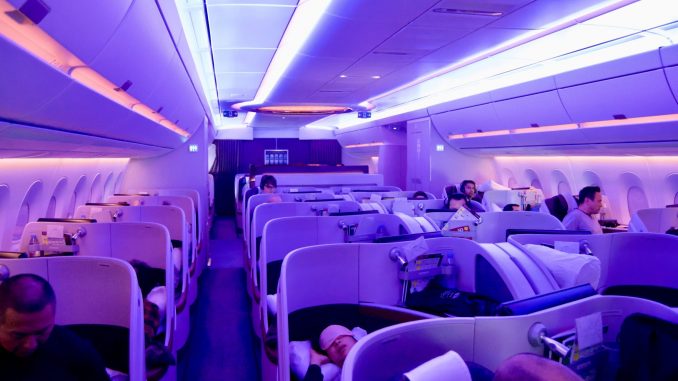 Two weeks ago, AirlineGeeks traveled to Doha, Qatar, for the 31st Annual IATA International Ground Handling Conference. This year's conference, the first one to take place in the Middle East, was being hosted by Qatar Airways and Qatar Aviation Services, their ground handling subsidiary, and would focus on advancing a field of the aviation industry that most passengers pay little attention to, ground services.
Since Qatar Airways was hosting the event, they invited a select group of journalists to attend and cover the conference. AirlineGeeks was chosen as one of those organizations invited to attend.
The opportunity to attend the conference and travel to Qatar was a first-time experience for me, as I don't travel internationally that often. In addition to covering the conference, we would also have the opportunity to test out Qatar's newest aircraft on the over 7,000 miles journey from the United States to Qatar.
Being based in the Washington, D.C., the natural thing for me to do would be to take Qatar's daily flight from Washington Dulles to Doha. However, since this was a once in a lifetime opportunity, I wanted to experience all of Qatar Airways that I could. Since the lead writer for the trip, AirlineGeeks' Tom Pallini, was flying on his own from New York's JFK Airport on the new Airbus A350-900, I decided to fly up to New York and join him.
After our tickets were confirmed, it took a while for the shock to dissipate, but since the trip was only two days away when we received our confirmation emails, we didn't have much time to prepare for the amazing experience ahead of us. In less than 48 hours, I'd be riding on an Airbus A350, a plane I never thought I'd have the privilege of flying on in my entire life.
Initially, we were put in economy tickets and had to mentally prepare ourselves for the 12-hour journey in the back of the plane. This would be the longest flight that Tom and I had flown and the idea of 12 hours, half a day, was daunting.  I traveled up to New York's JFK airport the night before from Washington to ensure that I would be at the airport at least two hours early, as the flight was international.
Preflight at JFK Airport
Arriving at JFK's Terminal 7, which Qatar uses for its morning flight to Doha as opposed to its usual Terminal 8 that it shares with Oneworld partner American Airlines, on a Saturday morning, the check-in area was empty. Virgin America was still in operation and was checking in passengers for their flights to California and Interjet at the desk next to us was checking in passengers for one of their flights to Mexico.
As with most international flights departing the United States, I wasn't able to get a mobile boarding pass as they aren't issued without document verification. After handing over my passport to the Qatar Airways', my check-in agent was surprised when looking at my ticket. After a phone call and a few clicks on the computer, I was handed my boarding pass that, to my surprise, said "Business Class."
The airline had upgraded us for the hop to Doha, as there were a few seats available on the flight. I was assigned seat 1K and Tom was given seat 1A. After security, the next stop was the British Airways Galleries Lounge on the 3rd floor of the terminal. Upon entering the lounge, I was focused more on the fact that I was holding a ticket for seat 1K on the Airbus A350 instead of admiring the room I was in.
However, it was my first time in a first class lounge and, although we didn't spend much time there before boarding, I was able to have some breakfast. British Airways shares the lounge with other operators in the terminal, but it was remarkably quiet. I fixed myself a quick breakfast of yogurt and a muffin but was still in much anticipation for the flight out to Doha in a little over an hour, especially because of the upgrade we'd received.
Airbus A350-900XWB Business Class from New York to Doha
Upon leaving the lounge, I showed my gratitude to the servers and went to see my aircraft at gate 3 out of Terminal 7. I was in great anticipation to fly on the A350, as I had viewed it as the counterpart to the 787 that is so well-regarded. The aircraft is still new, with only one U.S. carrier, Delta Air Lines, flying it. The experience of flying on it is still very unique.
Upon being the second person to board the aircraft, it was clear that the cabin crew was going to impress. They took my ticket and gave me the "Welcome onboard, Mr. Fischer" greeting, that was only given to the few business class customers.
There was a full in-flight team just for business class that was completely cut off from economy. I was taken to my seat in the first row of the aircraft and immediately noticed the enormous IFE screen. It was bigger than any other aircraft I had flown on and featured some noticeable new options like three different camera views and extensive entertainment choices.
Business Class on the A350 is arranged in a 1-2-1 configuration with herringbone style seats with direct aisle access. The semi-private seats are secluded, but still very open. Flight attendants introduced themselves, asked for a pre-departure drink order and then took our coats.
The live map was a bit outdated, although it did give lots of useful information like position and altitude. As Qatar is a Muslim country, it gives you the option to know where Mecca is when praying. It was not the modern map like on Delta and former Virgin America aircraft, so I had my screen on the camera view for most of the 12-hour journey.
There was a ton of overhead storage space, plenty for two or even three small carry-on bags, and plenty of room for my suitcase. Shortly after getting situated, I was handed my business class menu, wine list and sleeping suit. Qatar Airways calls their pajamas a sleeping suit and they were surprisingly comfortable. Plus, I was glad to be wearing something other than a business suit for the long ride.
I was served my pre-departure champagne and stayed glued to the rear-camera view for taxi and departure out of JFK. The seat was very impressive and noticeably new. It had about 12 button controls to adjust the armrests, pitch and even firmness of the seat while also having controls to go into the lie-flat bed and an eating position. Everything was automated and the seat had plenty of storage space in the armrest as well as on the footstool.
I was given a pair of noise-canceling headphones and quickly got settled into my sleeping suit after departure. The bathrooms were nothing out of the ordinary in terms of size but were retrofitted to look luxurious. There were four total bathrooms for business class, although they were not much bigger than a normal economy size bathroom. The main difference was the complimentary toothbrushes and razors, as well as the full-size mirror and better lighting.
The rest of the journey was centered around Qatar's dine-on-demand service, which was a new experience for myself and Tom, a seasoned international traveler. I was very eager to try the dine-on-demand meal plan, as anything could be ordered at any time and there were no specific meal times. This had the cabin crew working non-stop, although it also meant that I could eat whenever I wanted and sleep whenever I felt tired.
As Tom mentioned, when in Business Class, you often find yourself staying up to enjoy the meal service, which can hurt your sleep schedule. With dine on-demand, you don't miss out on anything if you fall asleep. Meal times are whenever you get hungry, which helps on a long flight.
The meal choices looked fantastic and, since we departed from the United States, were fairly American-ized. Some of the standouts were the Lobster Macaroni and Cheese, Beef Tenderloin, and Chocolate Lava Cake. Our European counterparts attending the conference were surprised when they heard the choices, but we didn't mind one bit.
I progressed in the standard fashion, although I did have some ice cream when first got in the air, with the Lobster Macaroni and Cheese for an appetizer, Beef Tenderloin for the main entree and Chocolate Lava Cake for dessert. Every time you ordered a meal, whether it just be ice cream, the flight attendants set the tray table with a white cloth, silverware, place settings and even a fake candle when it was nighttime. While sometimes it was unneeded, you eventually just learned to sit back and watch them do it.
Surprinsgly, the bread and olive oil options on Qatar were some of the most promoted by the flight attendants. When they brought it to my seat, I could tell why. The seemingly whole dinner roll was actually three different types of bread rolls that easily broke apart. The three choices were standard white, pumpernickel and an olive bread. Among the olive oil choices were regular, spicy chili, garlic and balsamic vinegar.
Everything I ate was fantastic and left me wishing that the flight was even longer so I could have it again. When I was ready for bed, with about six hours left in the flight, a flight attendant walking by insisted that she would make my bed for me. She laid down a mattress pad and situated my bed into the lie-flat position. Every little thing was done for you, even retrieving an item from your jacket that you left behind. The pampering was unique and, coming for a non-pampered lifestyle, can actually be difficult to adjust to.
The amenity kit was handy as it came with earplugs and a sleeping mask, although it was not needed as the cabin crew controlled the automated window shades from up front, making the cabin completely dark. This was one of my favorite features, as at each window there were two buttons to move the window shade up and down, providing a very seamless and luxurious look.
Full from the dinner service, it was time for bed. I woke up over Iraq, of all places, and decided it was time for breakfast. After one more breakfast of steel-cut oats and upon arrival into Doha, we were instructed to put our seats in the upright position for landing.
We touched down smoothly at Hamad International Airport after passing over The Pearl-Qatar and admiring the beautiful city skyline of Doha. We were nervous about the flight initially but after experiencing the Business Class treatment, we ended up wanting the plane to take the long way to Qatar.
Overall, my experience on the A350 was overwhelmingly positive, although the fact that I was in business class really impacted that view. Even in economy though, the legroom and IFE was above average, especially when compared to the U.S. big three carriers.
Boeing 777-300ER Q Suite from Doha to Washingon
After an exciting conference and touring the city of Doha for a few days, it was time to head back to the States on QR707.
For this flight, we were once again on economy tickets. This would be the challenging flight, 14 hours back the U.S., the longest we've ever taken and on the border of an ultra-long-haul flight. I was flying directly home to Washington and Tom was going to New York, although both on the Boeing 777-300ER with Q Suites.
However, again at the last minute, Tom and I were upgraded to Business Class. Similarly to when we left the U.S., this was a huge relief as the flight was monumental for us. Upon boarding, I was sad to be leaving the stunning Hamad International Airport but was looking forward to my first ride in the well-regarded QSuite.
I was in Seat 1A, a rear-facing Q Suite and one of the last business seats available on the flight to Washington.
My first impressions of the suite were very positive, as I could easily tell that it was, again, brand new and had plenty of space for all of my bags. The most notable features right off the bat were the elegance of the design and the closing door.
It felt very private and unlike the regular business class of the A350, I could sit back and not be seen or bothered by any passengers on their way to the lavatory. Speaking of the lavatory, it was noticeably larger on the 777 than the A350. There was space to move around and a nice little shelf to lay my pajamas on while changing.
Not only was the Q Suite a more private experience, but when it was time for bed, I got eight hours of solid sleep, a feat that is very rare to come by on airplanes these days. The fact that I had my own closed-off suite made the experience much more private and comforting as opposed to the more open business class on the A350.
The service was largely the same on both aircraft, as both use Qatar's dine-on-demand service. The only difference was on the menu. Since we departed Doha in the morning, there were more breakfast options and the food was more Arabic style, since we left from the Middle East.
The QSuite Double Bed
Tom was lucky enough to have a relatively empty Business Class cabin on his Boeing 777-300ER to New York and kindly asked to test out one of the QSuite double beds. He'll take over this part of the review.
For those lucky passengers seated in the center of the business class cabin that have nobody sitting next to them or have purchased two seats, Qatar Airways has arranged the suites in a way that a double bed can be arranged from two lie-flat seats. While the concept of the double bed was confusing to me at first, due to the partition separating the two seats and separate footwells, all my questions were answered when I laid in it for the first time.
For those traveling alone with the double bed made, you feel suspended from the rest of the plane. The high walls of the seat combined with the sunken feel of the lie-flat bed create a private experience like no other. Two suites all at your disposal. This option is suitable for the long haul flights that Qatar frequently operates to destinations such as New York, Auckland and be Los Angeles. However, the service is currently limited to the Boeing 777-300ER, Airbus A350-1000 and a handful of Airbus A350-900s.
For those traveling in a group, either with family, friends or business partners, the Q Suite can be opened up for a communal experience, using rear-facing seats to have everybody facing each other. However, this requires at least 4 people traveling together, which I didn't see on my flight. On my flight, I saw couples sleeping side by side and people lucky enough to get both seats to themselves to have a little extra room.
Clearly, the QSuites are able to handle both ends of the privacy spectrum. You can either be hidden away from the rest of the plane in a double bed all to yourself or be completely open to your neighbors surrounding you. With the former, you can go an entire flight without knowing there was anybody else on the plane. In contrast, you can be incredibly open and immerse yourself in the business class community. The choice is yours.
There are trade-offs, however. While the double bed configuration is as close to being at home in bed as possible, it's not exactly like being in a traditional bed. Due to the fact that the suites are designed for one person in normal operations, the footwell is designed for one person as well.
For those of you who like to spread out or like to roll over to the other side of the bed, it's entirely impossible as the separate foot walls will not allow it. However, as opposed to lie-flat seats where you have to remain relatively stiff with either your arms crossed or st your side, the double bed allows you to stretch out the parts of your torso.
My biggest question was how did the suites fully come together with the partition separating the two suites. The answer is simple, the top of the partition is leather so that when it is stored below, it will be a soft leather surface instead of the material that makes up the Suite walls.
While the double bed feature will require either a semi-empty flight or cost a pretty penny to reserve both seats, it's an important aspect for the frequent long-haul travelers, particularly business travelers. A large part of long haul is the mental aspect of the flight. A 14-hour flight on its face seems daunting. However, with Qatar's QSuites and the double bed arrangement, it becomes more bearable as you get a sense of home and being in a bed, which eases the stress of a long flight such as the one we did from Doha to New York.
Though this arrangement may be only for those lucky travelers that get to fly long-haul business class regularly, it's an impressive feature of Qatar's fleet. After laying down in one of the suites in my Qatar Airways-issues pajamas, I can say that I wouldn't have minded taking the long way back to New York. Plus, there's something about feeling like you're camping out on a plane to make the hours and miles go by.
Final Thoughts on the A350-900 vs. 777-300ER Business Class
The new A350-1000 aircraft, as well as the newer A350-900 aircraft, are receiving the QSuite business class, as Qatar plans to implement it gradually on many of their long-haul aircraft. As for which one is better, it's a matter of user preference. For privacy barons, the Q Suite is the way to go. You can feel completely isolated until you land at your destination and realize you shared the plane with other people.
Overall, on either aircraft, the experience in Business Class on Qatar Airways was impeccable. Nearly everything was new and the cabin crew was always friendly. The dine-on-demand service in business class makes it much easier to sleep and eat on your own schedule, as opposed to a set meal time on most flights.
Qatar Airways offers a premium service at a price, but when paid, there should be no doubt about receiving a consistent and luxurious journey to wherever the destination may be.
Editor's Note: Qatar Airways provided travel to AirlineGeeks for the Doha conference.
AirlineGeeks.com began in February, 2013 as a one-man (er… teenager, rather) show. Since then, we've grown to have 20 active team members, and yes, we're still growing. Some of us are looking to work in the aviation industry as professionals when we grow older. Some of us are still trying to decide what we want to do. That's okay though, because we're all here for the same reason: we love the airlines. We're the youngest team of airline industry journalists out there.
Latest posts by AirlineGeeks.com Staff (see all)