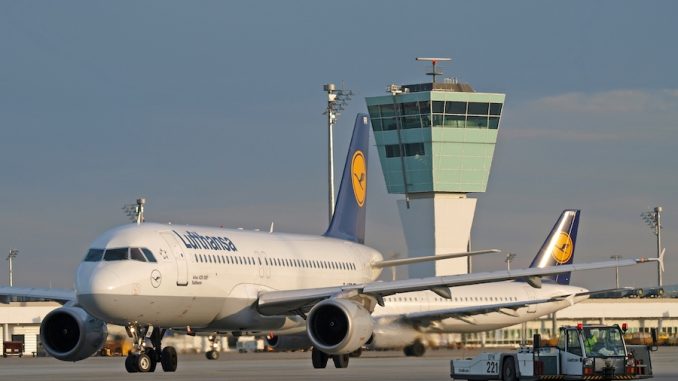 German flag-carrier Lufthansa will soon begin a long-term test of the pilot assistance system LNAS (Low Noise Augmentation System) on its Airbus A320 aircraft. The system could help pilots land their equipment more quietly and efficiently, according to an announcement made by German Aerospace Centre DLR. The test phase is expected to launch by the end of May 2018.
Lufthansa jointly announced the planned tests this week with its research partners, Frankfurt Airport operator Fraport and the German Aerospace Centre DLR, where it said it will equip 86 of its A320s with the new system. The tests will be supported by noise measuring equipment already in place on the ground around Frankfurt Airport.
This will allow for the accurate collection of noise data as planes approach the runway. The system will be used at on all Lufthansa flights equipped with LNAS, but only Frankfurt will collect empirical data on ground noise. The commercial test phase follows one year of testing by the German Aerospace Centre's A320 Advanced Technology Research Aircraft or ATRA, which took place throughout 2017.
LNAS supports pilots in optimal aircraft operation during the approach and landing phase. During landing – generally the most labor-intensive phase of a flight – it is often difficult for pilots to select the optimum times at which to extend the flaps and lower the landing gear to achieve peak quietness so the landing approach can be conducted in quiet, fuel-efficient circumstances with the engines at idle.
The LNAS assistance system uses the Electronic Flight Bag (EFB) display inside the cockpit to indicate to pilots the optimal points at which they need to carry out certain actions to create the ideal low-noise descent in line with the airport approach controller's instructions. If a pilot misses the window to carry out a certain action, the system recalculates the next steps and adjusts the approach and landing profile accordingly.
DLR and Lufthansa expect a significant reduction of ground noise in the approach path of the aircraft and a reduction in fuel consumption. Since the system helps pilots avoid using the air brakes, increasing engine thrust while landing should become unnecessary, thereby reducing fuel consumption and noise.
Lufthansa will train 25 pilots on the LNAS system over the next four weeks. By the middle of next year, all A320 type aircraft and all pilots are expected to have completed their training to operate the new system. Lufthansa expects the testing to be complete in May 2019.
Adrian joined AirlineGeeks as a writer in 2017. He had always wanted to become a pilot and while he chose a different career path for now, his interest in aviation continues to grow every day. Adrian was fortunate to travel extensively for business in the past five years. As a result, he focuses his research and writing on passenger services and experiences on a variety of airlines. His favorite aircraft include the Airbus A350, A380, and the Embraer passenger jets.
Latest posts by Adrian Vannahme (see all)