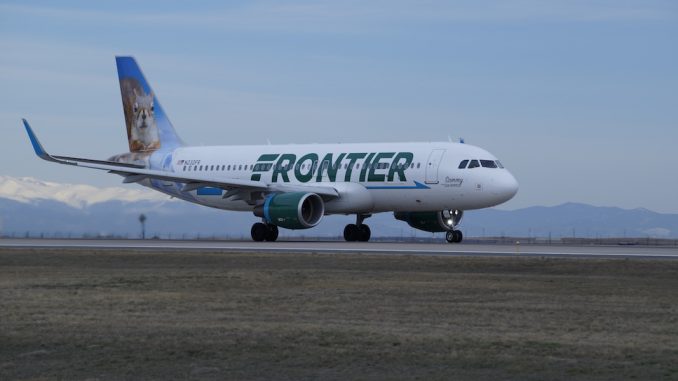 Frontier announced that they would be expanding their route map with the addition of two new cities to their list of destinations. The two new cities will be Norfolk and Wichita. The route announcement also includes six new flights from Jacksonville.
In a press release from the airline, Daniel Shurz, senior vice president of commercial for Frontier, said, "These additional nine routes are the latest evidence of Frontier's commitment to make air travel more affordable and accessible to everyone."
Wichita will see service from Denver on a three times weekly basis starting on Aug. 30. Flights will operate on Tuesday, Thursday, and Sunday utilizing Airbus A320 aircraft. This will mark the return of the airline to Wichita following their cancellation of services in November 2012.
Norfolk will see the addition of two flights for the airport's first ever service from the ultra-low-cost carrier. Flights to both Denver and Orlando will operate on a twice weekly basis. Operations will commence from both cities on Aug. 12 and be operated on A320 aircraft. Currently, flights will operate on Thursday and Sunday.
The six new flights that will be added from Jacksonville will bring the total of cities served from the Northeast Florida destination to 12, doubling the current total. Starting on Aug. 12, a seasonal service to St. Louis will commence as well as a daily, year-round flight to Las Vegas. The following day will see the commencement of twice-weekly seasonal service to Kansas City and Buffalo.
The same month will also mark the inaugurals between Jacksonville and Minneapolis/St. Paul and Milwaukee. These flights will be seasonal as well.
All flights from Jacksonville are currently listed on Airbus A320 aircraft. With the exception of St. Louis and the aforementioned daily Las Vegas flight, all routes will be operated on a twice weekly basis. Along with the doubling of destinations served from Jacksonville, Frontier will also become the largest airline at the airport in terms of cities served.
Jace has been working at AirlineGeeks for nearly three years. Born in Seattle, Boeing and aviation quickly took over his life and he never stopped looking up. Jace enjoys plane spotting and taking trips just so he can fly. He is currently studying at Embry-Riddle Aeronautical University while earning his Bachelors of Science in Air Traffic Management.
Latest posts by Jace Moseley (see all)