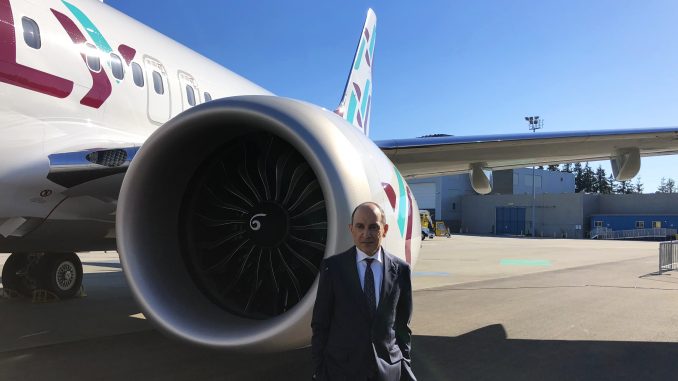 At Boeing's Everett facility on Friday, Air Italy took delivery of its first 737 MAX 8 aircraft, EI-GFY. The aircraft was unveiled and showed off to VIP dignitaries and guests and was met with plenty of optimism for the future of the Italian aviation industry. The aircraft is just one of the twenty expected to be delivered to the airline over the next three years of which eight will come this year.
Air Italy initially showed off the paint on their new jet via Facebook about three weeks ago. The new livery featured the signature Qatar Airways burgundy alongside an aquamarine color forming a unique and striking pattern on the white fuselage. Air Italy titles lined the front of the aircraft accompanied with a patterned arrangement at the rear.
Not revealed to the public beforehand was the cabin of the new MAX. It featured a standard three by three layout with maroon seats on the aisle and window positions and grey seats in the middle position. Similar to current MAX aircraft in service, Air Italy opted for a Bring-Your-Own-Device (BYOD) setup featuring no IFE screens. Aside from standard features on the MAX, the airline also decide to take advantage of Boeing's Space Bins.
CEO of Qatar Airways, His Excellency Mr. Akbar al Baker, was in attendance at the event and got a first-hand look at the aircraft. He also shared his thoughts upon seeing the new jet in person: "To see the aircraft here for the first time, it truly brings to life the next exciting chapter for Italy's future carrier of choice, providing the people of Italy with the sophisticated travel experience that they deserve."
Qatar Airways previously strengthened its commitment to Air Italy in 2017 with the acquisition of 49 percent of AQA Holding, the new parent company of Air Italy. They are also joined along with Alisarda who owns the remaining 51 percent.
The introduction of the MAX is apart of an aggressive fleet renewal process, replacing current 737 Next Generation aircraft. Air Italy plans to use their newly acquired 737 MAX aircraft on routes across Italy and Europe which includes flights connecting Milan to Rome, Naples, Palermo, and Olbia which were launched on May 1.
In the future, additional routes using the new aircraft from Milan to the Sicilian east coast city of Catania and Lamezia Terme are expected to commence on July 1 and September 1 respectively.
AirlineGeeks.com began in February, 2013 as a one-man (er… teenager, rather) show. Since then, we've grown to have 20 active team members, and yes, we're still growing. Some of us are looking to work in the aviation industry as professionals when we grow older. Some of us are still trying to decide what we want to do. That's okay though, because we're all here for the same reason: we love the airlines. We're the youngest team of airline industry journalists out there.
Latest posts by AirlineGeeks.com Staff (see all)