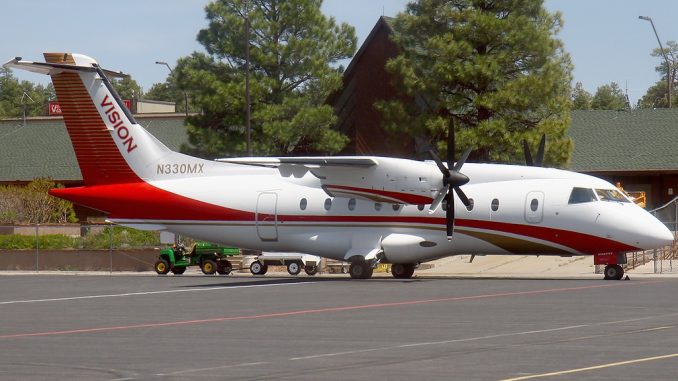 While some airlines have successfully made the move from smaller regional and charter operations to commercial service over the years, there are plenty of airlines who fail to live up to the hype and in the long run, suffer their corporation's collapse or near collapse due to overexpansion. One of these airlines who stepped too far outside their comfort zone was Las Vegas-based Vision Airlines.
Vision's roots are traced back to when they were a sightseeing company based in Las Vegas. The small airline operated small propeller airplanes that offered aerial tours of the Grand Canyon, Hoover Dam, and the Las Vegas Strip. Vision operated out of a small office building on North Las Vegas Airport through the 1990s focusing on gaining a reputation in the local area.
However, the airline's demand for profits saw them start to add charter flights through the late 1990s and early 2000s with the goal being to attract more revenue and travellers to the Las Vegas area. The carrier took hold of used Dornier Do-328s and Boeing 737-400s for the charter business.
While charter operations were kicking off with the airline leasing airplanes to various travel companies and U.S. government branches, Vision was not satisfied with leaving their operations at just providing aerial sightseeing and aircraft chartering. And so, in 2010, Vision Airlines announced they would make the switch and add commercial operations to their list of services.
The airline decided that they would use the fleet of Dornier and Boeing aircraft to provide commercial service from Destin, Florida starting in 2011. Vision would start dramatically by adding service to 20 cities in just a few weeks after the announcement was made with most of these destinations being in the Southern U.S. in hopes of winning over the northern Florida travelling crowd. The airline also operated a small hub in Gulfport, Miss. with routes to Baton Rouge (continuing on to Las Vegas), Houston-Hobby, Atlanta, and St. Petersburg.
To help promote their expansion into the south, Vision Airlines decided to partner with NASCAR Camping World Truck Series team owner Billy Ballew to run a truck partially owned by the airline. Despite claiming victory at the season-opening race at Daytona and gaining massive media attention when Formula One champion Kimi Räikkönen signed a one race deal with the team, Vision Aviation Racing was a disaster.
The team failed to secure sponsorships deals and their main driver failing to qualify for races. This lack of sustain left a huge divot in the airline's already borderline finances, resulting in the team lasting less than the 11 month NASCAR season before suspending operations.
Meanwhile, Vision continued their expansion by adding Boeing 737 service from Freeport, Bahamas to Raleigh, Richmond, Louisville, and Baltimore. However, the Destin expansion was a complete failure due to a rushed start of service and lack of demand and so by spring 2012, the airline moved their operations from Gulfport and Destin to Myrtle Beach. The new route map would prioritize routes to the Rust Belt, with 10 destinations in total ranging from Springfield, IL to Clarksburg, WV.
But much like their previous attempts, routes to Myrtle Beach were rushed and disorganized and as a result, the airline's second attempt at a southeast hub blew up in its face. By the end of the year, the Las Vegas-based brand was down to just flights between Gulfport and St. Petersburg.
Although the flights had stopped, the lenders and debtors didn't stop coming for Vision Airlines. The airline would face a numerous amount of aircraft groundings and court cases of grand theft due to their lack of payments to the original Florida routes they operated, especially Destin.
To try and turn some profit on the airline's Boeing 737-300s, Vision agreed to lease their aircraft to Newport News' PEOPLExpress Airlines in hopes of them being a success and helping to pay off some of the lessee's debt. However, PEOPLExpress only lasted four months before they themselves were bankrupt and the Boeing 737-300s were back looking for work.
With no success in their adventures the charter or commercial industry, Vision Air returned to their roots and downsized to just being a sightseeing company in Las Vegas. The airline operated one Dornier Do-228 based in North Las Vegas with flights of the Grand Canyon being offered daily.
Where does that leave Vision today, for the most part as a shadow of its former self? The airline has restarted charter operations using a Boeing 767-300 and makes most of its revenue off of the sightseeing operations that it had been known for in Las Vegas. However, the company has a daily reminder of its previous flaws, with various Dornier Do-328s lying abandoned across the North Las Vegas airfield, reminding the company's staff of an expansion gone horribly wrong.
Although Ian McMurtry was never originally an avgeek, he did enjoy watching US Airways aircraft across western Pennsylvania in the early 2000s. He lived along the Pennsylvania Railroad and took a liking to trains but a change of scenery in the mid-2000s saw him shift more of an interest into aviation. He would eventually express this passion by taking flying lessons in mid-Missouri and joining AirlineGeeks in 2013. Now living in Wichita, Kansas, Ian is in college majoring in aerospace engineering and minoring in business administration at Wichita State University.
Latest posts by Ian McMurtry (see all)