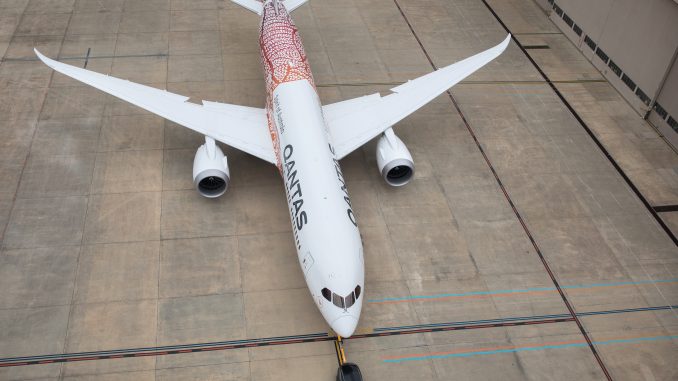 Tesla and Qantas teamed up to complete a Guinness World Record for the heaviest tow by an electric passenger vehicle on Tuesday. The two companies met on a Melbourne Airport taxiway for the challenge. In one corner, Tesla's Model X P100D. In the opposite corner, a Qantas Boeing 787-9.
The Model X successfully towed the 130 ton Dreamliner, surpassing its rated road tow weight of 2.5 tons. The tow lasted nearly one-thousand feet by the large amount of torque provided by the Tesla's dual electric motors.
This is not the first time an electric vehicle has moved a Qantas aircraft. The Australian flagship carrier currently uses electric pushback tugs in Sydney and Canberra in an effort to reduce greenhouse emissions.
Full Video:

Watch as a @Qantas Boeing 787-9 Dreamliner is towed by a @Tesla Model X. pic.twitter.com/VvvhF7DEvN

— AirlineGeeks.com (@AirlineGeeks) May 15, 2018
Qantas and Tesla are also teaming up to better benefit their customers. Tesla owners who are apart of Qantas' Frequent Flyer program will have their mileage offset in their vehicles as well as their flight miles for the month of June as part of their Future Planet Program.
Qantas is also adding Tesla High Power Wall Connectors at Qantas valet facilities in Sydney, Melbourne, Brisbane, and Adelaide. In 2016, the airline raced one of its Boeing 737 aircraft with a Tesla Model S in an effort to celebrate innovation and sustainability.

Matthew Garcia became interested in aviation at the age of 12 when he installed Microsoft Flight Simulator X on his computer. He was instantly "bitten by the bug" and has been in love with aviation ever since. Matthew took his first introductory flight in 2013 and began normal flight training in February of 2015. Over the years, Matthew's love and knowledge for aviation has grown tremendously, mainly due to FSX. Garcia flies highly advanced aircraft in a professional manner on a highly complex virtual air traffic network simulating real world flying. In 2016 Matthew achieved his private pilot certificate from the FAA. Now he studies journalism at the University of Nebraska at Omaha.

Latest posts by Matthew Garcia (see all)