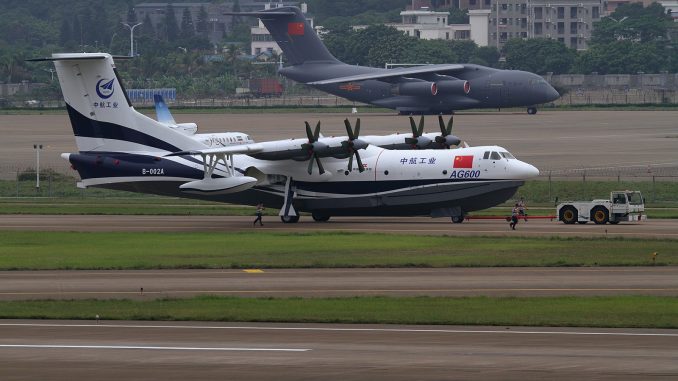 China expects to develop and market the world's largest amphibious aircraft by 2022. The aircraft known as the AG600 is part of a two-pronged approach by the government to advance its aviation strategy.
The AG600 is approximately the size of a Boeing 737 seating 50 people and is designed to carry out various marine missions and battle forest fires. It has a range of up to 2,800 miles and can take off and land in six-foot waves.
The aircraft took its maiden flights this past December and is expected to go through several more rounds of testing this year as it continues to work towards certification which it expects in 2021.
So far, several Chinese companies and government departments have placed a total of 17 orders for this aircraft.
Though the aircraft has the ability to battle forest fires and other various humanitarian capabilities the aircraft seems to mainly fit a role in China's quest to dominate the South China Sea. The aircraft will allow for movement of troops and cargo across the islands in which the government is attempting to gain ownership.
Approximately $5 trillion worth of global trade passes through the South China Sea and it is vital that the area remains accessible. It is one of the most strategically important waterways in the 21st century.
The area is home to fishing grounds and supply routes of many bordering nations and is thought to have oil and natural gas deposits seconded only to Saudi Arabia. The waters are also used by non-regional countries such as Japan and South Korea which use the sea to access the Indian Ocean.
The Chinese government is attempting to claim 95 percent of the area in an attempt to seize control of this vital waterway. The government has been building artificial islands throughout the sea to support growing military infrastructure such as the AG600.
A five-judge panel in The Hague unanimously rejected nearly all of these Chinese claims with little success. The Chinese government issued a statement that it has the right to "safeguard maritime order."
China has been making strides in the aviation industry both to grow its commercial sector but also its sphere of influence in the region. The country is on a path to become a major player in the aviation industry by developing its own aircraft, posing a threat to both Airbus and Boeing.

Hemal took his first flight at four years old and has been an avgeek since then. When he isn't working as an analyst he's frequently found outside watching planes fly overhead or flying in them. His favorite plane is the 747-8i which Lufthansa thankfully flies to EWR allowing for some great spotting. He firmly believes that the best way to fly between JFK and BOS is via DFW and is always willing to go for that extra elite qualifying mile.

Latest posts by Hemal Gosai (see all)