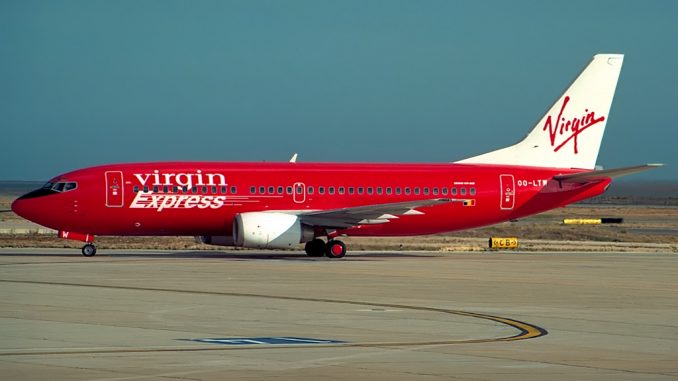 In the 1990s, Richard Branson and the Virgin Group were looking to expand into continental Europe. By this time, Branson's Virgin Atlantic was a successful competitor to British Airways and the group was looking to expand. In April 1996, the Virgin Group purchased the EuroBelgian Airlines in nearby Belgium. The leisure airline was founded by Victor Hasson and Georges Gutelman from the remnants of Trans European Airways.
The Virgin Group renamed the airline to Virgin Express, retaining the Brussels hub and fleet of Boeing 737 aircraft. The airline focused on offering low-cost scheduled flights to across Europe, but mainly to sunny destinations in the Mediterranean. The airline became a major competitor to Belgian national carrier Sabena. At its peak, the airline operated a fleet of 26 Boeing 737 classic aircraft.
The Belgian carrier also had a subsidiary based in France, named Virgin Express France, which also operated to sunny destinations in Europe using the Boeing 737 classic from its base at Paris Charles de Gaulle International Airport. However, the French carrier would only last for a year from 1998 to 1999.
In 2004, the Virgin Group chose to sell Virgin Express. The airline was sold to its main competitor, SN Brussels Airlines, formerly Sabena. The two companies would be under the control of a new holding company, SN AirHoldings. During this time, however, the airline reduced its fleet down to 10 aircraft with five Boeing 737-300s and five Boeing 737-400s.
For the time being, the airlines were operated as separate brands and three Boeing 737-300s were upgraded in 2007 with winglets to improve fuel economy. Then, in March 2008 SN AirHoldings announced that the two brands would be merging. The resulting airline would be Brussels Airlines, which continues to operate to this day, except now under the German-based Lufthansa Group.
The sale and merger of Virgin Express help to show the struggle that the Virgin Group has had in the short to medium-haul market in Europe. In addition to the sale of Virgin Express, the group had previously operated UK-based Virgin Sun to leisure destinations in Europe and Little Red for intra-UK flights. Both were closed due to financial concerns, and all show the struggle of the Virgin Group in Europe outside the long-haul market.

Daniel has always had aviation in his life; from moving to the United States when he was two, to family vacations across the U.S., and back to his native England. He currently resides in South Florida and attends Nova Southeastern University, studying Human Factors in Aviation. Daniel has his Commercial Certificate for both land and sea, and hopes to one day join the major airlines.

Latest posts by Daniel Morley (see all)