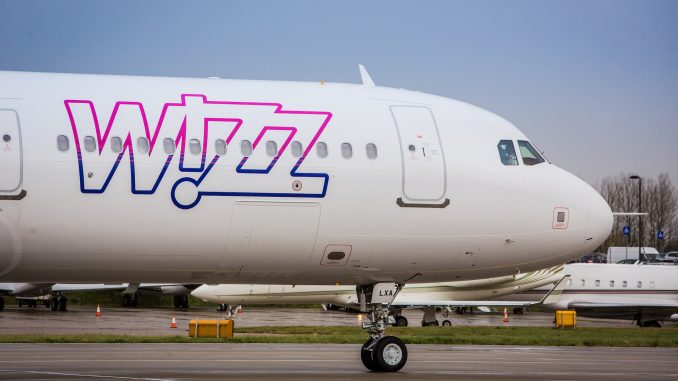 European low-cost carrier Wizz Air has published strong results for the end of the 2018 financial year compared to 2017, with passenger numbers increasing 24.7 percent to 29.6 million, revenue by 24 percent to €1.95 billion, and profit increasing 22.1 percent to €275 million.
Headquartered in the Hungarian capital Budapest, the airline is the largest based out of central and eastern Europe, operating over 500 routes from 27 bases in the region, including Romania, Ukraine, Georgia, and Poland. Destinations include Morocco, Azerbaijan, and Dubai, along with most major cities in the rest of Europe.
The company also anticipates a strong performance heading into 2019 and beyond citing the anticipation of reduced operating costs, mainly thanks to the increased fuel-efficiency of its incoming fleet of Airbus A320s and A321neos, scheduled to begin delivery next year.
This comes in a week where low-cost heavyweights Ryanair announced their own strong results but warned that the coming year would present more challenges. Ryanair CEO Michael O'Leary indicated his thoughts on the matter in a disconcertingly vague fashion, describing the outlook as "on the pessimistic side of cautious."
Wizz Chief Executive Jozsef Varadi was less cryptic in his optimism, indicating that while labor costs would rise next year, the growing proportion of newer aircraft in his airline's fleet was already showing financial benefits, with the expectation that total costs will fall by one percent: "That is a significantly different position from our competitors. You are seeing cost creep with all of them [sic]."
Addressing investors, Varadi added that factors such as the rising price of crude oil would offer up increased expansion opportunities for the carrier, such as what happened with the collapse of Monarch Airlines in the UK, which allowed Wizz Air to expand into the slots that became available upon Monarch's demise.
"That [oil price rise] will put pressure on the weak performing airlines and almost all of central and eastern Europe's incumbent national carriers perform very vulnerably with no profitability and no liquidity, so we will see what happens to them."
At present, the carrier operates a fleet of 96 aircraft: 68 A320s and 28 A321s. This number is to be bolstered by another 273 in total, the largest order book of any European airline.

Andy flew regularly from a young age on family holidays, but his interest in aviation really began when he saw Concorde flying over his grandparents' house on final approach. A Power Engineer by profession, his hobbies include writing, playing guitar, and taking a beating at squash.

Latest posts by Andy Nelson (see all)