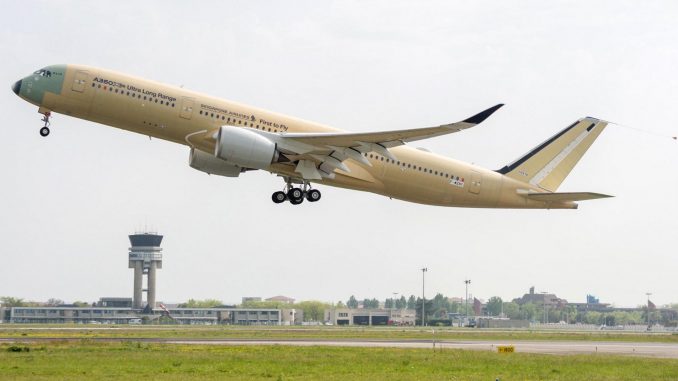 After initially announcing its intentions to restart non-stop flights to Newark Liberty International Airport (EWR) from Singapore's Changi Airport (SIN) in 2015, Singapore Airlines confirmed today that the world's longest flight will once again commence on Oct. 12, 2018.
The ultra-long-haul flights SQ21 and SQ22 will fly almost 19 hours and will cover 10,350 miles in each direction. For the first week of operations, the flight will depart Newark three times on Tuesday, Friday and Sunday, shifting to daily service on Oct. 19 once the airline takes delivery of a second Airbus A350-900ULR aircraft.
This isn't the first time Singapore Airlines is flying non-stop to the East Coast U.S. from its hub in Singapore. In June 2004, the airline began operating the EWR-SIN route onboard an Airbus A340-500, an aircraft designed specifically with ultra long-haul routes in mind. The aircraft initially had 64 business class seats and 114 premium economy seats in a cabin known as "executive economy class." In 2008, the aircraft was retrofitted to offer just 100 business class seats.
With the A340 not being an economically viable aircraft for the route and revenue no longer high enough to sustain the flight, the airline decided that it would stop the service in Nov. 2013, almost ten years after starting. Following this announcement, Singapore Airlines reached a deal with Airbus to sell back five A340-500 and in return, purchase additional A380 and A350 aircraft.
In Oct. 2015 the airline finalized an order for seven Airbus A350ULR aircraft so that it could resume non-stop flights to EWR and other U.S. destinations. Currently, Singapore Airlines is the only airline that has ordered the Ultra Long Range (ULR) variant of the A350. It was reported in 2015 that the big three Middle Eastern carriers were eyeing the plane, but none have since ordered the aircraft.
By increasing the Maximum Takeoff Weight (MTOW) of the ULR aircraft from 275 tonnes to 280 tonnes (620,000 pounds) and increasing the fuel capacity, the A350-900ULR is able to fly 11,100 miles. Comparatively, the ULR variant can fly almost 2,000 miles more than the A350-900 and A350-1000, which can fly 9,300 miles and 9,100, respectively.
The airline will take delivery of its first A350-900ULR in September of this year and plans to have all seven aircraft by the end of 2018. Onboard, the aircraft will be configured with 67 business class seats and 94 premium economy seats, similar to the initial configuration of the airline's A340-500s used in the early years of the SIN-EWR route. The seats will be the same to those found onboard the airline's current A350s.
With the new A350, passengers will have added benefits that were not found on the A340-500 including higher ceilings, larger windows, an extra wide body and specialized lighting designed to reduce jet lag. The aircraft's carbon composite airframe also allows for improved air quality due to a more optimized cabin altitude and humidity levels.
Due to the range limitations, Singapore's only non-stop flight to the U.S. from its Singapore hub is to San Francisco onboard the A350-900. The airline serves its other U.S. destinations via five European and Asian cities with fifth freedom flights from Frankfurt, Manchester, Seoul, Hong Kong and Tokyo. Currently, United Airlines is the only other airline to serve Singapore non-stop from the U.S., which it does from its Los Angeles and San Francisco hubs.
In addition to the resuming EWR flights, the airline has expressed interest in serving other U.S. cities with its new ULR planes. While Los Angeles (LAX) was mentioned, it may not be the airline's first choice since United Airlines recently began that route using a Boeing 787-9 aircraft. Another potential city for ULR flights is Houston, which is currently served via Manchester.
At nearly 19 hours, the flights will be secure in their position as longest in the world, ousting Qantas' newest Perth to London flight and moving Qatar Airways' Auckland to Doha flight into third place.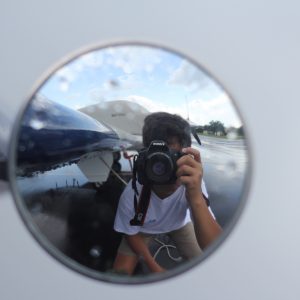 Mateen has been interested in aviation from a very young age. He got his first model airplane at six and has been airplane spotting since he was nine years old. He has always had a passion for aviation and loves learning about different aspects within the industry. In addition to writing for AirlineGeeks, Mateen is also an editor for his high school's newspaper. You can also find him on Instagram (@Plane.Photos) where he enjoys sharing his aviation photography with thousands of people everyday.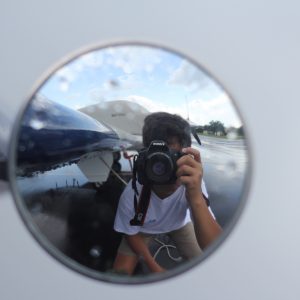 Latest posts by Mateen Kontoravdis (see all)