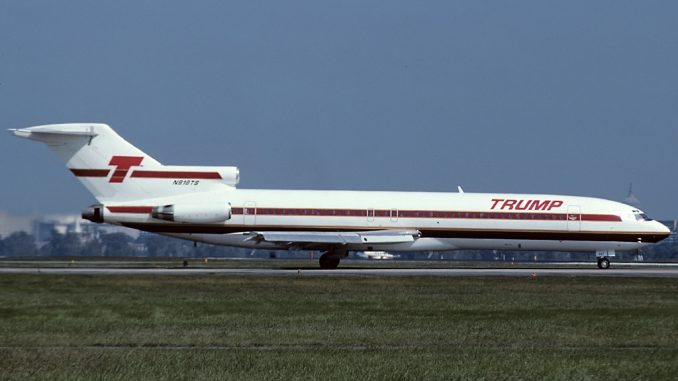 When it comes to profitable routes the eastern seaboard of the United States is littered with opportunities to cash in on the short flight times and demand for business travellers to move from one large city to the next. However, for Eastern and Pan Am, there were only a handful of routes that were profitable for their respective failing carriers. With Eastern already on the verge of collapse, a deal was struck between Eastern CEO Frank Lorenzo and The Trump Organization CEO Donald Trump to sell the Eastern Shuttle brand to Trump.
Under Trump's leadership, Eastern Shuttle would evolve. The airline would be rebranded as Trump Shuttle and service aboard the carrier would go from being no frills to full service. Trump Shuttle would include self-service kiosks and overhauled interiors to make the carrier feel more luxurious.
The newly formed carrier would officially start service in 1989 using 17 Boeing 727s that would fly between New York-LaGuardia, Boston Logan, and Washington-National. These flights would be offered hourly in order to hold on to the Shuttle branding.
Alongside Trump Shuttle, the future President of the United States would also form a helicopter operator called Trump Air. Trump Air operated between various heliports in New York City, New York-LaGuardia, and Atlantic City. This helicopter operation would launch the same day as Trump Shuttle in hopes of attracting both business travellers and people travelling to his property in Atlantic City.
Unfortunately, the idea of a full-service shuttle airline never caught on and the Boeing 727 was a poor choice of aircraft during the Gulf War. While Pan Am was struggling, they were still offering much lower airfare than Trump Shuttle and therefore were winning over travellers faster than the new carrier was. Meanwhile, the Gulf War meant that operating costs were increasing and Trump was hurt by the gas-guzzling Boeing 727s with no replacement in sight.
In response, Trump started slowing schedules and looking for other modes of making money in the transportation business. He frequently chartered aircraft for private guests or for military transfers along the East Coast. But these changes were not going to stop the hemorrhaging that was going on at Trump Shuttle, and Donald Trump wanted out as soon as possible.
By 1991 Trump was looking for a buyer and willing to take on at least $100 million worth of the carrier's debt to make the deal sound more lucrative. Delta was already off the table since they were taking over Pan Am Shuttle but interest remained with both Northwest Airlines and US Air. Trump originally offered the airline to Northwest, who wanted to take hold of the potentially profitable shuttle service.
Although the talks with Northwest would break down, US Air would make an offer in 1992 and Trump would agree to sell the shuttle brand to US Air, becoming US Air Shuttle. Trump Air would also shutter once the deal was finalized with the helicopter operation being as unprofitable as the full-service airline. US Air officially took control of Trump Shuttle on April 7, 1992, turning the airline back into its original no-frills model that would last until US Airways' merger with American Airlines in 2015.
Although Ian McMurtry was never originally an avgeek, he did enjoy watching US Airways aircraft across western Pennsylvania in the early 2000s. He lived along the Pennsylvania Railroad and took a liking to trains but a change of scenery in the mid-2000s saw him shift more of an interest into aviation. He would eventually express this passion by taking flying lessons in mid-Missouri and joining AirlineGeeks in 2013. Now living in Wichita, Kansas, Ian is in college majoring in aerospace engineering and minoring in business administration at Wichita State University.
Latest posts by Ian McMurtry (see all)