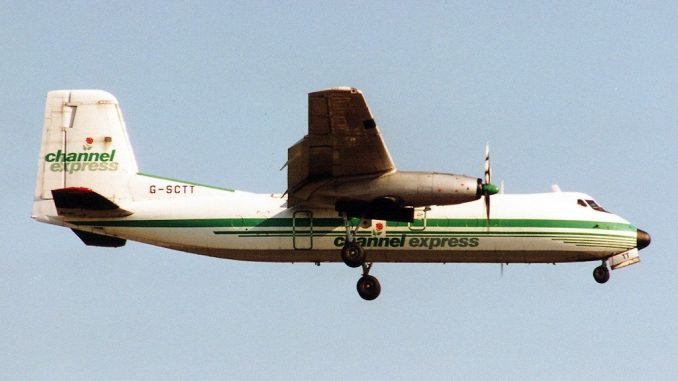 In 1978, Channel Express took to the skies out of Bournemouth Airport in England as Express Air Services. Initially, the carrier focused on service to the Channel Islands off the coast of France and cargo operations in the U.K. and Europe, in addition to charter flights to the Middle East, North Africa and Europe, until the early 1980s when its focus shifted to mail service following the acquisition of postal contracts. It was at that time the name changed to Channel Express.
The carrier operated a varied fleet over the course of its history. Its first aircraft was the turboprop Handley Page Dart Herald. Other aircraft included in its predominately Boeing 737 fleet were the Fokker F-27, Airbus A300, Lockheed L-188 Electra and Boeing 757.
Channel Express maintained a vast and extensive route network which expanded far beyond the U.K.'s borders. Domestically, the airline served London-Gatwick, London-Stansted, Manchester, Aberdeen, Nottingham and Edinburgh. Internationally, the carrier operated flights to numerous countries throughout Europe including the Netherlands, Poland, Italy, Germany, Ireland, France, Belgium, Denmark, Czech Republic, Finland, Malta, Kosovo, Portugal, and Spain.
As the airline expanded beyond the Channel Islands, as did its image. In 2006, the airline rebranded its image entirely, closing out the name Channel Express and becoming Jet2.com, which would go on to become a successful low-cost carrier operating throughout Europe.
Ashley is currently a senior in high school and plans on pursuing a career in aviation or journalism. Her favorite airplanes include the Boeing 777, 737MAX, and Airbus A350. She enjoys taking flights on various airlines to different airports and planespotting at her local airports.
Latest posts by Ashley Magoon (see all)