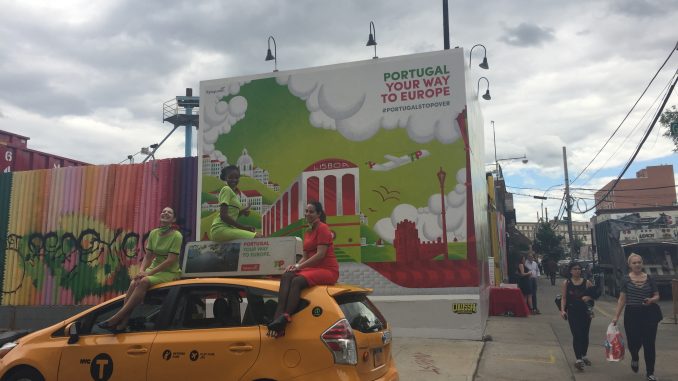 As the World Cup match between Portugal and Spain waged on, TAP Air Portugal was hosting a group of aviation geeks in Brooklyn's East Williamsburg neighborhood. On the corner of Bogart and Grattan Streets was a two-sided mural depicting and promoting the airline's Portugal stopover program, where European-bound vacationers travelers can spend time in Portugal at no extra cost provided they fly with TAP Air Portugal.
Green, white and red dominated the busy Brooklyn street as TAP employees adorned the colorful uniforms that the Portuguese flag carrier is known for. AvGeeks and passersby alike were treated to complimentary Portuguese pastries and the opportunity to win two free tickets on TAP Portugal through the airline's #PortugalStopover giveaway.
Surprisingly, the mural only took a few days to complete. Although there was no particular reason that this spot was chosen, the area does receive a lot of foot traffic. The mural will stay for 2 months, acting as an artful advertisement for the airline and promoting the stopover program.
Just down the block from the tri-color murals was the event space for the meetup. Once inside, a flurry of AvGeeks and Portuguese-Americans mingled and watched the big game, which saw the crowd erupt in a monstrous applause whenever Portugal scored a goal. The official event wouldn't start until just after 3 p.m. with the arrival of the main attraction, TAP Air Portugal Co-Owner David Neeleman.
Neeleman, of JetBlue, WestJet and Azul Brazilian fame, was personally on hand to help promote the program, a vital part of the airline's operations. Since European countries are within close proximity of each other, stopover programs allow airlines to capitalize on people's desire to visit multiple countries, at no extra cost to the airline or passenger as a stopover is simply an extended layover to a connecting flight elsewhere in the continent.
The programs are popular among flag carriers, as they benefit the country's they serve, and airlines that serve smaller countries, as the demand to solely visit smaller countries is lower. TAP Air Portugal meets this bill and is one of the only European airlines west of the Prime Meridian, besides Icelandair, to offer the program.
After a whirlwind tour beginning with an event in Times Square in the morning with the Prime Minister of Portugal and a Portuguese-themed lunch afterward, the multi-national airline executive arrived and was greeted by a contingent of New York AvGeeks.
Standing on the street corner in Brooklyn, Neeleman took pictures and answered questions. East Williamsburg turned into an AvGeek Mecca for about 20 minutes, as curious aviation enthusiasts had open availability to Neeleman to ask about any of his endeavors, including his latest with TAP Portugal.
One enthusiast was grateful for Neeleman's founding of JetBlue Airways, saying to the Brazilian-American executive, "Thank you for JetBlue." However, Neeleman was there for one reason, to promote TAP Portugal and its Portugal Stopover program.
Moving inside to the event space, Neeleman sat down with journalists to answer questions.
As the backdrop for the event was the Portugal vs. Spain soccer game, AirlineGeeks' first question was who was Neeleman, a Brazilian-American, rooting for in the World Cup, Brazil or Portugal? Neeleman answered as any statesman would, wishing them both luck and hopes they both progress to the finals.
Once the pleasantries were out the way, we dived into TAP Portugal and its plans for the future. When asked how the airline plans to compete American airlines moving into Portugal, especially with Delta Air Lines' service to the Azores and United Airlines' service to Porto, Neeleman said that TAP has the advantage with the stopover program and the airline wants to expand but it needs more planes. However, he also stated that the first order of business when it receives its planes is to make the airline's Porto-Newark service daily.
Neeleman was next asked about the Portugal Stopover program and why travelers should make the stop in Portugal, to which he responded that Portugal is a country close to his heart and everybody that visits the country wants to go back. Additionally, TAP serves numerous smaller cities in Europe, making the stopover program more attractive to those wanting to see more of Europe.
Expansion was also a key topic of discussion, as the airline only has a handful of North American routes, and Neeleman was asked if the rumors of a San Francisco route were true. While he didn't confirm or deny the rumors, he hinted at possible future California service due to the larger concentration of Portuguese-Americans. Houston was also a possible option as there is no non-stop service from the city to the entire Iberian peninsula.
When asked by AirlineGeeks if Neeleman had any plans to expand the opposite direction into Asia, as Air Italy is planning to do with its flights to Bangkok, Mumbai and Delhi, Neeleman said that his focus was on Europe and North American, with no plans to make Lisbon into an intercontinental hub.
Additionally, since the airline is still waiting for its Airbus A330-900 neo, AirlineGeeks also asked about the trend of late deliveries of Airbus' Neo aircraft. While Neeleman was frustrated about the delay, he understood the problem rested with the engine manufacturers rather than Airbus itself. When asked about the reliability of the Rolls Royce engines considering the delay with the engines and the problems with the Trent 1000s, Neeleman said that it is a concern but it won't damage the airline and it is more of a planning issue about what to do in case an aircraft's engines need to be replaced.
Neeleman, however, was excited about the Neo, praising its features including a new business class cabin featured 34 fully lie-flat seats, larger screens for the IFE systems, USB charging outlets and in-flight WiFi systems for passengers. These are features that passengers expect when they fly and TAP, similarly to JetBlue with its recent renovations, is committed to offering.  While there is no exact start date, Neeleman believes New York will be the first destination after a visit to Miami next week.
Regarding JetBlue's likely transatlantic expansion, Neeleman believes that the partnership between the two airlines will mean that JetBlue will not enter the Portuguese market and will focus more on the British Isles than the mainland continent. The two airlines have a close partnership, as both were run by Neeleman, and share Terminal 5 at New York's JFK Airport.
On the topic of JetBlue, AirlineGeeks asked what Neeleman thought about the airline in its current state, moving away from its egalitarian beginnings and if he envisioned the airline moving in its current direction. While he admitted that his plan was for egalitarianism, he's not opposed to the way the airline has proceeded after his departure. He stated that the world has changed since 2000, there are always people willing to pay more money for better service and, regarding Mint, it's a simple math equation that if one premium seat can sell more three regular seats, why not offer one.
The conversation then shifted to the topic of low-cost airlines, as TAP considers itself a low-cost airline, it isn't in the realm of airlines like Norwegian or WOW air. When asked if he was worried about the expansion of these airlines, he stated that he's not worried about it for three reasons. First, none of the new ultra-low-cost airlines have started flying to Portugal. Second, he doesn't believe that business model is sustainable. Third, Lisbon Airport is notoriously hard to get landing slots at, meaning they won't be coming to Portugal anytime soon.
The last topic was about the United States airline market in its current state. The executive didn't comment on rumors that he was planning on starting a new airline, as rumors circulated on Twitter last week that he was, and commented that the U.S. is no longer his strong suit, but did say that the pilot shortage is a major problem for the country.
Neeleman believes that the shortage easily solvable by measures such as increasing the use of simulators during training towards total flight hours and reforming the 1500 flight hour rule. Neeleman also stated Senator Chuck Schumer, a friend of Neeleman's that helped launch JetBlue, was on the opposite side of the issue because also didn't want a Colgan Air accident to happen again in New York State.
Additionally, Neeleman is frustrated at the government for not pushing through ATC reform and privatization, which he believes would streamline flight operations in the U.S. However, when asked if he would consider heading up the Federal Aviation Administration, Neeleman responded by saying he would "never say never."
Moving on, the topic of rising fuel costs was discussed. While Neeleman agreed with American Airlines CEO Doug Parker's statement that when fuel costs rise, so will airfares, he stated that both TAP and Azul have made a good investment in fuel-efficient aircraft that will help curb the effects of increased fuel costs. Additionally, he stated that TAP doesn't hedge fuel as much as he'd like them to, as he believes it will help in the event of rising fuel costs.
Lastly, AirlineGeeks wanted to know the difference between starting airlines such as JetBlue and WestJet and taking over a flag carrier such as TAP Air Portugal. Neeleman immediately answered that every single aspect is different, as there are different priorities for a flag carrier than a startup airline.
Commenting on Portugal's labor system, Neeleman also stated that the airline can't run as efficiently as he would like because it's incredibly hard to fire someone who isn't doing their job. Although he works closely with the Portuguese government, he believes that its labor system is one of the most restrictive in the continent, much different from starting a brand new airline and having more control over the hiring and firing of employees.
Following the press junket, Neeleman stayed behind to finish watching the game and chat with more interested aviation enthusiasts.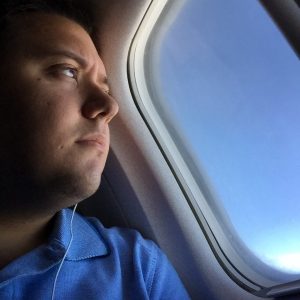 Tom has been flying for as long as he can remember. His first flight memory was on a Song Airlines 757 flying from LaGuardia to Orlando. Back then, he was afraid to fly because he thought you needed to jump off the plane in order to get off. Some years later, Tom is now a seasoned traveler, often flying to places just for the fun of it. Most of the time, he'll never leave the airport on his trips. If he's not at home or at work as a Line Service Technician at Long Island MacArthur Airport, he's off flying somewhere, but only for the day.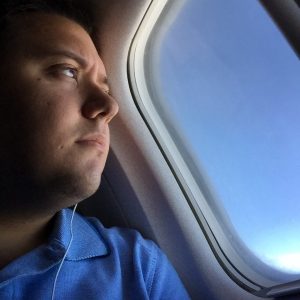 Latest posts by Thomas Pallini (see all)