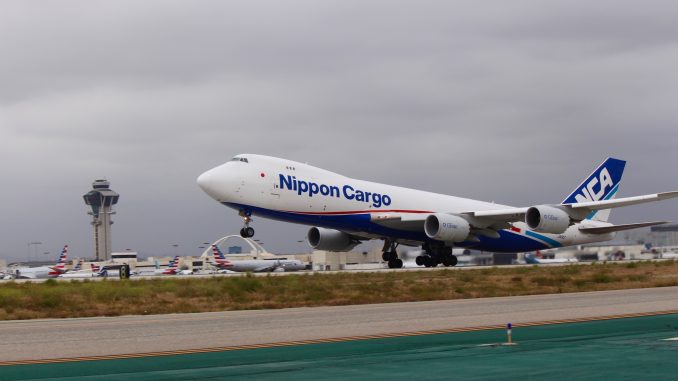 Nippon Cargo Airlines, also known as NCA, has announced that it will be suspending all departures from Tokyo as of June 16 and will be suspending all operations from June 17. The decision comes after inconsistencies were found regarding the application of lubricating oil to one of their Boeing 747-8Fs in early April.
In an effort to fully investigate the issue, the carrier has suspended operations and believes that a similar error may have occurred in maintenance records of other aircraft. NCA expects it will need a week to fully check its fleet of 11 aircraft.
However, the suspension of operations has left customers in a panic as 300 tons of cargo is now stranded. Customers have began to evaluate other methods of shipping their goods, but are worried that other flights cannot handle all of the load. Additionally, customers of NCA are looking at delays of almost two to three weeks.
NCA, Japan's only cargo-only carrier, operates 60 flights a week to and from Tokyo's Narita Airport to cities in Asia, North America, and Europe. A launch customer of the Boeing 747-8F since late 2015, the carrier currently operates eight aircraft of the type along with three Boeing 747-400Fs.
The discrepancy was first identified by Japan's transport ministry when it carried out inspections of the carrier's maintenance records due to two bird strikes which the carrier failed to report in a timely manner.
While the lubrication of engines may seem like a minor detail, the impact can have a lasting effect on the aircraft's engines and its overall performance. Lubricants allow the reduction of friction and wear, while also including cleaning, cooling, and sealing properties.
Lastly, the infrequent application of lubricants to engines can cause corrosion and rust within the aircraft's engines.
While Japanese airlines as a whole have a generally safe record, in the past, they have taken actions to suspend parts of their fleets in order to address maintenance issues.
In 2016, ANA suspended its fleet of Boeing 787 aircraft in order to address engine issues which resulted in the cancellation of at least 350 flights.
Back in 2007, ANA also suspended its fleet of 13 Bombardier DHC-8 turboprop aircraft after the front landing gear of one of its aircraft failed to come down. Additionally, prior to that, one Bombardier aircraft had issues with its heating system and another had issues with a warning lamp.
It is worth noting that Japanese companies are very apologetic in circumstances like these and the airline released a public apology stating, "We sincerely apologize for the inconvenience and worries we caused our customers. We will do our utmost effort to check safety for resuming operation as quickly as possible."
An "AvGeek" for most of his life, Akhil has always been drawn to aviation. If there is an opportunity to read about an airline, fly on a new airplane, or talk to anyone about aviation, he is on it. Akhil has been on over 20 different kinds of aircraft, his favorite being the MD-80. Additionally, he has visited 5 continents and plans to knock out the remaining two (Africa and Antarctica) soon. Based in Dallas, Akhil graduated from Texas A&M University with a degree in Management Information Systems and currently works in consulting. His dream is to become an airline executive.
Latest posts by Akhil Dewan (see all)