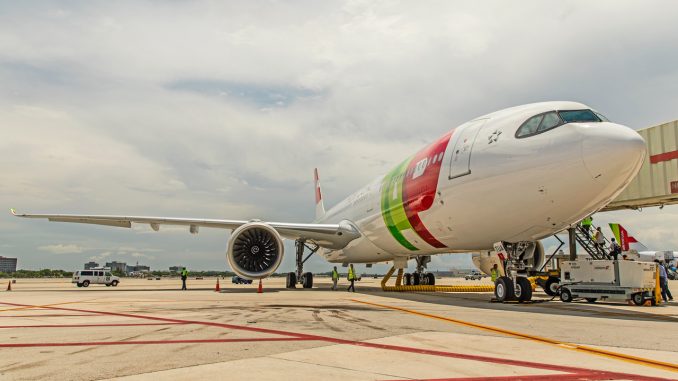 Representatives from Airbus, TAP Portugal, Rolls Royce, RECARO, and MIA were on hand to show off the newest Airbus widebody jet,  the A330neo, for the first time in the United States.  This is the first aircraft delivered to launch customer TAP Portugal.
The aircraft is embarking on a worldwide proving tour to complete the rigorous certification process.  Airbus is betting on this aircraft to turn a profit in the highly competitive mid-sized aircraft market.
The newest version of their already popular classic A330 will have commonality with the rest of the new Airbus lineup, range capable for longer missions, new generation reliability and modern avionics similar to the A350 including the Skywise system which will deliver more data than ever before in a widebody aircraft to monitor the status and help in preventative maintenance of the aircraft.
One of the most important changes Airbus is hedging on to land sales is the improved efficiency and range brought on by the new Trent 7000 engine and the new optimized wing that is 4m longer and includes a composite Sharklet.  This A330-900 will have a range of 1500nm more than its predecessor while delivering efficiency in the same range as the Boeing 787 Dreamliner.
Finally, the interior of the A330neo has been completely redesigned to match the more open cabin found on their A350 and includes RECARO seats, programmable mood lighting, larger overhead bins and new lavatories.  The A330neo is about 200 flight hours from completing its certification.  Following that, the aircraft will be put into revenue service with TAP.
This story and its corresponding photos were produced by AirlineGeeks photographer William Derrickson. 
AirlineGeeks.com began in February, 2013 as a one-man (er… teenager, rather) show. Since then, we've grown to have 20 active team members, and yes, we're still growing. Some of us are looking to work in the aviation industry as professionals when we grow older. Some of us are still trying to decide what we want to do. That's okay though, because we're all here for the same reason: we love the airlines. We're the youngest team of airline industry journalists out there.
Latest posts by AirlineGeeks.com Staff (see all)