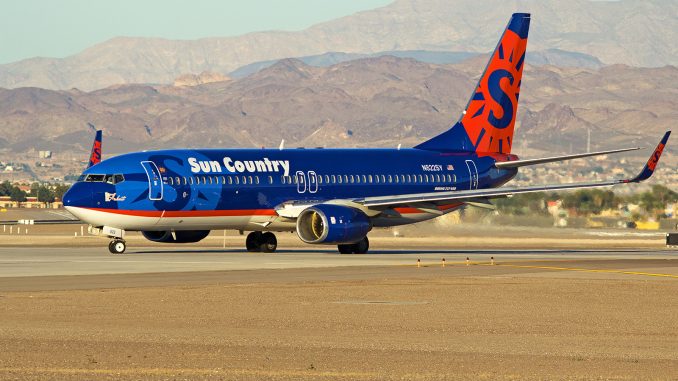 Newly converted ultra-low-cost carrier Sun Country Airlines announced 11 new point-to-point routes to destinations across the United States. The new routes will operate out of Dallas, Texas; Madison, Wisconsin; Portland, Oregon; and St. Louis, Missouri, as opposed to its hub in Minneapolis, to popular seasonal destinations throughout the U.S. and mostly aimed at Florida's Gulf Coast and the American Southwest.
Dallas/Fort Worth, a growing secondary base for the airline, will see the introduction of seasonal flights to Fort Myers and Tampa, Florida. Both flights to the Sunshine State will operate on a twice-weekly basis and begin in early October. Fort Myers will receive flights on Wednesdays and Saturdays starting Oct. 3, with Tampa seeing Monday and Friday service starting Oct. 5. These new flights will see the number of cities served from DFW increase from six to eight for Sun Country.
Dane County Regional Airport in Madison, Wis. will see new twice-weekly seasonal flights to both Fort Myers and Tampa, as well. Flight operations will be flipped to those from Dallas with Fort Myers seeing service on Mondays and Fridays and Tampa seeing flights from Madison on Wednesdays and Saturdays. The flights to Fort Myers and Tampa are set to begin Sept. 28 and Sept. 29, respectively, and will be the airport's first with Sun Country.
The city with the greatest number of route additions will be Portland, Ore. which will see flights to five additional cities bringing its route total up to seven. The new routes will add to the only two destinations currently served by the airline from Portland International Airport, Minneapolis and Orlando.
The Rose City will see four-times-weekly service to Honolulu, Las Vegas and Phoenix, all on a seasonal basis. Flights will also be operated to Palm Springs, Cali. and Reno, Nevada on a twice-weekly basis on Sundays and Thursdays and Mondays and Fridays, respectively. Service to Palm Springs and Las Vegas begin on Nov. 1 with service to Honolulu and Phoenix beginning Nov. 16 Reno rounding out the new flights on Nov. 16.
St Louis will also see the introduction of flights to Fort Myers and Tampa on a twice-weekly basis. Fort Myers flights will begin on Oct. 3 and operate on Wednesdays and Saturdays, while Tampa flights start Nov. 1 and operate Sundays and Thursdays. These operations will be the only routes Sun Country serves out of St. Louis on a scheduled basis.
The announcement of Sun Country's route additions come just weeks after the airline announced a new point-to-point summer schedule that saw the addition of routes such as Seattle-Anchorage. These routes are the hallmark of an ultra-low-cost airline, which Sun Country is still adjusting to following the sale of the airline from New York-based firm Apollo Global Management. The airline also just recently announced a rebranding to include a new paint scheme and interior cabin design.
Just like Spirit's massive Orlando expansion a few weeks ago, this rapid expansion also appears relatively low risk with a high ceiling for reward. The introduction of new cities such as Madison and St. Louis allows the airline to tap into markets that currently see somewhat limited service to tropical destinations.
Portland looks to be the greatest challenge for the airline, as they face direct competition on all routes with some seeing up to three other airlines already established on the route. It will be seen if the low-advertised fares will be enough to draw vacationers away from other carriers and maintain the same Minnesota charm that the airline is known for.
Jace has been working at AirlineGeeks for nearly three years. Born in Seattle, Boeing and aviation quickly took over his life and he never stopped looking up. Jace enjoys plane spotting and taking trips just so he can fly. He is currently studying at Embry-Riddle Aeronautical University while earning his Bachelors of Science in Air Traffic Management.
Latest posts by Jace Moseley (see all)