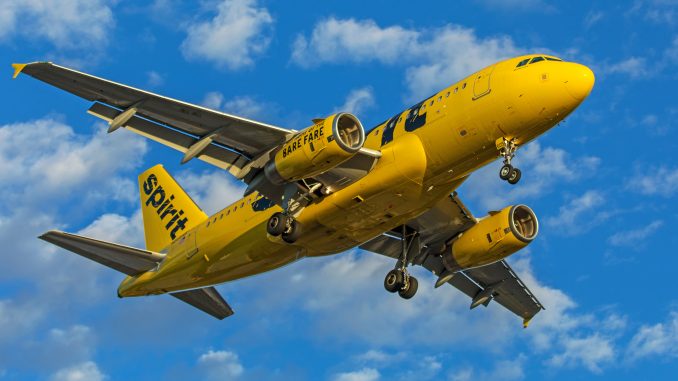 Spirit Airlines announced a significant expansion from their hub in Orlando. Starting this October, the airline will add nine international destinations along with two destinations in United States territories. These additional services will also be sandwiched by the introduction of services to three different cities located in the Carolinas.
Starting on Oct. 4, the airline will begin service to Aguadilla, Puerto Rico; Guatemala City, Guatemala; Panama City, Panama; and Santo Domingo, Dominican Republic. Guatemala City and Panama City will be operated on a four times weekly basis with Aguadilla running daily. Santo Domingo will start as a four weekly service with the flight becoming daily in early November.
The airline will continue inaugural flights the following two days with San Pedro Sula, Honduras and San Jose, Costa Rica starting on the fifth of the month. San Salvador, El Salvador will round out their international additions for the month of October starting twice-weekly flights on Oct. 6.
Additional flights to Colombia and the U.S. Virgin Islands (USVI) are set to start in early November. Daily flights to Bogota and three weekly flights to St. Thomas, (USVI) are set to start on Nov. 9. Flights to Medellin and Cartagena, Colombia are currently scheduled at twice weekly and will start on Nov. 9 and Nov. 10, respectively.
Spirit's CEO, Bob Fornaro, said, "Orlando is now one of our largest markets, and we have no plans on stopping our growth. The region is not only a wonderful, family-friendly destination, but it is well-positioned to now serve as a gateway to the Caribbean and Latin America."
This new announcement of flights to the Caribbean and Latin America comes just days after the airline announced the addition of 12 weekly flights to three destinations across North and South Carolina from Orlando. Starting Sept. 7, the airline will start three weekly flights to Asheville and Greensboro, N.C. These flights will become four weekly on Nov. 7. On Nov. 10, the airline will round out its expansion announcement with the commencement of twice-weekly flights to Myrtle Beach, S.C.
Outlook
While an expansion of this proportion has not been seen on an international basis by Spirit, they join the very crowded market that is the Florida low-cost international market. Although they already have established a presence in the Orlando market, this is their first foray into markets outside of the contiguous United States, minus San Juan.
If the airline can continue to build on its increasing customer service levels and use their current market share as a stepping stone, there is a real possibility for them to become a leader in the low-cost Latin America and Caribbean market. However, with the rapid expansion into already saturated markets, just a short hop away in Fort Lauderdale, there is the possibility that this move could backfire.
While poor performance in these markets wouldn't necessarily spell disaster for Spirit, it could show that other airlines are seen as superior in an important low-cost carrier market.
Orlando to/from
Starts:
Frequency:
Aguadilla, Puerto Rico
October 4
Daily
Guatemala City, Guatemala
October 4
4x weekly
Panama City, Panama
October 4
4x weekly
Santo Domingo, Dominican Republic
October 4
4x weekly until Nov. 7

Daily from Nov. 8

San Pedro Sula, Honduras
October 5
2x weekly
San José, Costa Rica
October 5
4x weekly until Nov. 7

Daily from Nov. 8

San Salvador, El Salvador
October 6
2x weekly
Bogotá, Colombia
November 8
Daily
St. Thomas, USVI
November 8
3x weekly
Medellin, Colombia
November 9
2x weekly
Cartagena, Colombia
November 10
2x weekly
Asheville, North Carolina
September 7
3x weekly until Nov. 7

4x weekly from Nov. 8

Greensboro, North Carolina
September 7
3x weekly until Nov. 7

4x weekly from Nov. 8

Myrtle Beach, South Carolina
November 10
2x weekly
Jace has been working at AirlineGeeks for nearly three years. Born in Seattle, Boeing and aviation quickly took over his life and he never stopped looking up. Jace enjoys plane spotting and taking trips just so he can fly. He is currently studying at Embry-Riddle Aeronautical University while earning his Bachelors of Science in Air Traffic Management.
Latest posts by Jace Moseley (see all)