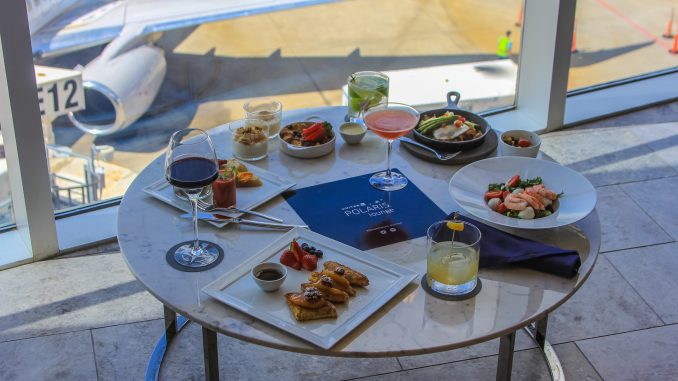 On Friday, United opened the doors to its latest Polaris Lounge at Houston's George Bush Intercontinental Airport (IAH). Located inside United's Terminal E, near gate E12 and the United Club, two sliding glass doors lead passengers to the lounge check-in desk. Similar to other Polaris Lounges, passengers are greeted by a magnificent light fixture, designed to mimic the constellations of seven zodiac signs.
From the check-in area, passengers eligible to access the lounge are escorted to an elevator which stops at the third floor of the building. To be granted entry, you must be arriving or departing in the United Polaris cabin or be departing in the business or first class cabin of a Star Alliance partner airline operating a long-haul flight out of Houston.
If you purchased your tickets with miles or upgraded to a Polaris ticket, you are also eligible to use the lounge. At this time, the airline is not planning on selling access to the lounge for passengers flying in economy or Premium Plus.
The area of the terminal where the Polaris lounge is located was formerly a part of Terminal E's rather large United Club. Now, access to both lounges is separate, though both entries are adjacent to each other.
Upon arriving on the third floor, the most notable change compared to other Polaris lounges around the country is its size. Unlike the Newark Polaris lounge, which opened last month with 455 seats, Houston's Polaris lounge has seating for 191 guests. However, executives at the airline said that this is intentional and that Houston's 12,584 square foot lounge is supposed to feel more like a "boutique hotel."
As a result, there are a few local touches incorporated into the design of the lounge. 11 paintings from two Houston artist are on display throughout the seating areas. In an effort to contribute more to a Boutique feel, this Polaris lounge also has many more walls, separating various seating areas, and making the space feel small and cozy. The seats and finishes in the lounge, however, are more or less the same as those found in other Polaris lounges.
While space in the lounge may seem limited, there are not that many Polaris customers traveling through Houston when comparing with United's San Francisco and Newark hubs. A total of 12 United flights depart Houston daily with customers seated in a Polaris cabin. Most United aircraft serving Houston still are equipped with the Polaris first cabin which the airline is in the process of retiring, so some refurbished 767-300s will feature a 30 seat Polaris cabin and some 777-200 flights may feature 50 Polaris business class seats.
Below is a list created by AirlineGeeks of all flights with the number of customers who are eligible to access the Polaris lounge. Note that first class passengers can bring one additional guest with them. Also, passengers traveling on EVA Air's 1:25 a.m. flight to Taiwan will most likely not have access to the lounge as the hours of operation are between 5:30 a.m. and 10:00 p.m. Additionally, passengers flying on partner carriers may opt to use their carrier's lounge if their airline operates one at the airport.
There are 22 signature workstations, each featuring two power outlets and two USB ports. Various other seating options are available in the lounge. United's attention to passenger connectivity is evident as the 191 seat lounge has a total of 324 power outlets and 264 USB ports scattered around the seating areas.
With five United flights departing Houston after 9:00 p.m., the airline expects the evening hours to be the busiest parts of the day. At its busiest times, the airline predicts it will see about 150-175 guests using the lounge. A large number of late-night flights means that there is also a larger sit-down dining room with space for 28, where passengers can order items from an a-la-carte menu. When looking at the relatively small footprint of the lounge, a large amount of space is dedicated to dining.
As the culinary and cultural hub of the South, this Polaris lounge's dining options focus heavily on Southern American cuisine. Some of the food highlights include a Texas breakfast skillet, Cajun andouille sausage and chicken étouffée, Argentinian roasted chimichurri chicken, tres leches bites and the United Polaris Burger, which will be on the menu at all United Polaris lounges.
During the preview event, I tried the Argentinian picadillo stew and the Chipotle mac and cheese casserole, both of which were delicious. Cold cuts, cheese, marmalades, and many other snacks are also available at the buffet for passengers looking for a light bite. The A-la-carte menu was not available to try, but the vast buffet options were more than suitable for me.
The bar was stocked with plenty of options, including four of United's signature drinks. Some local drinks were also available. And for those who prefer champagne when traveling in the premium cabin, the lounge offers Piper-Heidsieck "1785" Cuvee Brut. Near the dining room, there is also a Hydration Station, as United called it, with various refreshing infused waters, soft drinks, and bottled water available.
Six shower suites are also available for use. Inside each big suite, passengers have access to Cowshed Spa products and Saks Fifth Avenue towels. Shaving kits, combs, toothbrushes, and some other toiletries are available upon request from a shower attendant. Additionally, the staff will steam your clothes while you freshen up if you'd like. After looking back at customer feedback from previously opened Polaris lounges, the airline has also added a few bathroom stalls for passengers who do not want to utilize the showering amenities.
In an effort to be consistent with other lounges, there is also quiet rooms with daybeds. But, there are only two, which seems like a small number given the number of passengers the lounge plans to serve. They are however in the corner of the lounge, so it should truly be quiet. At the two daybeds, passengers will find a Saks Fifth Avenue pillow, blanket, slippers, and an eye mask similar to those found onboard the aircraft. There is also a white noise canceling machine in each room.
Overall, United's Polaris Club in Houston's Terminal E is a huge step up from other United Clubs found at the airport. With United now committed to adding one Polaris business class cabin equipped aircraft to its fleet every ten days, the true Polaris experience from check-in to arrival will soon be consistent with lounges and onboard seats. Still to come however are United's Dulles and Los Angeles Polaris lounges in addition to the international locations they have planned.
Thanks to loungereview, I was able to also check out American Express' IAH Centurion Lounge in Terminal D. While its a step up from many other lounges at the airport, I'd pick the Polaris lounge over it any day due to the lack of natural light in the lounge and because of the inferior seating and dining options.
However, one question still remains. Why no patio? Lately, patios have become a new trend at airports and lounges around the world. Delta Air Lines has been a big follower of this trend, with many Sky Clubs now offering Sky Decks as well for passengers looking to get a little bit of fresh air. United even opened an outdoor terrace at its Terminal 7 Los Angeles (LAX) United Club but did not add any others afterward.
When asking United's Director of Premium Services this question, his answer was quite simple and made sense. While patios are a cool feature, he said that they are not a good way to use space because customers will usually only visit them once and that's just to check it out. Instead, he said that he'd prefer using the space that would be a patio for features that passengers regularly use when visiting a Polaris lounge, such as the signature workstations. Plus, Houston's hot humid weather is not the most inviting for outdoor lounging.
But for AvGeeks, don't worry about the lack of a patio because the views are truly phenomenal. Floor to ceiling windows offers fantastic panoramic views of United's terminal E and runway 9/27.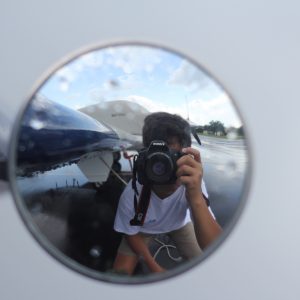 Mateen has been interested in aviation from a very young age. He got his first model airplane at six and has been airplane spotting since he was nine years old. He has always had a passion for aviation and loves learning about different aspects within the industry. In addition to writing for AirlineGeeks, Mateen is also an editor for his high school's newspaper. You can also find him on Instagram (@Plane.Photos) where he enjoys sharing his aviation photography with thousands of people everyday.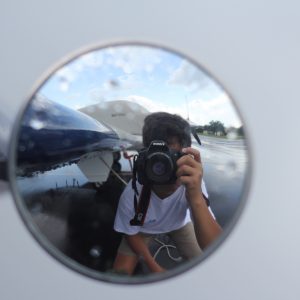 Latest posts by Mateen Kontoravdis (see all)