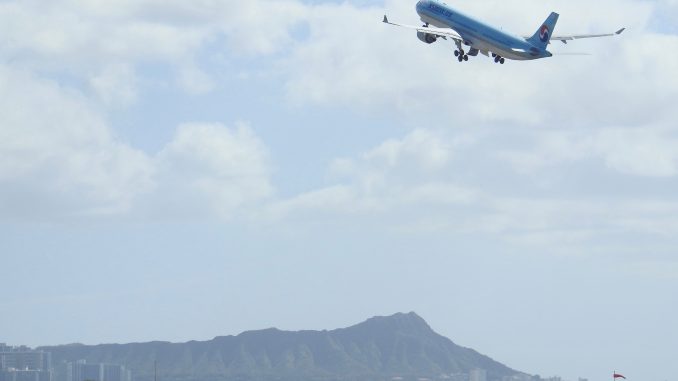 While Honolulu may be a popular destination for many Americans to travel to every year, the success airlines have found flying west of the islands has created a large market to the Oceania and Asia market. As a result, heavy competition has ensued in the years following as carriers try to win over new markets.
Carriers flying to the Hawaiian islands can be traced back to the propeller-driven days and the increasing demand placed on cross-Pacific travel after World War II.
Due to the lack of stopover points in the Pacific, it was common for carriers like Qantas and Pan Am to make their stops in Honolulu before carrying on to their destination. As time progressed and the jet age started, the stopover routes disappeared but carriers like Korean Air and Japan Airlines maintained their Honolulu presence thanks to the leisure market the islands developed.
Fast forward to the time following the economic recessions of the late 2000s and Honolulu was still holding onto service to a variety of Far East destinations including services to Tokyo on Japan Air Lines, Hawaiian, and All Nippon, Seoul flights via Asiana and Korean Air, Sydney flights on Qantas and JetStar and Air New Zealand flights to Auckland.
But once the worries of the recession decreased and the demand for Asia rose, carriers were more willing to dive into new markets. Due to their location, Hawaiian Airlines was one of the largest movers in the Asian market. The carrier would utilize their newer Airbus A330s to open routes to Sapporo, Osaka, Seoul-Incheon, and Tokyo-Narita, between 2010 and 2012.
Hawaiian's move to Tokyo-Narita is a prime example of how large the Tokyo-Honolulu market is, seeing how the carrier now operates to both Tokyo-Narita and Tokyo-Haneda. The route is the most popular from Honolulu, with both Tokyo airports combining to fly over 2 million passengers to Honolulu last year. Japan Air Lines is the largest carrier on the route with over 530,000 passengers a year from Tokyo-Narita, offering as many as four flights a day on Boeing 777-200ERs, Boeing 767-300ERs and seasonally on Boeing 777-300ERs.
JAL's domestic competitor, All Nippon Airways, currently offering three flights a day from Tokyo-Narita and Haneda using Boeing 787-9 Dreamliners. Currently, ANA is the third largest carrier on routes between Tokyo and Honolulu but ANA is making the changes to hopefully win over new passengers.
The airline will take hold of three Airbus A380s and will use them to increase the seat count offered on All Nippon between Hawaii and Japan. The airline will also open a new lounge above gate G3 which will allow ANA passengers to utilize the carrier's own lounge instead of relying on the United Club like they have in the past.
But competition between Japan and Hawaii extends past just Hawaiian, ANA and JAL. U.S. carriers Delta and United both offer flights to Tokyo-Narita using widebodies, with Delta using Boeing 767-300ERs and United using the Boeing 777-200ER. Other carriers use fifth freedom rules to get into the Tokyo market, with both China Airlines and Korean Air offering flights with the Airbus A330-300s and Airbus A350-900s from Tokyo-Narita.
Outside of Tokyo, there is further competition in Japan. Osaka has been a key focus for low-cost carriers to operate from in recent years. Both Air Asia X and Scoot have added stops in Osaka on their Kuala Lumpur-Honolulu and Singapore-Honolulu routes, respectively. The two carriers started the routes in 2017 to join Delta, Hawaiian and JAL on the Osaka to Honolulu route.
Other Japanese cities with routes to Honolulu include Nagoya on Japan and Delta, Fukuoka on Delta and Sapporo on Japan. In hopes of opening up more Japanese to more of Hawaii, JAL and Hawaiian have made it known they intend to start a joint venture that would allow Hawaiian to gain access to 28 new JAL markets while Hawaiian would open up six new inter-island markets to JAL passengers.
Outside of the Japanese market, there is still plenty of competition, especially in Seoul. Seoul is one of the largest markets for Honolulu with nearly 495,000 passengers flying between the two airports last year. The country's largest carrier Korean Air operates a mix of Boeing 777-300ERs and 747-8is on the route, with the 747 being used for the peak seasons.
The main rival, Asiana Airlines, counters their flights using their Boeing 777-200ERs. While both carriers offer flights on their main carriers, Korean Air took it a set further in 2015 and start flights using their low-cost carrier Jin Air to fly the Seoul to Honolulu route. The route is not offered daily, currently being offered four times weekly using Boeing 777-200ERs. Hawaiian also offers flights using Airbus A330-200s.
While Korea and Japan have established themselves as Honolulu's bread and butter moneymakers, China is starting to pick up steam. The first airline to announce a Chinese route was China Eastern, who in 2011 brought forward a plan to fly from Shanghai-Pudong to Honolulu. The route is operated using Airbus A330-300 aircraft. Following the success of China Eastern, both Air China and Hawaiian would announce service to Beijing-Capital in 2014 with both using Airbus A330s on the route.
Finally, the other heavily contested routes are to Australia and New Zealand. New Zealand sees services offered from Auckland on both Hawaiian and Air New Zealand who use Airbus A330-200s and Boeing 777-200ERs, respectively. 
Meanwhile, in Australia, competition is between Hawaiian, JetStar, and Qantas. While Qantas operates the largest aircraft of the three carriers with the Airbus A330-300, routes on the flag carrier are only flown from the airline's mainline hub in Sydney. JetStar and Hawaiian each offer two routes, with JetStar offering Dreamliner flights from Melbourne and Sydney while Hawaiian flies A330s to Brisbane and Sydney.
While other carriers like Philippine Airlines and Fiji Airways offer routes to Hawaii, these services are uncontested. However, the demand for Asian routes has seen a rapid change in the dynamics of the Hawaiian market as more carriers attempt to cash in on the increasing want for passengers to get to their choice of leisure destination. Whether this trend will continue has yet to be seen, but the change has already had its impact on carriers and the islands themselves.
Although Ian McMurtry was never originally an avgeek, he did enjoy watching US Airways aircraft across western Pennsylvania in the early 2000s. He lived along the Pennsylvania Railroad and took a liking to trains but a change of scenery in the mid-2000s saw him shift more of an interest into aviation. He would eventually express this passion by taking flying lessons in mid-Missouri and joining AirlineGeeks in 2013. Now living in Wichita, Kansas, Ian is in college majoring in aerospace engineering and minoring in business administration at Wichita State University.
Latest posts by Ian McMurtry (see all)