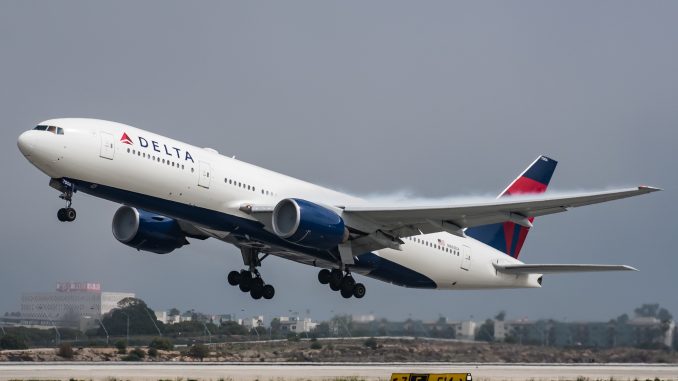 Delta Air Lines has put their newly refurbished Boeing 777-200ER back into service after the aircraft received a cabin overhaul. The aircraft flew Detroit to Beijing fitted with Delta One Suites, Delta Premium Select, and the widest Main Cabin seats in Delta's international fleet, according to the airline's press release.
The new upgrades include changes for passenger comfort such as in-flight entertainment in all seatbacks, LED ambient lighting, and 9-abreast main cabin seating rather than the typical 10 seats.
Currently, the Detroit to Beijing market is served non-stop by Delta, with China Southern Airlines and China Eastern Airlines codeshare routes operated by Delta.
Delta is continuing to announce routes for the upgraded 777 fleet. In March 2019, the aircraft will also serve the Los Angeles to Sydney route. Delta competes with Virgin Australia, American Airlines, United Airlines, and Qantas on this route.
Qantas operates the route using an Airbus A380 in a four-class configuration, First, Business, Premium Economy, and Economy. First class has 14 lie-flat suites, 64 flatbed seats in Business, 35 reclining seats with a 38 in seat pitch in Premium Economy, and 371 Economy seats with a seat pitch of 31 inches.
United operates the route with a Boeing 787-9 Dreamliner equipped with the new Polaris soft product, Economy Plus, and Economy. The seat pitch for Economy Plus and Economy are 35 inches and 32 inches respectively.
Virgin Australia operates the route with a Boeing 777-300ER with Business, Premium Economy, Economy X, and Economy. Virgin Australia's Business has 37 lie-flat seats, 24 Premium Economy seats, 75 Economy X seats including extra legroom, priority check-in, and boarding, as well as a few other amenities. The aircraft also has 203 Economy seats with a seat pitch of 32 inches.
Just like United, American Airlines utilizers their Dreamliner for the Los Angeles to Sydney flight sporting the four class cabin including Business, Premium Economy, Main Cabin Extra, and Main Cabin. The seat pitch for Premium Economy, Main Cabin Extra, and Main Cabin are 38 inches, 35 inches, and 31 inches respectively.
All seat information was retrieved from SeatGuru.com
This story was corrected on Thursday, June 5 at 5:53 p.m. ET to correct editorial errors involving Qantas' A380 economy layout and Virgin Australia's economy cabin seat pitch. 
Matthew Garcia became interested in aviation at the age of 12 when he installed Microsoft Flight Simulator X on his computer. He was instantly "bitten by the bug" and has been in love with aviation ever since. Matthew took his first introductory flight in 2013 and began normal flight training in February of 2015. Over the years, Matthew's love and knowledge for aviation has grown tremendously, mainly due to FSX. Garcia flies highly advanced aircraft in a professional manner on a highly complex virtual air traffic network simulating real world flying. In 2016 Matthew achieved his private pilot certificate from the FAA. Now he studies journalism at the University of Nebraska at Omaha.
Latest posts by Matthew Garcia (see all)