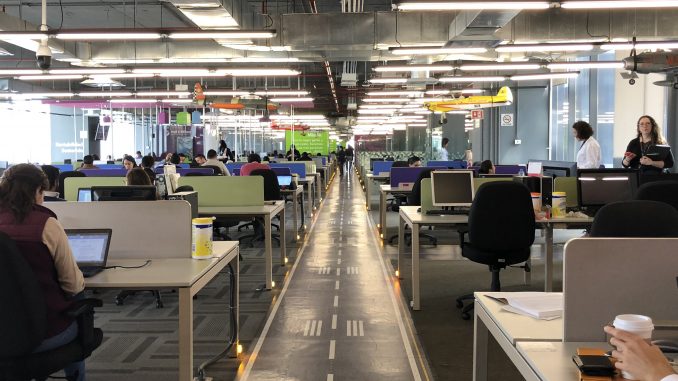 As one of the pioneering and largest ULCC carriers in the Mexican aviation sector, Volaris offers a unique take on what it means to be an airline in the 21st century. When compared to other ULCC carriers such as InterJet, VivaAerobus, and even Spirit, there is a corporate sense of pride and willpower that flows into their operation. AirlineGeeks paid a visit to Volaris' headquarters in Mexico City to see what keeps this brand ticking on a day-to-day basis.
Volaris was initially developed in 2005 to serve an air travel market in Mexico that was simply unpenetrated. A majority of the Mexican population, which now nears about 130 million, traveled and still travels by bus compared to an airplane.
Volaris adopted a point to point network, straying away from much of the larger airlines flying domestically in Mexico. The adoption of this methodology has allowed the airline to penetrate 28 percent of the domestic market in Mexico and leads to a 46 percent growth in the Mexican aviation market that stems from Volaris. After 12 years in the skies, the airline has transported over 85 million passengers and has risen to become the second largest airline in Mexico.
The Current Volaris Experience
Getting to the headquarters meant flying to Mexico City. To get there from New York's John F. Kennedy International Airport passengers will most likely be able to fly on one of the company's new Airbus A320neo aircraft featuring quieter Pratt and Whitney engines.
On this particular flight the aircraft, N530VL, was operating the route as Y4 880 / Y4 881. In the cabin of the A320neo, there were 186 seats sharing a seat pitch of about 30 inches. Initial impressions of the seats for a ULCC carrier was very impressive. Coming in with the stigma of poor seating from other carriers it was a relief to know that it would still be comfortable for a flight lasting nearly 5 hours. As we powered very quietly out of New York airspace, everything was familiar for anyone who has spent time in an A320 family aircraft.
Service began shortly after departure where passengers had the opportunity to purchase anything they wanted from a menu with a large selection of drinks, snacks, small entrees, and even had access to a boutique menu. One thing to note about this service is that nothing is free; however, this does not become an issue considering the cost of tickets and services the airline provides.
From another perspective, it also gives passengers the opportunity to order what they want saving on costs not only for the airline but also the passenger. The service that the airline provided is a level up from what one may expect on a traditional ULCC airline, and the costs are representative of great value. Examples include moving up to the front of the aircraft to the airline's preferred seating which cost roughly $400MXN (approximately $20USD) or even getting a sandwich, drinks, and snack for only $155MXN (approximately $8).
After about 5 hours in the air, the flight landed in Mexico City, and attributing to the low noise level from the new engines on the A320neo everyone seemed to be well rested and excited to be in MEX. One exciting fact is that the current airport will soon be replaced by a new international airport slated to be opened in October of 2020.
Visiting the Headquarters
Located just a few miles southwest from the Mexico City center and in sight of the volcano Iztaccihuatl and Popocatépetl is Volaris' headquarters. The airline shares its offices across two floors in a towering office building; however, it is comparatively unique to any company office. The headquarters becomes an extension of the Volaris experience in the air and asserts high performance while maintaining low cost, a design idea stemming from founder and CEO Enrique Beltranena.
Upon entering the office's employees are greeted with one of the most extensive model aircraft collections hanging from the ceiling and runway markings leading down the hallway. Also remarkable is the new life given to used parts from aircraft ranging from NG tires to create tire swings, MLG tires to create tables, and seats from the cabin to sit.
The office is sectionalized by departments, however, has open seating and can be arranged with minimal effort due to the mobility of walls and other office necessities. Meeting spaces have rather comfy bean bags to sit on, and there are massive windows that not only provide great natural light but a unique view of the surrounding area.
Volaris' HQ took advantage of its space to be a very engaging environment leading to higher productivity and increased progressive thinking. The space also stands behind a sustainable initiative that is particularly commendable.
One of the more subtle yet vital tones that are portrayed on the building columns are the three main principles at Volaris:
"Seguridad" – Safety
"Servicio al Cliente" – Customer Service
"Rentabilidad Sostenida" – Sustainability
There is an intended domino effect with these three as keeping safety as the first thing in mind will lead to invaluable customer service, which then leads to the company's sustainability for the future. Simple, these principles have been well thought out and are true to the operation of the airline.
It was amazing to see how Volaris has one whole corporate identity that is shared amongst all its employees from personnel working in the airports all the way to top-level management. Volaris has many things that it can teach to its counterparts and will no doubt be a leading figure in aviation not only in Mexico but in the Americas.
Their headquarters have churned out many impressive ideas such as their new "V.Pass" which allows passengers to fly for free anywhere domestically by paying a small monthly fee and even their new codeshare agreement with Frontier that was announced earlier this year.
Story by AirlineGeeks Social Media Editor Justin Sinanan
AirlineGeeks.com began in February, 2013 as a one-man (er… teenager, rather) show. Since then, we've grown to have 20 active team members, and yes, we're still growing. Some of us are looking to work in the aviation industry as professionals when we grow older. Some of us are still trying to decide what we want to do. That's okay though, because we're all here for the same reason: we love the airlines. We're the youngest team of airline industry journalists out there.
Latest posts by AirlineGeeks.com Staff (see all)