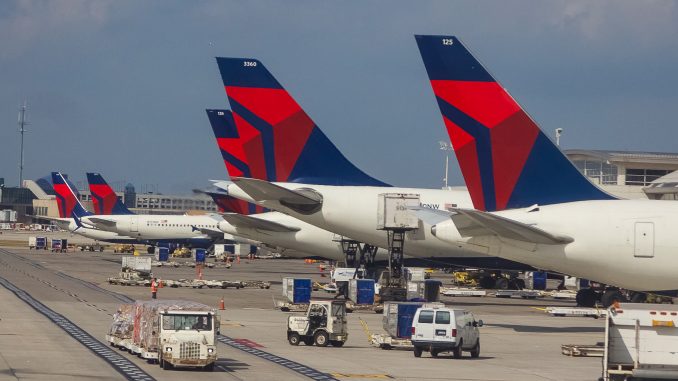 Delta Air Lines announced Wednesday changes to their transatlantic route map and schedules, just a day after American announced a major update to its international route network. The announcement includes the addition of a new route, the increase in frequency on four routes and the cancelation of and two existing routes.
The first announcement was the launch of a new nonstop service between Tampa Bay, Fla. and Amsterdam, Netherlands. The route will launch on May 23 and operate as a year-round service using the Boeing 767-300ER. The additional Florida route will be Delta's second flight from Florida to the Netherlands, joining the direct flight from Orlando, which started earlier this year. Amsterdam will see service from 11 cities in the United States on Delta metal.
Amsterdam also will see an increase in service on an existing served route with Los Angeles-Amsterdam becoming a daily flight. Los Angeles will also see the flight to Paris-Charles de Gaulle upped to a daily service as well from its current three-times-weekly operation. The Paris flight will also see an aircraft upgrade to a Boeing 777-200 that includes Delta One suites as well as Delta Premium Select, the airline's new premium economy cabin. Increased Los Angeles services will start on June 16, 2019.
Paris will be the second European city to see the new in-flight product along with Detroit's flight to Amsterdam aboard the Airbus A350-900. Select flights from both Atlanta and Minneapolis will join Los Angeles in serving the French capital with the newly upgraded triple-sevens.
New York will also see a significant number of changes with both the Paris and Tel Aviv routes from John F. Kennedy International Airport gaining a second daily flight. The additional Tel Aviv flight will operate as a daytime departure from Tel Aviv, allowing for more choices for passengers outside of El Al, the only other airline flying the New York-Tel Aviv route, although United does fly Newark-Tel Aviv. Both flights will be operated on the Airbus A330-300 and will feature lie-flat beds in business class.
"Delta is putting great focus on our international expansion and Europe is an important part of this, said Roberto Ioriatti, Delta's vice president. "Our new Tampa Bay flight and extra capacity on other key routes from our LAX and JFK hubs offer our customers more choice and convenient connections throughout the United States and Europe in connection with our partners."
The announcement was all positive, however, as Delta also announced that it would be cutting flights from Pittsburgh and Newark to Paris. Both routes have operated on a seasonal basis and will not return following the end of their current season.
For Pittsburgh, that means the final flight will operate Sept. 3 and Newark will see its final service on Oct. 28. The cancelation of Pittsburgh also comes at an interesting time as British Airways will start service to London next April, except they will be using a Boeing 787 Dreamliner built for those types of routes.
Jace has been working at AirlineGeeks for nearly three years. Born in Seattle, Boeing and aviation quickly took over his life and he never stopped looking up. Jace enjoys plane spotting and taking trips just so he can fly. He is currently studying at Embry-Riddle Aeronautical University while earning his Bachelors of Science in Air Traffic Management.
Latest posts by Jace Moseley (see all)