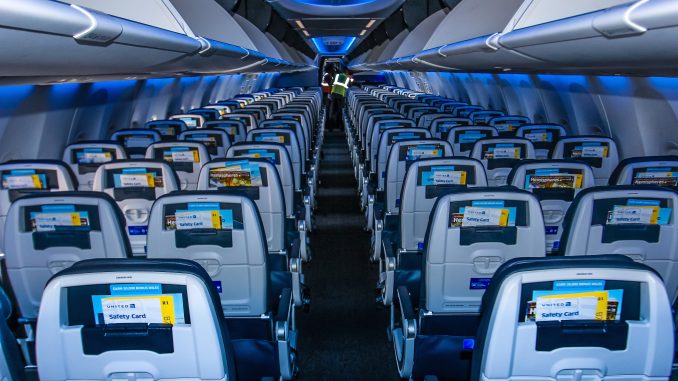 As Chicago-based United Airlines anticipates the delivery of its 100 Boeing 737 MAX 10s, the carrier is evaluating the possibility of implementing lie-flat seats aboard the aircraft.
United plans on using the MAX 10 on some of its longest domestic routes, mainly cross-country flights between Los Angeles, San Francisco, and Newark, and believes that the lie-flat seats will enhance customer experience on-board the flights.
A round of testing has already been completed on one model of the lie-flat seats and tests for a second seat are expected to begin this fall.
United will also have to evaluate the economics of providing lie-flat seats aboard the carrier, as that will obviously reduce the number of business class seats in the premium cabin. However, with cross-country travelers more willing to pay the premium for a lie-flat seat, the idea could work.
"Trying to fly from Denver to L.A., I think you would have a hard time making the economics of lie-flat work," Scott Kirby, President of United, told reporters at the International Aviation Forecast Summit in Denver. "But would Newark to Seattle work? Probably. Would San Francisco to D.C. work? Probably. We think there is demand, but it's almost exclusively trans-con demand."
American and Delta already offer lie-flat seats aboard their cross-country flights, while JetBlue has also started offering a premium cabin on its cross-country flights.
Internationally, FlyDubai was the first carrier to offer lie-flat seating aboard its 737 MAX 8s and Malaysia Airlines has stated that it also plans on installing lie-flat seating aboard its MAX 10s.
United has already experimented with lie-flat seats aboard its Boeing 757-200s and additional 757s will offer lie-flat seats aboard the carrier's Los Angeles-Boston route this October.
United anticipates delivery of its Boeing 737 MAX 10 in 2020.
An "AvGeek" for most of his life, Akhil has always been drawn to aviation. If there is an opportunity to read about an airline, fly on a new airplane, or talk to anyone about aviation, he is on it. Akhil has been on over 20 different kinds of aircraft, his favorite being the MD-80. Additionally, he has visited 5 continents and plans to knock out the remaining two (Africa and Antarctica) soon. Based in Dallas, Akhil graduated from Texas A&M University with a degree in Management Information Systems and currently works in consulting. His dream is to become an airline executive.
Latest posts by Akhil Dewan (see all)