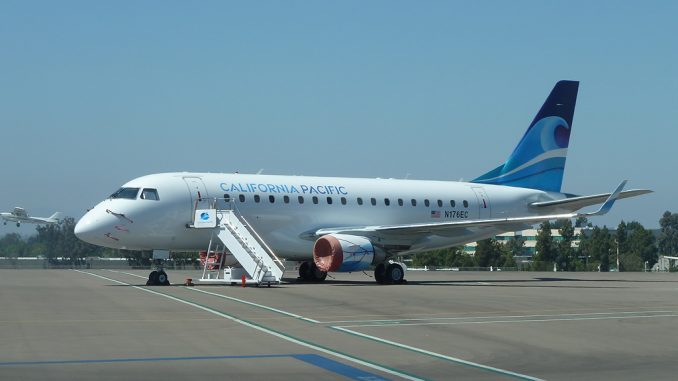 For California Pacific Airlines, the long nine-year wait to commence operations is finally seeing a true start date. The airline-to-be has been attempting to start operations since 2011 but issues in getting the Federal Aviation Administration (FAA) to sign off on allowing the carrier to operate saw the airline delay its launch multiple times. However, this changes as the airline has stated it will officially commence services in November.
California Pacific Airlines' initial route map will consist of flights focused around its Carlsbad, California base at McClellan-Palomar Airport. The airline will start flying on Nov. 1, 2018 operating with flights from Carlsbad to Reno-Tahoe and San Jose. Flights to Las Vegas will begin 14 days later. The startup is offering introduction airfare as low as $99 each way for non-refundable airfare and refundable airfare from $199. California Pacific Airlines is starting by having a $100 cancellation fee for non-refundable airfare but not charging for a passenger's first or second checked bag or first carry on.
The airline's flight frequencies vary by route, with flights to San Jose occurring twice daily while Reno-Tahoe only occurring four times weekly on Mondays, Wednesdays, Fridays and Sundays. When Las Vegas is added in mid-November, those flights will be offered three times weekly on Tuesdays, Thursdays, and Sundays.
California Pacific was originally planning on offering service using Embraer ERJ-170s but the game changed when the approval process was delayed. The aircraft they original had was returned to it's lessor in 2017 after over three years of storage as the airline awaited approval. At that point the airline decided to bypass the FAA and buy Georgia-based Aerodynamics Inc, who operate a fleet of Embraer ERJ-145s. The airline will use those 44-seat Embraer ERJ-145s for their operations in California with one already in full California Pacific colors.
While Aerodynamics Inc is no longer an independent brand CP Air has stated they intend to hold onto the Essential Air Service routes that Aerodynamics Inc was responsible for. Aerodynamics currently operates flights between Denver to Pierre, and Watertown,  South Dakota which was originally in conjunction with Great Lakes Aviation under the Great Lakes Jet Express name. The current deal for Essential Air Service to Watertown runs through 2020, which Aerodynamics Inc has agreed to fly to completion.
If the launch is successful the airline will be one of two airlines to service Carlsbad and will have to compete directly with Cal Jet who use Elite Airways CRJ-700s to fly between Carlsbad and Las Vegas. The airline will also have to indirectly compete with larger brands like Alaska and Southwest, who while being over an hour away in San Diego, offer similar routes to either Reno-Tahoe, San Jose or Las Vegas.
Although Ian McMurtry was never originally an avgeek, he did enjoy watching US Airways aircraft across western Pennsylvania in the early 2000s. He lived along the Pennsylvania Railroad and took a liking to trains but a change of scenery in the mid-2000s saw him shift more of an interest into aviation. He would eventually express this passion by taking flying lessons in mid-Missouri and joining AirlineGeeks in 2013. Now living in Wichita, Kansas, Ian is in college majoring in aerospace engineering and minoring in business administration at Wichita State University.
Latest posts by Ian McMurtry (see all)