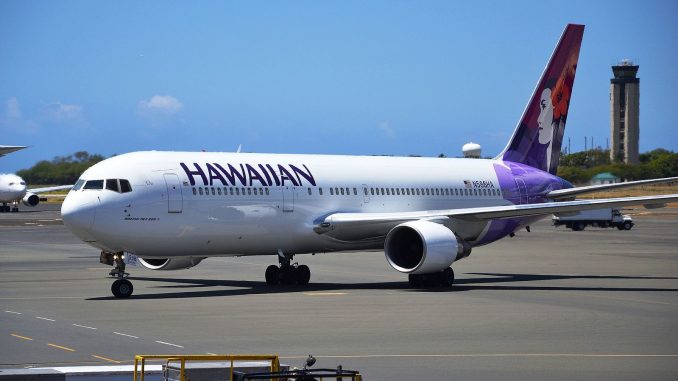 12 passengers and three flight attendants aboard a Hawaiian Airlines plane from Oakland, Calif. to Kahului, on the island of Maui, were given medical attention after a can of pepper spray went off in the cabin.
A passenger had illegally brought a can of pepper spray aboard the Boeing 767 aircraft and the can discharged about halfway into the flight.
According to passengers aboard the flight, the can went off around the front of the plane and affected manybusiness class passengers.
40 passengers were then forced to move to the rear galley of the aircraft for about an hour and a half until the air conditions improved.
Passengers were reported to be feeling light-headed and suffering from burning and watering eyes.
One passenger even said a baby had thrown up due to the pepper spray.
The flight was able to land in Kahului about two hours later and the affected passengers were then treated for respiratory issues.
The Federal Aviation Administration has not confirmed what substance was brought aboard the plane, but pepper spray is permitted aboard checked baggage.
The incident is currently under investigation by the TSA and Maui Police. Penalties for illegally bringing pepper spray aboard an aircraft can result in fines of up to $13,000.
An "AvGeek" for most of his life, Akhil has always been drawn to aviation. If there is an opportunity to read about an airline, fly on a new airplane, or talk to anyone about aviation, he is on it. Akhil has been on over 20 different kinds of aircraft, his favorite being the MD-80. Additionally, he has visited 5 continents and plans to knock out the remaining two (Africa and Antarctica) soon. Based in Dallas, Akhil graduated from Texas A&M University with a degree in Management Information Systems and currently works in consulting. His dream is to become an airline executive.
Latest posts by Akhil Dewan (see all)