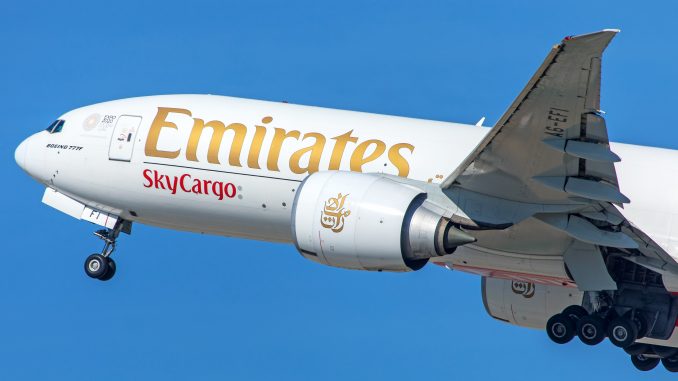 For airlines, passenger transport isn't the only the only profitable aspect of the business. Even passenger airlines often have huge cargo operations that are also extremely profitable in this increasingly interconnected global village. Just about anything can be shipped via air cargo, from pharmaceuticals to the latest cell phones and even horses. That's where Emirates Airline comes in.
In addition to its passenger fleet of aircraft, Dubai-based Emirates has a cargo division, Emirates Sky Cargo, with dedicated cargo aircraft. The goal is to maximize revenues by transporting both passengers and cargo, a strategy used by numerous airlines in addition to Emirates including Korean Air, El Al and Cathay Pacific. These purely cargo aircraft can be as small as a Boeing 737 to as large as a Boeing 747-8i with every aircraft type in between.
For most cargo aircraft, large cargo door is placed in the fuselage to facilitate the efficient loading and unloading of freight. In addition, windows may be removed to bring additional strength to the fuselage. When stepping into a cargo aircraft, one is immediately greeted by a cavernous interior where seats would be expected. Just about anything will be put into this space. In the case of Emirates SkyCargo, they'll be transporting horses.
Emirates SkyCargo is the leader in air transportation of horses with specially designed Boeing 777 freighter aircraft which have customized temperature controlled stalls for horses. Given the company's prominence in equine transport, it has been contracted to operate the largest commercial airlift of horses ever, with 550 horses in total being transported to the FEI World Equestrian Games Tryon 2018, which will take place next week in North Carolina.
"Emirates SkyCargo is excited to be working on our largest horse transport charter for the FEI World Equestrian Games Tryon 2018," said Wilfred D'Souza, Manager Cargo Scheduling, Planning & Equine Transportation, Emirates Sky Cargo. "Over the course of the last 16 years we have developed strong expertise and capabilities in equine transportation and this, combined with careful planning and attention to detail, allows us to consistently deliver a comfortable environment for the horses in flight."
Horses will be arriving on 23 flights from cities all over the world such as Dubai, Buenos Aires, Liège and Santiago de Chile. Since they are competition horses, it is imperative that they arrive in peak physical condition. Therefore, in addition to just transporting the horses themselves, the necessities are required to make them comfortable.
To accomplish this, Emirates Sky Cargo is working in conjunction with horse transportation company Peden Bloodstock and The Dutta Corp, the companies that are coordinating the logistics to get the horses from various locations on 6 continents to the U.S. The first flight arrived at Greenville-Spartanburg International Airport earlier this week as EK9387.
"This is the largest commercial airlift of horses in history, with only wartime shipments of horses coming close, so the military precision involved in the logistics is incredible," FEI President Ingmar De Vos said. "These horses are finely-tuned equine athletes and are not only very valuable, but they must arrive in peak competition condition, just like their human counterparts."
A flight from Europe carried a total of 123,500 tons of equipment, not including the weight of the actual horses which can range from 450 kilograms to 840 kilograms. All sorts of equipment for these horses come with them from saddles, bridles, rugs and horseshoes.
In addition, 51 tons of horse feed and in-flight snacks were brought for the horses. Each horse is also allotted 20 liters of water for whenever they feel parched. It doesn't compare to Emirates first class product, but it does the trick for the horses. After arrival in South Carolina, the horses are driven the remainder of the journey around 50 miles to Tyron, North Carolina.
"Today's a little different because this is four-legged cargo, we don't move a lot of that," said Kevin Howell, Senior Vice-President and Chief Operating Officer for GSP. "Actually, our first equine charter was the test flight earlier this spring. The team is very focused on moving the horses safely, and keeping the horses in the best health and spirits for the competition."
This massive endeavor will culminate with the competition spanning two weeks for 29 medals and qualifying slots for the 2020 Olympic and Paralympic Games in Tokyo, Japan.

Hemal took his first flight at four years old and has been an avgeek since then. When he isn't working as an analyst he's frequently found outside watching planes fly overhead or flying in them. His favorite plane is the 747-8i which Lufthansa thankfully flies to EWR allowing for some great spotting. He firmly believes that the best way to fly between JFK and BOS is via DFW and is always willing to go for that extra elite qualifying mile.

Latest posts by Hemal Gosai (see all)