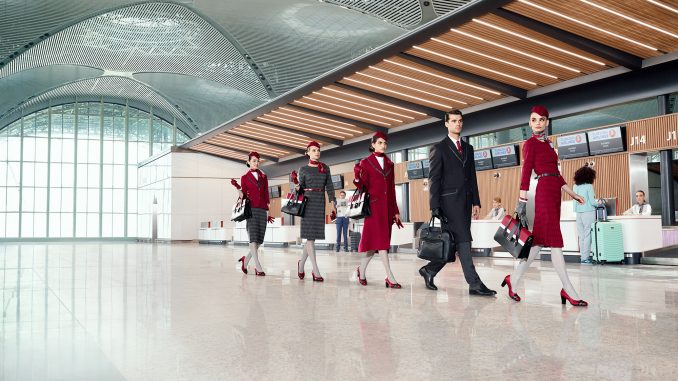 Turkish Airlines today made a bold fashion statement with the announcement of its new designer uniforms. The Istanbul-based airline teamed up with Haute Couturier Ettore Bilotta, a Milan-based designer, to help create the new uniform heralding a new era and brand identity for Turkey's flag carrier.
The uniform was inspired by many classic elements of Turkish culture and design and incorporate traditional patterns found in artisanal glassware, ceramics and calligraphy, joining together with contemporary textures and details. A new 'flow detail' was added to symbolize the dynamic energy flowing through Istanbul as an intersection and crossroads between Europe and Asia, east and west.
The new unique collection includes hats, gloves, dresses bags and accessories and is formed of a palette of anthracite grey and deep red to be instantly recognizable. Not only do the cabin crew receive a new look, but also the pilots, flying chefs and ground services who will all be streamlined under a single design approach to allow passengers to experience one holistic brand.
Bilotta's designs bring together the form and function that could be an essential consideration for the airline that flies to the most countries. They were rigorously tested on long-haul trial flights in different climates.
M. İlker Aycı, the Chairman of the Board and the Executive Committee for Turkish Airlines, commented: "Turkish Airlines is always thrilled to collaborate with such creative and distinctive talents which blend elegant and practical design. While maintaining traditional elements of Turkish design and culture, our new uniforms are professional and stay true to a culture of hospitality, just like our airline."
To launch the new look, the airline teamed up with globally renowned British photographer and artist Miles Aldridge to capture the new cabin uniform collection in Istanbul's unique spots.
Ettore Bilotta, the fashion designer, said, "When I started to design for Turkish Airlines, the first thing that inspired me was Istanbul. This city has been a melting pot for art and civilization for centuries and has a rare richness as a common heritage of many cultures."
"I wanted to bring elements from traditional calligraphy  and mosaics together with the new interpretations of Turkish motifs, which emphasize modern lines, into foulards and ties to reflect a contrast and duality."
Istanbul, spanning two continents, was the inspiration for these uniforms. Miles Aldrich shot the collection using the city to create a selection of bright and distinctive images in preparation for the uniform's launch.
The new uniforms will begin their life in service after the opening of Istanbul New Airport, the new home for Turkish Airlines.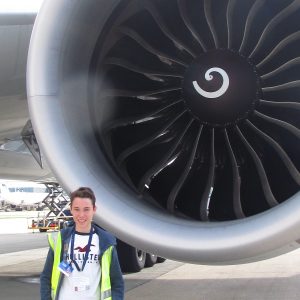 Connor has been in love with flying since the first time he boarded a plane when he was 5 years old. He loves all things aviation, and he hopes to make that his full time career in the future.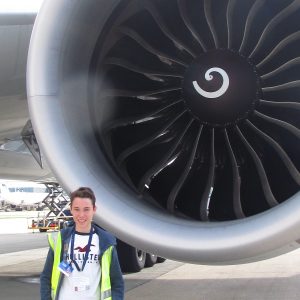 Latest posts by Connor Sadler (see all)