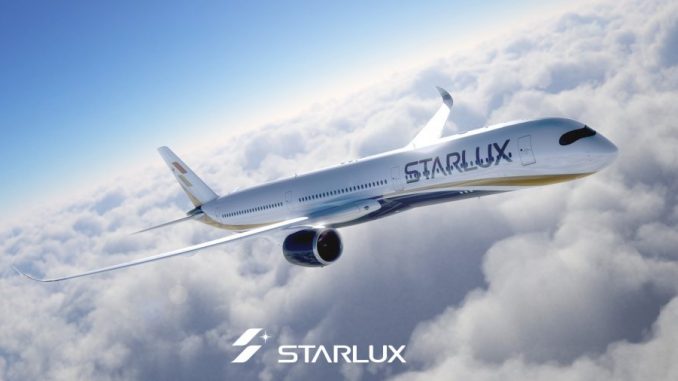 Starlux Airlines, which was founded in May in Taiwan, has begun releasing more details as it plans to begin operating at full service in early 2020. The airline's chairman, Kuo-Wei Chang, is a certified Boeing 777 captain and former chairman of Eva Air.
Earlier this week, construction of the airline's flight operations center began and is expected to be completed by July 2020 and adjacent to Taipei Taoyuan Airport. Chang said the company will recruit 8,000 staff in a decade and believes the district stands to benefit from the operations center. Long term, Chang envisions 60,000 people working for the airline.
The operation center will set up a constellation of training facilities, such as flight simulators, and train up to 2,500 frontline staff annually. The airline is currently operating a cadet pilot program with plans to hire full-time pilots, cabin crew and ground staff early next year.
When fully operational, Starlux will utilize 12 Airbus A350-1000s and five A350-900s which were purchased at the Farnborough International Airshow in July. While the aircraft are not scheduled to arrive until 2021, Starlux will begin operating with 10 Airbus A321neos which are expected to be delivered in Oct. 2019.
Once the airline's new A350 fleet arrives, it hopes to serve popular destinations such as Japan and Hong Kong. According to IATA latest estimates, Taipei-Hong Kong is the busiest international route with 5.4 million passengers last year alone.
Starlux Airlines may face an uphill battle once it joins the market, as it will face off against local competitors including China Airlines and EVA Air. Earlier this month, China Airlines has expanded its codesharing arrangement with Japan Airlines. In addition, EVA Air has built a strong presence in Asia as well as North America. However, Chang hopes that its aggressive entry into the market will drive further growth even with a very competitive landscape.

Will has been a travel agent in Hong Kong for almost three decades, as time goes by he hasn't lost his passion for his job, He still has plenty of enthusiasm for the airline industry and airport operations.