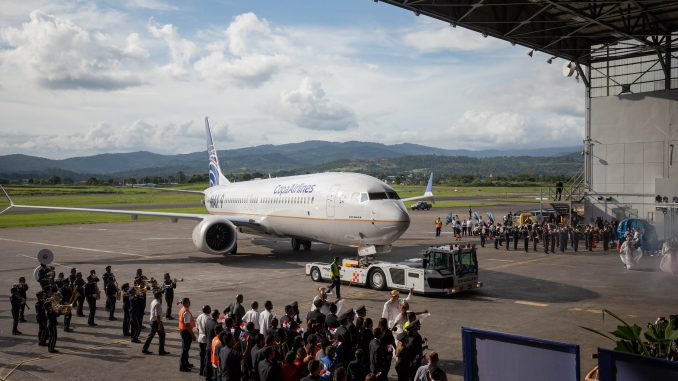 With the Boeing 737 MAX program nearing 200 deliveries across all aircraft types, it was only a matter of time before another carrier took hold of its first aircraft and the latest to show off its newest aircraft is Panama's Copa Airlines. The airline held a gathering in its main hub in Panama City to show off their first Boeing 737 MAX 9 before the aircraft enters service on Sept 20.
Bienvenidos al comienzo de una Era de nuevas experiencias y comodidad, de sostenibilidad y de mayores oportunidades. Les presentamos nuestro nuevo #MAX9, el avión más confortable y sostenible de nuestra historia. ¡Bienvenidos a la #EraMAX! #CopaalMAXimo pic.twitter.com/UBQEiWQOsO

— Copa Airlines (@CopaAirlines) September 18, 2018
The aircraft, bearing a special "MAX 9" sticker on the rear fuselage, is first expected to take over the current Boeing 737-800 operated flight, CM393, to Tampa departing at 9:05 a.m. and arriving in Tampa at 1:30 p.m. The aircraft type will also be deployed to other U.S. cities including Miami, Orlando, New York and Los Angeles before the start of December, with San Francisco seeing dedicated MAX service by the end of the year, according to the airline's CEO.
The arrival of a new aircraft type allows Copa to bring forward new ideas and experimental interior designs as the carrier continues to attract customers and increase revenue. While showing off the jet, the airline made note of the new Dreams business class seats that are offered onboard. The new seats come with 16" touchscreen televisions as well as power and USB ports. There are 16 Dreams seats in total, all offering reclining lie-flat comfort, a rarity on Boeing 737 aircraft.
The airline will also bring forward an improved economy experience with both Economy and EconomyExtra being offered on the MAX 9. While the 126 Meridian economy seats may lack a touch screen they do have individual USB ports and mobile device holders as well as increased luggage compartments compared to other Copa 737s. Meanwhile, EconomyExtra has both the power and USB ports but a smaller 10" screen compared to Dreams seats. All in all, the Copa 737 MAX 9 seats 166 passengers, making it the largest aircraft in the fleet by seating with the high density 737-800s that Copa operates being six seats smaller than the MAX.
For Copa, the Boeing 737 MAX 9 is the latest 737 family to join an airline that has been very loyal to the aircraft type. Copa has operated four other 737 types, with the 737-100 and 737-200 being used before being phased out for 737-700s and 737-800s later on. While the airline is 737 dominant at 78 airframes, a fleet of 12 Embraer E190s prevents them from being an all-Boeing fleet. The airline has favored the 737 on all of its medium-long haul routes, resisting the urge to upgrade to larger aircraft.
Copa has high hopes for their new aircraft with the airline planning on taking hold of 61 MAX aircraft in total. While the exact number of each variant has yet to be determined, Copa has stated that the 61 orders will be split across MAX 8s, MAX 9s and MAX 10s.
Although Ian McMurtry was never originally an avgeek, he did enjoy watching US Airways aircraft across western Pennsylvania in the early 2000s. He lived along the Pennsylvania Railroad and took a liking to trains but a change of scenery in the mid-2000s saw him shift more of an interest into aviation. He would eventually express this passion by taking flying lessons in mid-Missouri and joining AirlineGeeks in 2013. Now living in Wichita, Kansas, Ian is in college majoring in aerospace engineering and minoring in business administration at Wichita State University.
Latest posts by Ian McMurtry (see all)