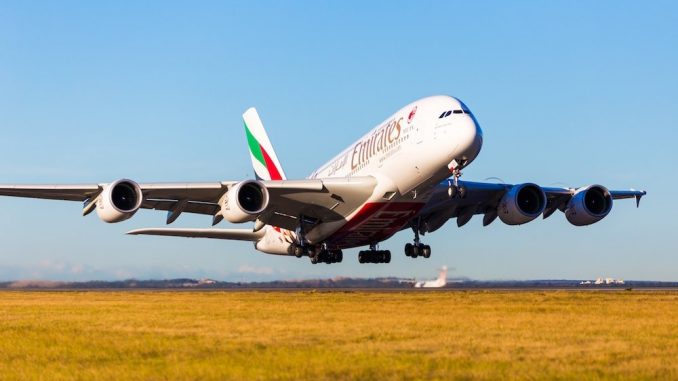 Word broke on Thursday of Emirates potentially acquiring Etihad, a piece of news that seems to re-appear every few months.
Both airlines are state-owned by different emirates in the UAE. Emirates is owned by the government of Dubai while Etihad is owned by the government of Abu Dhabi.
It's no secret that Emirates has built Dubai into the transportation hub in the region with a strong focus on tourism. Neighboring emirate of Abu Dhabi is the richer of the two due to oil exports.
Both airlines compete against each other and at the moment it seems that Emirates is winning. The rise in fuel prices along with a failed investment strategy has left Etihad on shaky ground while neighbor Emirates seems to be doing alright.
The rumor of the acquisition appears every so often and usually disappears without much attention, but this time around it seems to have caught on a bit.
Assuming the acquisition actually goes through it leaves the UAE with an interesting problem. Both the governments of Abu Dhabi and Dubai are expanding airports in the regions to help grow their respective airlines.
Airport Expansions
In Abu Dhabi, their airport Abu Dhabi International, is undergoing a $2.94 billion expansion with the construction of the Midfield Terminal.
When completed the terminal is expected to handle nearly 30 million travelers in addition to the airport's current capacity from existing terminals. Terminal construction has faced some delays but is expected to open at the end of 2019
In Dubai, their second largest airport Al Maktoum International, is going through several expansion phases lasting several decades to eventually handle 240 million passengers a year, up from the current 7 million the airport can currently handle.
Emirates is expected to move operations to this airport by 2025 assuming construction to expand the airport is completed on schedule.
This is a lot of capacity for the UAE overall with Dubai and Abu Dhabi being less than 100 miles apart. If the airline were to combine it wouldn't exactly make sense to operate two huge hubs that close together.
It seems likely that it would be Abu Dhabi making the concessions, given the smaller route network and overall less popularity than Dubai. These concessions are an ideal scenario which has a long shot of actually happening.
UAE Ruling Families May Not Get Along
While the UAE is recognized as one country, it is a federation of several emirates. Each emirate is governed by a ruler and one of these rulers serves as the President of the UAE. Getting Emirates to play along is a non-trivial task.
It's hard to imagine the ruling family of Abu Dhabi, the Al Nahyan family, would readily shift over traffic to Dubai after investing billions in infrastructure in their own emirate.
At this point, both airlines have vehemently denied the news and there isn't much more than speculation to offer.

Hemal took his first flight at four years old and has been an avgeek since then. When he isn't working as an analyst he's frequently found outside watching planes fly overhead or flying in them. His favorite plane is the 747-8i which Lufthansa thankfully flies to EWR allowing for some great spotting. He firmly believes that the best way to fly between JFK and BOS is via DFW and is always willing to go for that extra elite qualifying mile.

Latest posts by Hemal Gosai (see all)