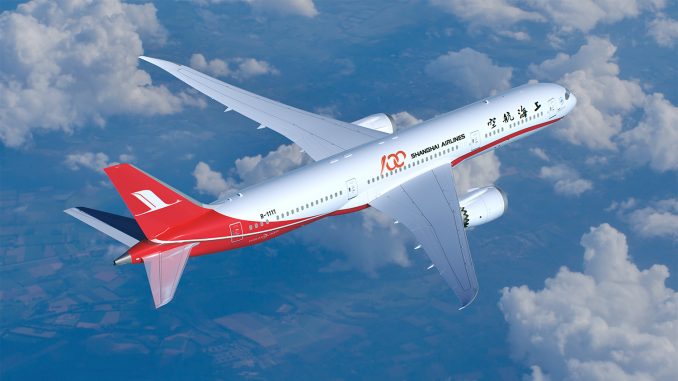 Shanghai Airlines celebrated the delivery of its first Boeing 787-9 Dreamliner and 100th airplane from Boeing on Friday. The new plane delivered to Shanghai Airlines marks the airline's 100th plane in service, and a special "100" symbol has been emblazoned on the plane's fuselage to mark its debut.
In addition to the aircraft's "100" designation, the airplane also has a unique and "lucky" registration number: B-1111. The airline, part of the China Eastern Airlines Group, has 10 787-9s with GE GEnx-1B engines on order that will be delivered from 2019 to 2021.
Shanghai Airlines will first be deploying the aircraft on popular domestic services to Chengdu and Beijing, as well as regional services to Japan and South Korea. As the carrier's 787 fleet grows, it plans to take advantage of the aircraft's long range and superior fuel efficiency to open new international routes and compete with domestic rivals Air China and China Southern.
"We are thrilled to expand our long-standing partnership with Shanghai Airlines and the China Eastern Group" Ihssane Mounir, senior vice president of Commercial Sales & Marketing for Boeing said. "The 787 Dreamliner's unmatched performance, operating economics and comfort make it the perfect airplane for Shanghai Airlines to expand and enhance their international network."
There has been no word on the interior design or cabin configuration of the plane, but earlier this year the airline made an announcement in Chinese on its Weibo and WeChat social media accounts that the plane would feature 285 seats: 4 first-class seats, 26 business-class seats, 28 premium economy seats, and 227 economy seats. The announcement with mock-up pictures has been seen as strange as the 787-9 typically flies passengers in a two-class configuration and the airline currently offers neither a first class nor a premium economy cabin.
Shanghai Airlines is a wholly-owned subsidiary of China Eastern Airlines based at Shanghai's two major airports, Pudong and Hongqiao. The airline primarily flies to destinations within China, and its international destinations include Hong Kong, Macau, Taiwan, Japan, South Korea, Indonesia, Singapore, and Thailand. The airline also operates some services for China Eastern Airlines using its own aircraft and crew.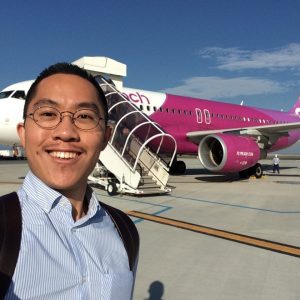 Most people hate long flights or overnight layovers, but Albert loves them. The airport and flying parts of traveling are the biggest highlights of any trip for him – as this avgeek always gets a thrill from sampling different airline cabin products and checking out regional developments happening at local U.S. airports. He's flown on almost every major carrier in the U.S. and Asia Pacific, and he hopes to try out the new A350s soon.

Albert recently completed his undergraduate studies in Business Accounting at USC in Los Angeles and he is currently recruiting for a corporate analyst position at one of the U.S. legacy carriers. During his college years, he interned at LAX for Los Angeles World Airports working behind-the-scenes (and on the ramp) in public relations and accounting. Outside of writing for AirlineGeeks, he enjoys trekking the Hollywood hills, visiting new hotspots throughout SoCal, and doing the occasional weekender on Spirit Airlines.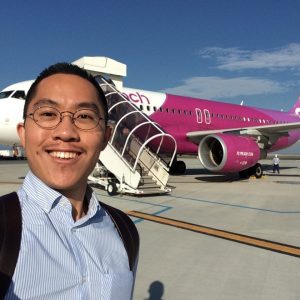 Latest posts by Albert Kuan (see all)