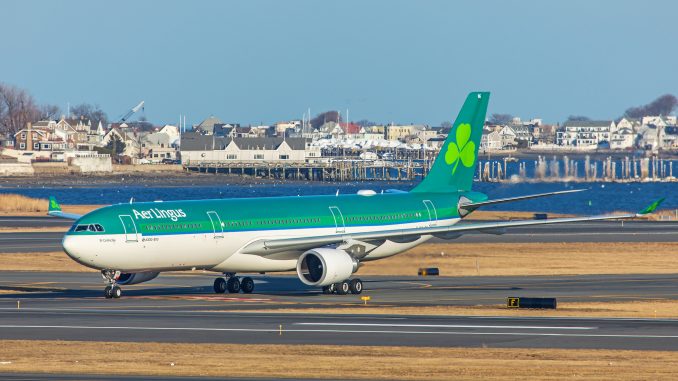 Irish carrier Aer Lingus has announced that it will be rolling out a new and refreshed brand in early 2019.
The new brand will include the repainting of the aircraft's fleet, which is expected to take three years, as well as new crew uniforms, according to Aer Lingus Chief Executive Stephen Kavanagh.
"Our current livery and uniform have been in service for close to 25 years. Our business has changed and we have to take the opportunity to modernise our brand," said Kavanagh during the Airline Passenger Experience Association's annual meeting in Boston.
However, the carrier's rebranding is not only outer facing. Aer Lingus has announced that it intends to begin offering free access to in-flight Wi-Fi as well as free alcoholic beverages to economy passengers.
While the Wi-Fi is limited to 20 MB of download space, the move is still a big change from the carrier's current business model.
Over the past few years, Aer Lingus has operated with a "small frills" approach, meaning they operate somewhere in between a traditional carrier and a low-cost airline.
On all flights within Europe, passengers do not receive free meals or alcoholic beverages and no in-flight entertainment is offered. Additionally, on all long-haul flights, passengers must pay for alcoholic beverages and Wi-Fi.
Aer Lingus' rebranding also comes as the carrier anticipates delivery of its eight long-range Airbus A321s.
"The range capability of this aircraft is uniquely suited to Air Lingus, with much of the market opportunity in North America capable of being served," says Kavanagh.
The new A321LRs will come with lie-flat seats in business class and will have economy seats with a 31 in. pitch.
The first signs of the rebranding and new service offerings will most likely come during the first quarter of 2019 and the first A321LR is expected to arrive to Aer Lingus' fleet in April 2019.
An "AvGeek" for most of his life, Akhil has always been drawn to aviation. If there is an opportunity to read about an airline, fly on a new airplane, or talk to anyone about aviation, he is on it. Akhil has been on over 20 different kinds of aircraft, his favorite being the MD-80. Additionally, he has visited 5 continents and plans to knock out the remaining two (Africa and Antarctica) soon. Based in Dallas, Akhil graduated from Texas A&M University with a degree in Management Information Systems and currently works in consulting. His dream is to become an airline executive.
Latest posts by Akhil Dewan (see all)