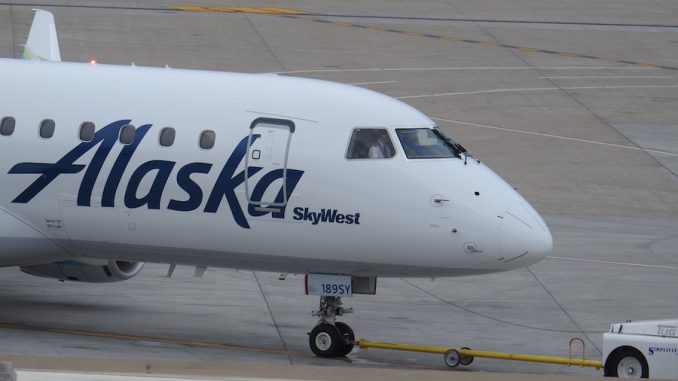 Alaska Airlines has announced new daily service to El Paso International from San Diego International Airport and Seattle-Tacoma International Airport.
The new service is set to begin on Feb. 19, 2019, marking the first Alaska service to the airport. Additionally, the new routes will be the first nonstop flights between El Paso and San Diego and Seattle.
The route will utilize the Embraer 175 fleet, flown by Horizon Air, fitted with a three-class cabin.
"We're pleased to add another exciting destination to our route map with our new service to El Paso," said John Kirby, vice president of capacity planning at Alaska. "We're connecting two of our key West Coast gateways — Seattle and San Diego — with our first destination in West Texas."
The new flights are scheduled as follows:
Seattle – El Paso: Departs 7:45 a.m. local, arrives 12:05 p.m. local.
El Paso – Seattle: Departs 5:55 p.m. local, arrives 8:35 p.m. local.
El Paso – San Diego: Departs 12:50 p.m., arrives 1:40 p.m. local.
San Diego – El Paso: Departs 2:25 p.m. local, arrives 5:10 p.m. local.
"We are beyond thrilled to welcome Alaska Airlines to El Paso!" said Monica Lombraña A.A.E., managing director of El Paso International Airport and International Bridges. "Alaska Airlines enhances connectivity for both leisure and business travelers with daily flights to the West Coast and beyond," Lombraña A.A.E. continued. "We deeply appreciate their investment in our community and look forward to a lasting and successful partnership."
"We're thrilled Alaska Airlines has continued its growth here in San Diego with the announcement of its third nonstop destination to Texas being daily year-round service to El Paso," said Angele Shafer-Payne, San Diego International Airport COO/Vice President, Operations. "This important addition offers a convenient option for San Diegans to reach western Texas, and for the western region to access San Diego's vibrant communities and beaches," Shafer-Payne added.
El Paso will become the third Texas city to be served by Alaska Airlines, behind Dallas and Austin.
With the new announcement, El Paso is the 91st nonstop destination from Seattle this spring, according to Alaska's press release.
In addition to adding El Paso to its network, Alaska also announced new service to Pittsburgh from Seattle at the beginning of this month. Seattle to Columbus, Ohio was announced at the end of August. 
Matthew Garcia became interested in aviation at the age of 12 when he installed Microsoft Flight Simulator X on his computer. He was instantly "bitten by the bug" and has been in love with aviation ever since. Matthew took his first introductory flight in 2013 and began normal flight training in February of 2015. Over the years, Matthew's love and knowledge for aviation has grown tremendously, mainly due to FSX. Garcia flies highly advanced aircraft in a professional manner on a highly complex virtual air traffic network simulating real world flying. In 2016 Matthew achieved his private pilot certificate from the FAA. Now he studies journalism at the University of Nebraska at Omaha.
Latest posts by Matthew Garcia (see all)