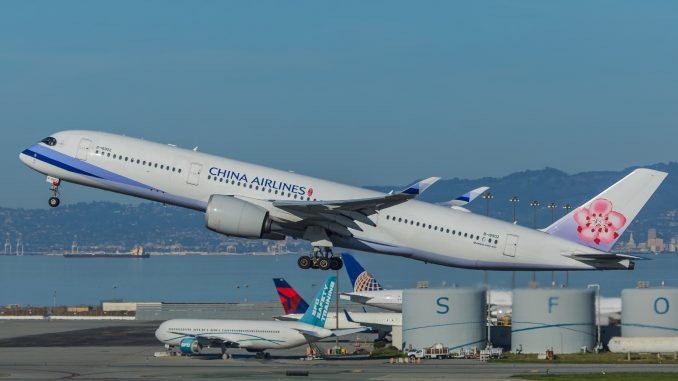 Following strong performance of aviation traffic for the first eight months of 2018, Taiwan's Civil Aeronautics Administration (CAA) announced 17 airlines will add 30 new routes by the end of the year.
Several of the new routes include Taipei to Ontario, CA, Taipei to Chongqing (resumed route), China, Taipei to Jakarta, Indonesia, all to be operated by China Airlines. Also, Japanese carrier StarFlyer is introducing service to Taiwan for the first time, with planned service between Taipei and Kitakyshu, Japan beginning on Oct. 28.
Other routes set to begin this year include Air France's flight to Paris, Air New Zealand's service to Auckland, New Zealand, Royal Brunei Airlines service to Seri Begawan, Brunei, and EVA Air and Thai Air Asia's service to Chiang Mai, Thailand.
CAA official Chen-Hua Han said "Japan is still the most popular destination for Taiwanese, among the 30 new routes, 40 percent are to Northeast Asia, 33 percent are to Southeast Asia and 17 percent are to China. CAA will continue to work with the foreign authorities, entice more airlines to fly to Taiwan, including by lowering landing fees, expanding visa-waiver privileges and promoting tourism."
The CAA also revealed that between January and August, Taiwan carried 38.43 million passengers on 2,818 weekly flights, an increase of five and six percent, respectively.
President Tsai launched New Southern Policy in 2016, with the aim of reducing Taiwan's economic dependence on China and enhance the cooperation with Southern Asian countries including Australia and New Zealand. Thus far, the program has made progress within aviation, as 8.38 million passengers have flown between these countries.

Will has been a travel agent in Hong Kong for almost three decades, as time goes by he hasn't lost his passion for his job, He still has plenty of enthusiasm for the airline industry and airport operations.