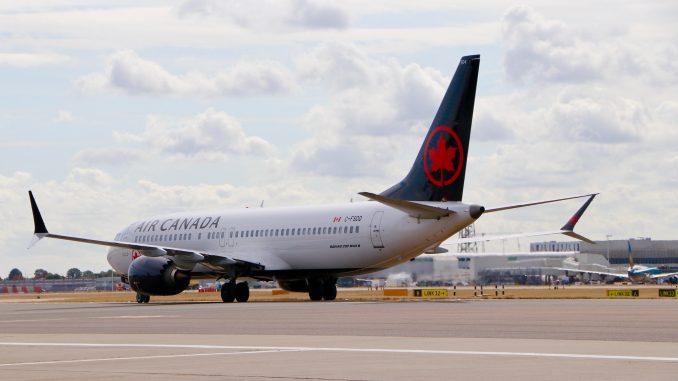 Air Canada is enjoying continued and increasing success in its transatlantic routes, particularly to Germany. Canada's national carrier, including its low-cost variation Air Canada Rouge, has long been riding a wave of profitable years for its flights across the pond.
In 2017, revenues on Canada-Germany routes had increased by 17 percent and passenger volume grew by eight percent. Air Canada's General Manager for Germany, Jean-Christophe Hérault, is expecting another positive year in 2018, according to an interview with the website airliners.de.
Hérault attributes the strong results to an increased in tourism for Canada's 150th birthday and a rollover effect of that into the subsequent year.
"2017 was a superb year for us because it was Canada's 150th Independence Day and entry to national parks was free," said Hérault. "The tourism office and tour operators invested a lot into marketing this. This year demand is even higher because everybody who missed out last year is now wanting to catch up."
Air Canada is the third largest foreign long-haul airline present in Germany. It operates seven routes between Canada and Germany, three of which are seasonal, to cities including Berlin, Frankfurt and Munich. Vienna in neighboring Austria will be added to the destination list as of summer 2019.
The strong showing comes despite increases in competition in transatlantic flights. Air France and British Airways have always offered connections to major Canadian cities such as Toronto, Montreal or Vancouver from their hubs in Paris and London, respectively. Low-cost carriers such as Norwegian and WOW air have, however, also been pushing into the market for a few years, with Primera Air planning flights between Toronto and Berlin, as well as from Frankfurt to Montreal and Toronto, before its demise earlier this month.
Airlines such as Primera Air and Icelandair have either come and gone or offer feed and connect models and pricing. Competition is also increasing at home, where WestJet is expanding its long-haul fleet and starting to use its more efficient Boeing 737 MAX jets to target smaller markets. However, WestJet hasn't announced any destinations beyond Paris for its new Dreamliners and long-haul competitor Air Transat no longer serves any cities in Germany.
Hérault credits Air Canada's "light" pricing, which does not include any checked luggage, and Air Canada Rouge's expansion with being able to keep up with competition from this diverse group of carriers. Air Canada is also able to draw on a relatively fuel-efficient fleet according to Hérault, which saves operating costs in the current high fuel price market.
While he noted that new Air Canada routes beyond the addition of Vienna are not planned, Hérault left the door open to further expansions with the Rouge product to target markets and routes away from the large German hubs of Frankfurt and Munich.
Adrian joined AirlineGeeks as a writer in 2017. He had always wanted to become a pilot and while he chose a different career path for now, his interest in aviation continues to grow every day. Adrian was fortunate to travel extensively for business in the past five years. As a result, he focuses his research and writing on passenger services and experiences on a variety of airlines. His favorite aircraft include the Airbus A350, A380, and the Embraer passenger jets.
Latest posts by Adrian Vannahme (see all)