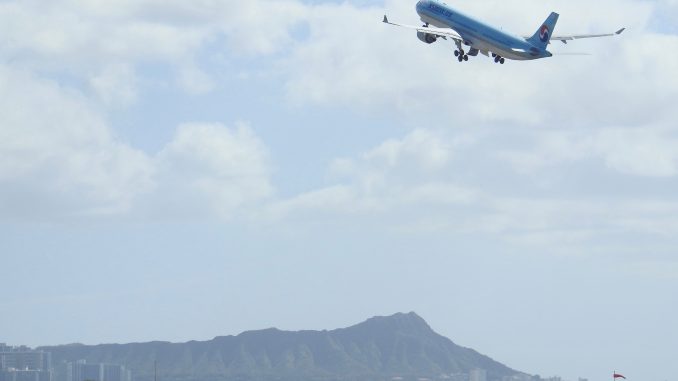 Korean Air is reportedly considering a large widebody order as part of a fleet expansion to replace its aging fleet. The carrier has done a good job of placing orders for and flying some of the most modern narrowbody aircraft across different manufacturers including the Airbus A220, Boeing 737 MAX, and Airbus A321neo.
However, the airlines currently widebody fleet, which consists mainly of Airbus A330s, Boeing 777s, Boeing 747s, Airbus A380s and Boeing 787s, has started to show some age over the years. The average age of Korean's 14 777-200s is a little over 15 years and its 21 A330s have an average age of around 14 years. The airline is currently considering the Airbus A350 and Boeing 777X. While Korean hasn't made a firm decision yet, the decision on the purchase may be made within the next year.
In a statement made to media at the Association of Asia-Pacific Airlines Assembly of Presidents Conference, Korean Air Lines President Walter Cho said, "We are pleased with our current fleet of Airbus and Boeing, but they are starting to show their age. We have to do replacement."
"We have a lot of need for widebodies. We don't have anything I can share right now, but we're in the process…the 777X is coming up, and it will be a good replacement for our current 777, and we're also keeping an open mind toward the A350 as well," added Cho.
The airline operates its 103 widebody aircraft, a bit unusual compared to most carriers. While the carrier utilizes its narrowbody aircraft on domestic routes, it still uses widebody aircraft on those same routes, including a 50-minute flight from Seoul to the Korean city of Jeju.
Additionally, Korean's Boeing 747-400s, which have an average age of 21 years, are inconsistently used and the airline is proposing to retire them soon. It is also worth noting that Korean Air Lines currently has eight Boeing 787-9s in service and has firm orders for two additional 787s.
An "AvGeek" for most of his life, Akhil has always been drawn to aviation. If there is an opportunity to read about an airline, fly on a new airplane, or talk to anyone about aviation, he is on it. Akhil has been on over 20 different kinds of aircraft, his favorite being the MD-80. Additionally, he has visited 5 continents and plans to knock out the remaining two (Africa and Antarctica) soon. Based in Dallas, Akhil graduated from Texas A&M University with a degree in Management Information Systems and currently works in consulting. His dream is to become an airline executive.
Latest posts by Akhil Dewan (see all)