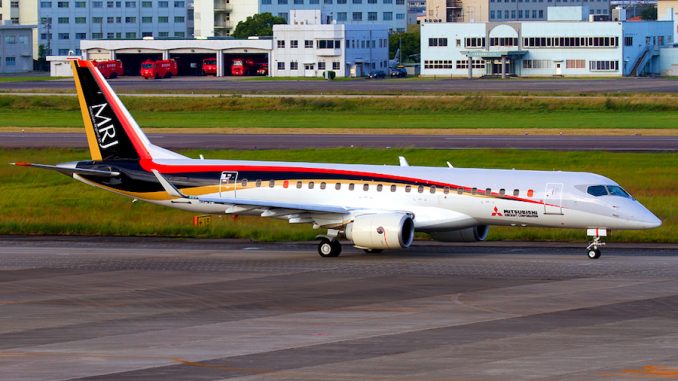 With another week going by, the ongoing Mitsubishi Regional Jet testing program has hit yet another snag that could delay the Japanese jet further. The company has been sued by Montreal-based Bombardier Aerospace for stealing Bombardier testing and aircraft manufacturing practices in recent months. The court case will be held in Washington, which is the state where the MRJ is being tested, according to a Reuters report. 
Mitsubishi had been active in Bombardier's cities of Montreal and Wichita, using tactics like promotional material and job fairs to attempt to win over both Bombardier and Textron flight test engineers to work for their company over their current corporation. Bombardier says their system discovered that some of these departing engineers sent vital Bombardier information from their business email to personal email accounts before leaving the job.
These files including flight testing and certification for both the Bombardier C-Series (now Airbus A220) and Global 7500. Mitsubishi denies requesting information from potential hires and says that Bombardier is simply filing the lawsuit to suppress competition.
While the news of the Bombardier lawsuit has affected Mitsubishi Aerospace, the parent company is still fully committed to getting the aircraft through flight testing. Mitsubishi Heavy Industries announced this week that they would inject ¥220 billion into the aircraft arm to make sure the company stays afloat during their extensive flight-testing program.
The jet had seen numerous delays since its initial concept launch in 2007 and has already missed its originally scheduled completion date that was set for 2013. The aircraft has gone through multiple iterations and delays since its initial launch such as widening and switching from a carbon fiber fuselage to aluminum and having to wait for Pratt & Whitney to finish certifying the PW1200G engines for the MRJ.
The MRJ was finally ready for flight testing in 2015 and would take a flight in Nagoya, Japan before transitioning over to Moses Lake, Washington to complete certification. However, more errors and edits have come to the MRJ in the years following and the aircraft's earliest delivery date now stands at 2020.
Once certified, the Mitsubishi Regional Jet will be the first Japanese commercial jet since the 1960s build NAMC YS-11 and hopes to be more successful than the unprofitable propeller-driven aircraft. The MRJ program currently sits at 288 firm orders and 184 options combined for both the 70-seat MRJ70 and 90-seat MRJ90. Mitsubishi is also leaving the door open for a 100-110 seat aircraft, but that depends on demand and the success of the two current aircraft types confirmed for production.

Ian has been an avgeek since 2004 when he started spotting US Airways Express planes at Johnstown Airport in Johnstown, Pennsylvania. He now lives in Wichita and enjoys spotting planes in Kansas City and Wichita as well as those flying at high altitudes over his home. He is a pilot with more than 40 hours of experience behind a Cessna 172, Diamond DA-20, and Piper PA-28. He flies Southwest Airlines on most of his domestic flights and Icelandair when flying to Europe. Ian's route map spans from Iceland and Alaska in the north to St. Maarten in the south. He is a student at Wichita State University, where he will study aerospace and mechanical engineering.

Latest posts by Ian McMurtry (see all)