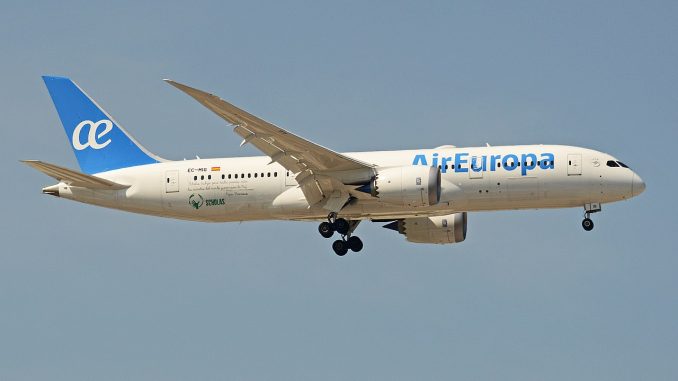 Spain's third-largest airline and Ryanair partner Air Europa is expanding and modifying its long-haul fleet, aiming for a fleet consisting exclusively of Boeing 787 Dreamliners to achieve ambitious goals, according to ABTA magazine. Air Europa's current fleet consists of Boeing 787 Dreamliner and Airbus A330 aircraft, with the latter type being replaced by more Dreamliners, which are newer, more fuel efficient and have greater range.
The move is, however, not just a switch from one aircraft type to another. Air Europa, which is owned by the Spanish tourism operator Globalia, also aims to increase its long-haul fleet size to 27, up from the current inventory of 22 widebody aircraft.
While the current 12 A330s will be removed from the fleet, the airline will add five Boeing 787-9 Dreamliners by the end of 2019 and another 12 of the same variant in 2020 and 2021. The Madrid-based airline will continue flying the eight 787-8 and two 787-9 it has been operating since February 2018. The 10 Dreamliners the airline currently has are being used on routes between Air Europa's base in Madrid and Miami, Bogota, Santo Domingo, Lima, Tel Aviv, Sao Paulo and Buenos Aires.
Air Europa's Managing Director Colin Stewart told ABTA magazine: "It's very exciting to see Air Europa commence the second phase of the modernization plan. The Boeing 787-9 is an excellent aircraft that will promote both leisure and business travelers a sleek and comfortable journey."
Apart from its own short-haul operations, for which Air Europa uses Boeing 737-800 and Embraer 175 aircraft, the long-haul expansion builds on the code-sharing agreement the carrier has with Ryanair. The two airlines have been cooperating on flight marketing since May 2017, allowing passengers to book long-haul flights directly from Ryanair's website. This allows Ryanair passengers to fly to Madrid with the Irish airline and then continue on with Air Europa to North and South American destinations.
New destinations for the additional Boeing 787 have not yet been announced, but will likely begin to slowly replace the Airbus A330s on their current routes.
Adrian joined AirlineGeeks as a writer in 2017. He had always wanted to become a pilot and while he chose a different career path for now, his interest in aviation continues to grow every day. Adrian was fortunate to travel extensively for business in the past five years. As a result, he focuses his research and writing on passenger services and experiences on a variety of airlines. His favorite aircraft include the Airbus A350, A380, and the Embraer passenger jets.
Latest posts by Adrian Vannahme (see all)