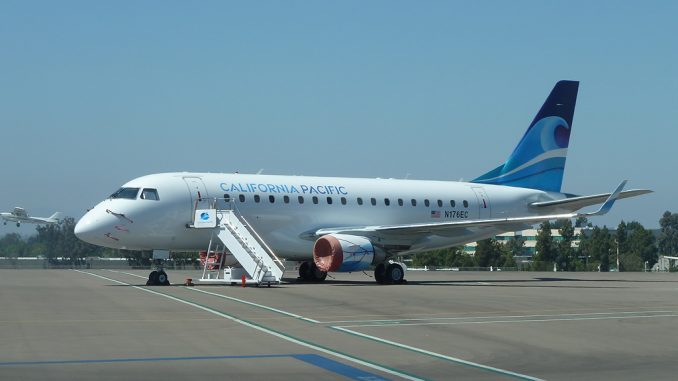 Startup airline California Pacific celebrated the commencement of its first flight this week.
The one hour and 30 minute flight from Carlsbad, California's McClellan-Palomar Airport to San Jose was the first time the airline was able to get off the ground after years of unsuccessful attempts.
Founded eight years ago by 97-year-old entrepreneur, Ted Vallas, the airline hopes to connect people and businesses who live in North San Diego County to other parts in California and the region.
Many of the people who live in that region often have to commute up to one hour just to get to San Diego International Airport for flights.
The airline currently operates a fleet of four Embraer ERJ-145s, which seat 50 people each.
According to the airline, news of the first flight helped to generate traffic on the airline's website as the airline used to receive around 10 people signing up on the airline's website daily but had 90 people sign up this past Thursday.
Start dates had been announced for the airline for years, but somehow never came through. The inaugural flight was reportedly supposed to be on Thursday morning, but mechanical issues pushed the flight's departure to Thursday evening.
"There's a feeling of getting the weight lifted off our shoulders," said Ryan Divita, sales and marketing director for the airline, to the San Diego Tribune. "Now, it is down to making everything as solid as possible. We're feeling good."
California Pacific will also commence flights to Reno, Las Vegas, and Phoenix later this month.
Fares will range from $99 to $149, one-way, and two free checked bags are allowed per passenger.
An "AvGeek" for most of his life, Akhil has always been drawn to aviation. If there is an opportunity to read about an airline, fly on a new airplane, or talk to anyone about aviation, he is on it. Akhil has been on over 20 different kinds of aircraft, his favorite being the MD-80. Additionally, he has visited 5 continents and plans to knock out the remaining two (Africa and Antarctica) soon. Based in Dallas, Akhil graduated from Texas A&M University with a degree in Management Information Systems and currently works in consulting. His dream is to become an airline executive.
Latest posts by Akhil Dewan (see all)