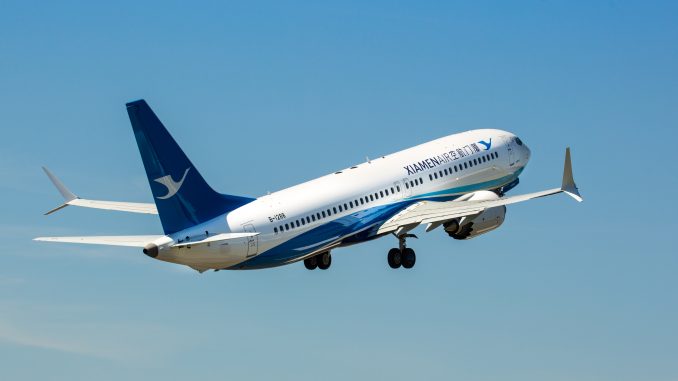 A while back Boeing announced a company first and next month, it will come to fruition. The aircraft manufacturer will open its first foreign production line for a Boeing aircraft in Zhoushan, Zhejiang China as a result of a partnership with Chinese government-owned Commercial Aircraft Corporation of China (Comac).
737 Completion and Delivery Center
This facility established a concrete partnership between Boeing and China, a country with a booming aviation industry expected to surpass the United States aviation industry within two decades.
Currently 30 percent of Boeing's business comes from Chinese carriers either directly or through leasing companies. Boeing expects to sell several thousand new planes to the country over the next twenty years totaling over $1 trillion in sales. The company will use this facility to get at least some of the work done.
The facility called the 737 Completion and Delivery Center will serve as a location for aircraft to receive interior installation, painting, maintenance, and delivery. Annual capacity is expected to reach 100 aircraft, with all of the aircraft at the factory going to serve Chinese airlines. The first Boeing 737 at the factory will be delivered to Air China.
The aircraft will be assembled mainly in the US in Renton, Washington and then ferried to the Zhoushan center where the finishing touches will be added and then subsequently delivered to the Chinese customer.
Challenging U.S.-China Relations
This all comes at a challenging time for U.S. and Chinese relations. Both countries are currently in an escalating trade war with tariffs being imposed by both sides. In addition, just recently the American Justice Department announced that it had charged 10 Chinese nationals with conspiring to steal aviation related intellectual property.
These 10 nationals, several of whom are foreign intelligence officers, have been accused of trying to steal data from CFM International, a partnership between U.S.-based GE Aviation and the French Company Safran Aircraft Engines. This allegedly occurred during the same time that a Chinese government-owned aerospace company was trying to develop a clone of the CFM engine.
Made in China 2025
It is no secret that aircraft manufacturing is one of the goals of the "Made in China 2025" plan, a national drive to move industries across ten key sectors from foreign business to China. The country is developing some aircraft, though none are really ready to compete on the international stage just yet. The Comac C919 flew its maiden flight last year but hasn't gotten much attention outside of China.
While the country is able to produce many key components that go into an aircraft, they are still lacking a lot of the technical knowledge around the core technologies that have been developed and refined by foreign aircraft manufacturers. There are two major pushes to achieve this competency of core technologies to develop their own or copy an existing plane.
Which one will take hold and be the most effective is still uncertain. However, this jointly owned Boeing and Comac facility does bring up a very important question. There is no doubt that China will in the future, perhaps sooner rather than later, be able to build aircraft rivaling Boeing and Airbus. When that does happen, what will come of Boeing and Airbus in China? Will that joint Boeing and Comac facility just become a Comac facility?
In the long run, it's hard to see a future in China for foreign aircraft once the Chinese can master the art of aircraft manufacturing.

Hemal took his first flight at four years old and has been an avgeek since then. When he isn't working as an analyst he's frequently found outside watching planes fly overhead or flying in them. His favorite plane is the 747-8i which Lufthansa thankfully flies to EWR allowing for some great spotting. He firmly believes that the best way to fly between JFK and BOS is via DFW and is always willing to go for that extra elite qualifying mile.

Latest posts by Hemal Gosai (see all)