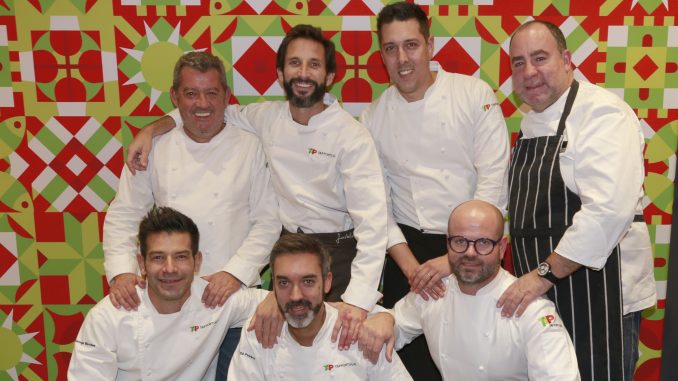 TAP Air Portugal hosted a "Taste the Stars" program in New York City last week in conjunction with Time Out, a British media company. The objective of the event was to showcase the culinary cuisine of Portugal and how it is actively incorporated into the premium cabin experience onboard the airline.
This airline has really come a long way over the past few years, expanding and refreshing its fleet by ordering some of the industry's newest aircraft such as the Airbus A330neo and Airbus A321LR. Just recently, TAP took delivery of its very first Airbus A330-900neo from Airbus, which is set to launch sometime in December on its flagship Lisbon-Sao Paulo route.
Route expansion is happening at a steady pace, with several new routes to the United States being announced in the coming weeks.  The airline has a small U.S. presence, with four cities served, but has announced the addition of Washington and Chicago to its route network and is claiming to be focusing on regions with large Portuguese communities. The next step in the airline's complete rejuvenation is revamping its business class meal service, especially since its A321LRs will be featuring a new business class product.
The "Taste the Stars" program, launched last year, offers business class passengers the opportunity to experience a fundamentally Portuguese dish from a roster of Michelin starred Portuguese chefs. TAP investor and industry veteran David Neeleman believes that this program will allow more people to discover the cuisine and culture of the country.
At the event, we had the opportunity to sample some outstanding dishes personally prepared by the impressive roster of Michelin starred chefs the airline has gathered. Many of the dishes featured modern and unique twists to traditional Portuguese cuisine while others came off as timeless and rustic.
While these dishes were excellent on the ground it generally is a different story up in the air. AirlineGeeks also had the chance to speak to some of the chefs and pick their brains about the kinds of things they need to keep in mind in order to keep their dishes tasting great after they've been reheated and served at altitude.
Most dishes featured some sort of sauce to accompany the main protein, helping ward off dry meat. Cooking techniques are also taken into consideration. Chef Henrique Pessoa explained that braised proteins generally fair well on aircraft due to their long cooking process on the ground which helps retain moisture. In addition, varying levels of seasoning are also used to account for dulling of taste buds inflight.
After sampling so many dishes, it is safe to say that TAP is really putting its best foot forward and if it can execute these meals up in the air, the airline will have a very competitive product offering between the United States and Portugal.

Hemal took his first flight at four years old and has been an avgeek since then. When he isn't working as an analyst he's frequently found outside watching planes fly overhead or flying in them. His favorite plane is the 747-8i which Lufthansa thankfully flies to EWR allowing for some great spotting. He firmly believes that the best way to fly between JFK and BOS is via DFW and is always willing to go for that extra elite qualifying mile.

Latest posts by Hemal Gosai (see all)