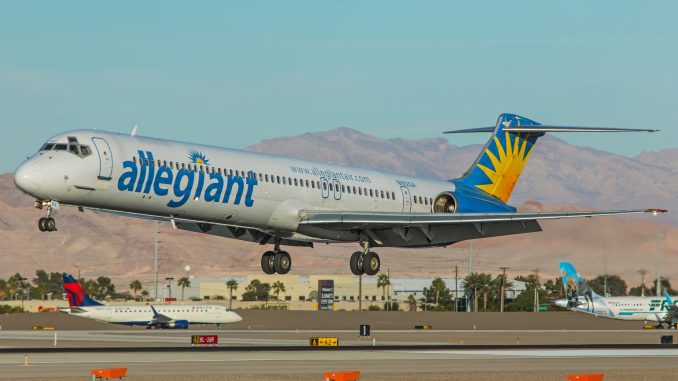 After flying for nearly 20 years, the backbone of the Allegiant Air fleet, the Mcdonnell Douglas MD-80, will flew its last flight in the sun-tailed livery.
After a long transition process, Allegiant is finally putting the MD-80 to rest after flying its final flight from Fresno Yosemite Airport to Las Vegas.
Allegiant has chosen to replace their MD-80 fleet with an all Airbus fleet of A319 and A320 aircraft.
To celebrate the retirement and fleet transition, Allegiant held an open house at their Sanford-Orlando base for employees and guest. The ultra-low-cost carrier hosted a celebratory breakfast and a static aircraft to honor the fleet.
Allegiant teamed up with MotoArt to create luggage tags made from actual Allegiant MD-80 aircraft. Printed on the tag is the tail number and product number.
In addition to luggage tags, Allegiant employees were also given the opportunity to submit t-shirt designs honoring the aircraft type.
The airplanes will be sold to various entities to either continue flying or be parted out.
In October, Allegiant welcomed N259NV, a new Airbus A320, while saying goodbye to two MD-80s: N863GA and N886GA. As of October, only 18 MD-80s remained in the fleet, all of which have been retired by today. The Las Vegas carrier does not have any Airbus delivery plans for November.
Allegiant added Airbus aircraft to its fleet in 2013 after purchasing high-density A319s from easyJet and Cebu Pacific. The carrier began purchasing additional Airbus aircraft from various carriers including Iberia and Philippine Airlines before receiving new aircraft from Airbus in May 2017.
"A single fleet type brings so many things — efficiency, safety, simplicity, reliability, service, etc.," said Allegiant in a video shared with employees. "The decision to convert to a fully Airbus fleet was not an easy one to make, or easy to complete. It's important that we stay true to who we are at the core, flexible and innovative, to stay successful."
Allegiant retired their Boeing 757 fleet in October of last year, marking the end of a seven-year run with the aircraft type. The six airframes were purchased from Thomson Airways to be primarily used on flights to Hawaii.
Matthew Garcia became interested in aviation at the age of 12 when he installed Microsoft Flight Simulator X on his computer. He was instantly "bitten by the bug" and has been in love with aviation ever since. Matthew took his first introductory flight in 2013 and began normal flight training in February of 2015. Over the years, Matthew's love and knowledge for aviation has grown tremendously, mainly due to FSX. Garcia flies highly advanced aircraft in a professional manner on a highly complex virtual air traffic network simulating real world flying. In 2016 Matthew achieved his private pilot certificate from the FAA. Now he studies journalism at the University of Nebraska at Omaha.
Latest posts by Matthew Garcia (see all)