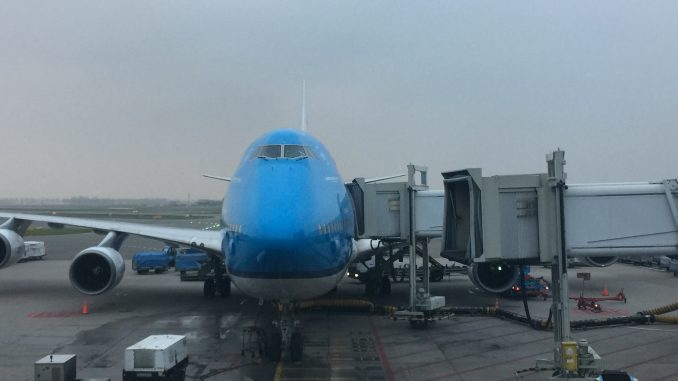 As a typical AvGeek, I've always taken any opportunity possible to fly on the most unique and unusual aircraft flying the friendly skies. I've flown from Phoenix to New York via San Francisco and Chicago to fly on a United 747-400 before it retired, from New York and back via Toronto and Montreal in one day to score an Air Canada A330-300 and from New York to Toronto via Calgary and Edmonton to get on a WestJet Boeing 737-600, amongst others.
Flying back from Europe after a visit to the Airbus Delivery Centre for the first Airbus A330-900neo delivery to TAP Air Portugal, I decided to fly from Toulouse to New York via Amsterdam to fly on KLM Royal Dutch Airlines. KLM has always been on my list of airlines to fly on, as their blue and white aircraft seem so majestic and inviting. To top it off, the aircraft being used on that day was a Boeing 747-400M instead of its new flagship: the Boeing 787-9 Dreamliner.
Although I was overly excited to be flying on a 747, this was a Boeing 747-400 Combi. A Combi, short for combination, aircraft is a combined passenger and cargo aircraft. Although exceedingly rare, major airlines such as KLM and Alaska Airlines have operated Combi aircraft as a way to transport larger cargo that can fit in the underbelly of an aircraft while also getting revenue from passengers. Not only was I flying on a KLM 747-400 Combi, I was flying it on one of, arguably, the airline's most popular routes, Amsterdam to New York.
While before the flight I was ecstatic for what would likely be my first and last flight on the aircraft, as well as on KLM for the matter since I don't often travel via Amsterdam, my experience on the flight was disappointing, to say the least.
Getting to Amsterdam
For the first leg of my journey back home to New York, I flew on a KLM Cityhopper Embraer E190 from Toulouse Blagnac Airport to Amsterdam Airport Schiphol.
The cold French morning allowed for a very steep departure from Toulouse. As we took off, the Airbus facility on the grounds of Toulouse Blagnac Airport was on the ramp with countless liveries from airlines all over the world visible.
While it was a short intra-European flight, the service was amazing. I was sleeping for the first few minutes of the flight and awoke to find a snack on my tray table from the flight attendants, which I've rarely had happen to me. I was also surprised to see the snack was a sandwich, which I didn't expect at all. The sandwich was an odd combination, cheese and mayonnaise. 
Other than the sandwich, there was a drink service and that was it for the rest of the flight as we cruised over France to Amsterdam. When I got off the of the plane in Amsterdam, it was just a quick walk through the glamorous Schiphol Airport to passport control for flights leaving Europe's Schengen Area, where there are automated passport control gates, as well as manned passport control desks.
I was surprised as U.S. passports were allowed to use the gates, as I've only seen them open to European Union passports. I opted to go to the manned desk since I wanted the coveted Schiphol exit stamp, affirming my visit to the airport, although I saw that there were agents at the other side of the automated gates to offer stamps to those who needed since an entry stamp only allows you 90 days visa-free in the Schengen Area. As a collector of passport stamps, I was let down to see both border agents that stamped my passport on this trip had done so half-heartedly.
I was able to easily collect my onward ticket from one of KLM's self-service kiosks, positioned throughout the terminal, and headed straight to the gate. Walking through Schiphol, I was in awe of all the blue and white KLM aircraft, as I've long admired these birds of Amsterdam.
The Gate and Boarding
After passport control, I walked to my gate at the end of a desolate E Concourse where we were the only flight leaving for quite some time. On the way to my gate, I was pleasantly surprised to see an old friend, a Kenya Airways Boeing 787-8 Dreamliner, which AirlineGeeks toured in October following its inaugural flight to New York, waiting for its flight to Nairobi.
Arriving at Gate E19, I saw the bird that would take me from Amsterdam to New York. This Boeing 747-400M was named Shanghai, as all KLM 747s are named after cities around the world. Having seen this aircraft countless times before and wishing to fly on it, I almost couldn't believe that in less than a half hour I would be onboard it. I had nothing but high hopes for the bird and for KLM, the world's oldest operating airline. It was a ray of sunshine on a cloudy Dutch day.
Although there were no additional security checks for this U.S.-bound flight, numerous passengers were called up for additional inquiries such as passport verification, addresses in the United States, etc. Boarding was performed nearly 50-minutes prior to departure, more than enough time for this aircraft since it only holds 268-seats, 140 less than a non-Combi KLM 747.
There were two boarding lines, one for economy and the other for business class and sky priority. I boarded through the sky priority line and was one of the first onboard, perfect for taking pictures before getting settled.
Although the gate had two jetbridges, boarding was done only through one jetbridge affixed to the second boarding door separating the lower business class and premium economy class from economy class.
Walking on to the plane, I knew I was not the only admirer of this iconic aircraft as others were taking pictures as well. Even the flight attendant closest to my seat took note and expressed her sorrow that the aircraft would soon retire from the KLM fleet in a matter of years.
At first, the blue seats with white covers on the headrests looked regal and inviting. Walking back to my seat, I couldn't believe my luck that I would be flying on the aircraft.
The aircraft featured some interesting quirks as overhead projectors lined the aisles of the aircraft, an entire section of the right side of the plane was transformed into a galley and there was even a desk for flight attendants to work.
The Seat
Sitting down at seat 32K, I was reminded of the age of the aircraft. Shanghai is 18 years old, having just celebrated a birthday in November, and it shows. The seat, although comfortable, had all the signs of old age. My excitement to be flying on this old bird was slowly fading as I realized the reality of my situation.
Economy seats on this aircraft feature 31-inches of pitch and 17.5-inches of pitch. Although the seat featured a seatback in-flight entertainment system and that was about it. The system, far from the HD screens found on modern aircraft, was controlled by a tethered remote in the armrest instead of a touchscreen.
The back of the remote seemed to have a telephone functionality, but that had been long disabled.
The selection was quite vast for such an old system. I ended up watching Safe House with Ryan Reynolds and Denzel Washington which I had started on the outbound flight. Additionally, the music section was stocked with popular artists and albums that could be added to a playlist.
KLM even uploaded its popular behind the scenes videos, which I've watched on social media countless times. Unfortunately, as is the case with many older aircraft, the audio jack was not in the best shape and required some rigging to get sound to come out of both sides.
Besides the screen, there was no USB charging port or power outlet, which I could see other passengers looking for. With most passengers downloading content to their phone for the 8-hour and 20-minute flight, they would have to either use portable chargers if they have or be strategic about their phone use. Only business class seats feature 110v AC power outlets. Additionally, there was no WiFi to allow for streaming content or in-flight web surfing, which KLM features on other flights and airlines such as British Airways have been adding onto older aircraft like the 747.
Choosing my seat for the flight proved to be difficult as well, since there are numerous seats with issues, according to Seat Guru. A surprising number of seats have reduced width or are missing a window. My seat was surrounded by seats with a misaligned or nonexistent window, though my seat, fortunately, did not.
Departure
Pushback and departure were surprisingly quick for the large aircraft. I always have this feeling that it takes longer to get an aircraft such as the 747 or A380 going due to its large size. However, to KLM's credit, we pushed back and departed early.
As we took to Runway 24 to begin the journey to New York, I felt the power of the four General Electric CF6-80 engines. While I wasn't thrilled about the flight to come, that feeling alone reminded me why I took the flight. The 747, regardless of interior configuration, is still one of the most exciting aircraft flying.
Due to low clouds over Amsterdam, I was only able to see the ground for about 30 seconds after liftoff before fading into black. I wouldn't see anything out of the window again for another 7-hours and 30-minutes until we descended into New York.
The Meal Service
Since the seat was rather disappointing, I was looking forward to the service as it would help pass the time and I would get to experience the famous KLM charm. The in-flight service began with flight attendants passing out a bottle of water, a packaged towel and headphones with a connector for the audio system. The towel is always a nice gesture after a long day of traveling, especially in economy, and is a nice touch by KLM.
Next up was the meal. Menu options for the flight consisted of beef meatballs and a vegetarian pasta. Feeling on the spot as I always do when ordering in economy since no menus are provided and you're never exactly sure what you're going to get, I ordered the beef meatballs. The offering was quite generous, with the entrée featuring the beef meatballs with mashed potatoes in gravy, a salad, cheese and crackers, a dinner roll and a carrot cake for dessert. No complaints here.
About an hour before landing, flight attendants came back around to distribute the final snack before landing. The snack was a miniature pizza with peppers on top. Although quite tasty, it was rather small and although I usually don't compliment them too much for its food, American Airlines had a better and larger pre-landing pizza snack when I flew their London to New York flight in July that was a shorter than this route.
The Aircraft
Following the meal, it was quiet time for about 6-hours. The seat was comfortable enough to sleep for nearly the entirety of our transatlantic crossing, which took us nearly up to Greenland. After waking up, I wanted to walk around and explore this peculiar and unique aircraft.
A traditional Boeing 747-400 is a massive aircraft with numerous cabins on its lower level. However, the Combi makes the aircraft look incredibly small. In the back of the aircraft, there is a small galley that takes up the length of the center aisle. While the rear of the aircraft usually features the main galley, this aircraft does not.
Next to the galley is a small door that simply says "crew only." Yet, behind that small door is the hollowed-out cabin that now acts as a cargo area. While most of the passengers didn't know it, it was this door that makes the aircraft special.
Moving forward in the aircraft, the economy cabin only takes up a small section, just over 20 rows separated by a bank of lavatories. Clearly, this is not your standard Boeing 747-400.
In between the front two boarding doors is the economy comfort cabin, which features extra legroom seats at 35-inches of pitch. This cabin is the most peculiar, as there are no windows on the right side, only a wall that separates the small cabin, dubbed economy comfort, and the main galley.
Beyond the economy comfort cabin lies the lower business class cabin. Although I didn't get to see that section of the aircraft, I was able to walk upstairs to the upper deck. Walking up stairs on an aircraft is always a mind-blowing experience. The fact that even at the upper altitudes, you can walk just a few feet higher is amazing to me.
Upper deck business class features 20 lie-flat seats and a small galley in the rear of the cabin. KLM has updated the business class cabin of the aircraft but appears to have forgotten about economy. While they will be retired in less than five years, the aircraft still should've been updated in economy. The neglect is evident, and those passengers make up the bulk of the aircraft.
Arrival in New York
Although I was less than impressed with the flight, nothing made me happier than to be flying over my home region of Long Island on my favorite aircraft. Although I'd arrived at JFK Airport on a Boeing 747-8i for the first flight of Lufthansa's rebranding, this was the first time I'd arrived on a Boeing 747-400, which used to be more common at JFK than it is now, especially with Qantas downgrading to a Boeing 787-9 for its New York to Melbourne service.
We had landed 45 minutes early, though that was entirely negated when we had to wait outside of the gate for an aircraft that was occupying it. After finally pulling into the gate, I said what was likely my last goodbye to the 747 and KLM since I seldom fly either.
Final Thoughts on the KLM B747-400 Combi
While I had high hopes for the flight, I had to say that this flight was a disappointment. Although I'm not one to complain about a lack of amenities, having flown transatlantic on numerous low-cost airlines flying barebones aircraft, the old age of this aircraft was disenchanting rather than nostalgic. I was disappointed mostly in KLM for allowing this aircraft to fall into despair without any major improvements.
After doing some research, the average age of a KLM Boeing 747-400 is 22.2 years, according to planespotters.net; although, that number might be a bit lower as the airline just retired a 29-year old 747 just the other day. Now, the oldest KLM 747 is 28-years old with the fleet resting at 11 of the type. While it will be sad to see them go, I wish that KLM had given them the TLC that they deserved.
I truly did want to enjoy myself on this flight and thought that my inner AvGeek would allow me to look past these issues, but I could not considering the length of the flight. KLM's service, however, did not disappoint as the airline's staff go out of their way to provide good service and simple touches such as decorated beverage and meal carts do make a big difference.
This first experience with KLM, the world's oldest airline, was a disappointment, especially since I went out of my way to fly on this aircraft when I easily could've connected through Paris, London or Madrid and saved time while flying on more modern aircraft. While I have nothing but respect for the Queen of the Skies, a true queen should never be neglected as this one was.
I can only hope I have the opportunity to fly the Dutch flag carrier again on one of their more modern aircraft to experience the true KLM, as I know this one flight was not indicative of the whole airline.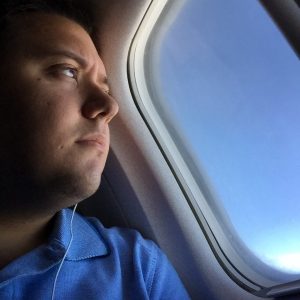 Tom has been flying for as long as he can remember. His first flight memory was on a Song Airlines 757 flying from LaGuardia to Orlando. Back then, he was afraid to fly because he thought you needed to jump off the plane in order to get off. Some years later, Tom is now a seasoned traveler, often flying to places just for the fun of it. Most of the time, he'll never leave the airport on his trips. If he's not at home or at work as a Line Service Technician at Long Island MacArthur Airport, he's off flying somewhere, but only for the day.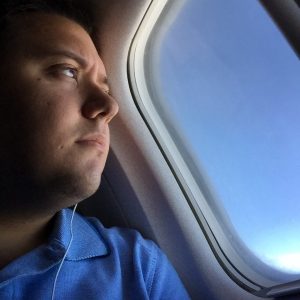 Latest posts by Thomas Pallini (see all)