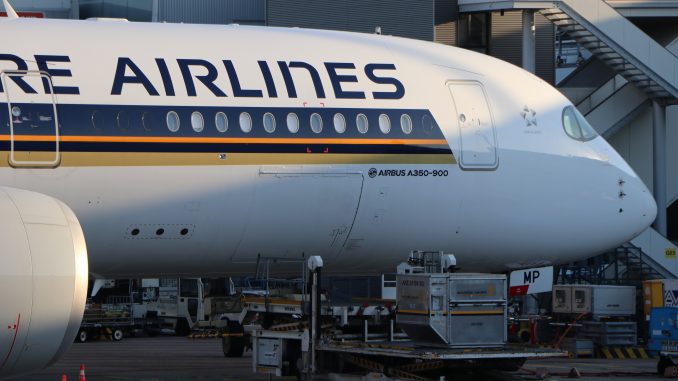 Airbus is looking to strengthen its position on "middle of the market" aircraft to better compete with Boeing, and is considering a two-pronged approach with the Airbus A321neo and a new Airbus A330neo. A new version of the Airbus A350 is also being considered.
Middle of the market, or MoM, is expected to become a unique growth area for aircraft manufacturers as they aim for a product that fits between a typical narrow-body, short-haul aircraft and wide-body, long-haul jets. Middle of the market aircraft have between 230 and 260 seats and are capable of long-haul range, which has previously been dominated by Boeing's 757 aircraft. However, with production of the aircraft ending in 2004, the market niche has opened for new aircraft.
Airbus' marketing manager Crawford Hamilton told Bloomberg that it is looking at making technical changes to the Airbus A330neo so that it can fly short haul. According to Hamilton, this would be possible if the aircraft's Rolls-Royce engines could reduce thrust from 72,000 to 68,000 pounds, which would save fuel.
At the same time, Airbus plans to continue pushing out the long-range version of the Airbus A321neo capable of flying over 4,000 nautical miles. In comparison, a regular A321 has a range of 3,200 nautical miles. This means airlines could use both the A330neo and the A321neo on short-haul as well as long-haul routes. Airbus' strategy is to use the A321neo for lower passenger capacity routes, while the A330neo could take on more passengers.
Both aircraft would be competing with Boeing's 757 and potentially a brand new 797 jet that has been rumored for some time. While Boeing recently delayed a decision for or against a 797, CEO Dennis Muilenburg announced at the Farnborough Airshow that plans remained on the table. A final decision on the 797 is expected for 2019, which would still allow it to meet the planned market-entry date of 2025.
While Boeing ponders the future of the 797, Airbus may also be looking to another aircraft for the middle of the market. Rumors of an A350neo to enhance the current A350 were stoked this week, after Airbus advertised a recruitment campaign for designers and engineers to work on the future of the A320 family as well as the A350. For airlines and passengers, the jousting for a strong position on the MoM segment is positive news, as it will likely lead to more point-to-point flights, meaning more efficient operations for the airlines and more direct flights for travelers.
Adrian joined AirlineGeeks as a writer in 2017. He had always wanted to become a pilot and while he chose a different career path for now, his interest in aviation continues to grow every day. Adrian was fortunate to travel extensively for business in the past five years. As a result, he focuses his research and writing on passenger services and experiences on a variety of airlines. His favorite aircraft include the Airbus A350, A380, and the Embraer passenger jets.
Latest posts by Adrian Vannahme (see all)