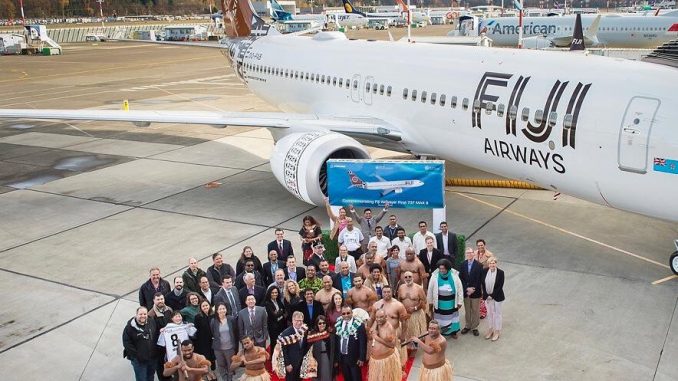 Fiji Airways on Friday became the first airline in the South Pacific islands to take delivery of a Boeing 737 MAX aircraft, receiving its first Boeing 737 MAX 8 at a handover ceremony at Boeing's Everett facility in Washington. The airline plans to take delivery of five MAX 8 airplanes to add to its fleet, and the first of which will arrive at its home in the Nadi next Monday.
Fiji Airways' first 737 MAX 8 aircraft is named "Island of Kadavu," a name previously held by one of Fiji Airways' 737-800s. Boeing has assured the airline that the aircraft's fuel efficiency and range would garner profits and pay immediate dividends, in addition to helping them improve its operation and route network.
Fiji Airways CEO Andre Viljoen was in attendance for the aircraft's delivery and also praised the aircraft for beginning a new chapter for the airline, saying, "The introduction of the 737 MAX is the beginning of a new chapter for Fiji Airways and we look forward to taking advantage of the airplane's superior performance and economics."
According to Viljoen, Fiji Airways hopes to offer its customers a world-class experience through new Boeing Sky Interiors and in-flight seatback entertainment featured in the aircraft.
From its base at Fiji's Nadi International Airport, Fiji Airways serves 13 countries and 31 destinations, including the United States, Australia, New Zealand, Samoa, Tonga, Tuvalu, Kiribati, Vanuatu and Solomon Islands, Hong Kong, Japan and Singapore. It also has an extended network of 108 international destinations through its codeshare partners and earlier this year was invited to become a member of the oneworld alliance as a oneworld connect partner.
Currently, the 737 MAX family of aircraft is the fastest-selling airplane in Boeing history, accumulating about 4,800 orders from more than 100 customers worldwide. Since May 2017, Boeing has delivered more than 200 737 MAX airplanes.
The aircraft delivered to Fiji Airways is one of three Boeing 737s delivered by Boeing this week, one of which is the 2000th aircraft that Boeing has delivered – a Boeing 737 MAX 8 for XiamenAir.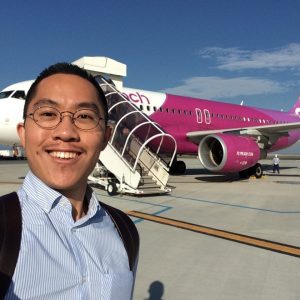 Most people hate long flights or overnight layovers, but Albert loves them. The airport and flying parts of traveling are the biggest highlights of any trip for him – as this avgeek always gets a thrill from sampling different airline cabin products and checking out regional developments happening at local U.S. airports. He's flown on almost every major carrier in the U.S. and Asia Pacific, and he hopes to try out the new A350s soon.

Albert recently completed his undergraduate studies in Business Accounting at USC in Los Angeles and he is currently recruiting for a corporate analyst position at one of the U.S. legacy carriers. During his college years, he interned at LAX for Los Angeles World Airports working behind-the-scenes (and on the ramp) in public relations and accounting. Outside of writing for AirlineGeeks, he enjoys trekking the Hollywood hills, visiting new hotspots throughout SoCal, and doing the occasional weekender on Spirit Airlines.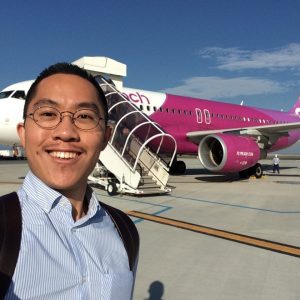 Latest posts by Albert Kuan (see all)