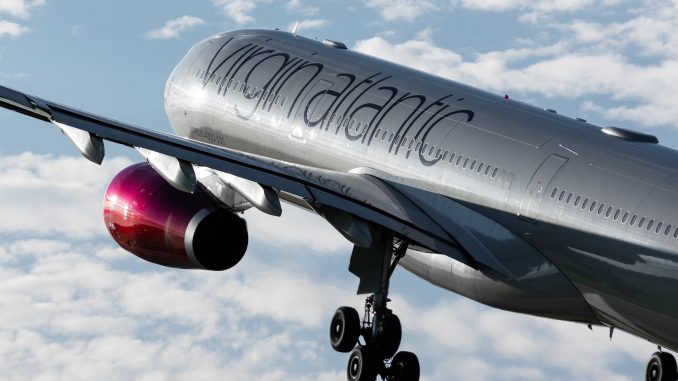 The Professional Pilots Union, the group that represents around 30 percent of Virgin Atlantic's pilots, is planning to strike on December 22 and will strike until Christmas.
The strike comes after the union was excluded from talks regarding proposed changes to pilot benefits.
"We hope that Virgin acknowledge (sic) the mandate our members have given us, and help avoid strike action by recognizing the PPU and halt the benefits review that is so damaging to our members' long-term security," said Professional Pilots Union spokesman Steve Johnson in a statement to the Western Telegraph.
It is reported that Virgin Atlantic does not recognize the Professional Pilots Union as a "legitimate and independent union."The Professional Pilots Union was launched in 2013 after splitting away from Britain's main pilot union, the British Airline Pilots Association.
The union has been conducting a work-to-rule action, which means that employees do no more work than the minimum amount required by their contracts, for the past two years in order to secure recognition by Virgin Atlantic.
In a statement to USA TODAY, Virgin Atlantic responded by saying, "a small number of our pilots have voted for industrial action. Our absolute priority is to ensure that all of our customers can continue their journeys as planned this Christmas, and we're working hard to protect all of their trips."
Two other strikes are scheduled to occur for the Professional Pilots Union, one from December 30 to January 2 and another from January 4 to January 7.
It is worth noting that the union has voted to strike around Christmas in previous years as well.
Virgin Atlantic has confirmed the strike and the British carrier is confident that the strike will not affect any holiday plans for its travelers.
An "AvGeek" for most of his life, Akhil has always been drawn to aviation. If there is an opportunity to read about an airline, fly on a new airplane, or talk to anyone about aviation, he is on it. Akhil has been on over 20 different kinds of aircraft, his favorite being the MD-80. Additionally, he has visited 5 continents and plans to knock out the remaining two (Africa and Antarctica) soon. Based in Dallas, Akhil graduated from Texas A&M University with a degree in Management Information Systems and currently works in consulting. His dream is to become an airline executive.
Latest posts by Akhil Dewan (see all)