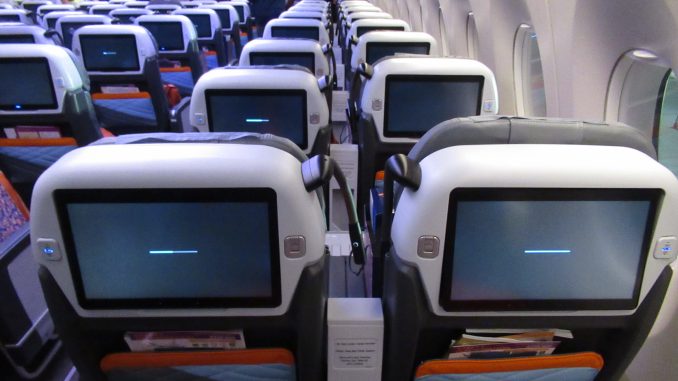 Premium economy class is an interesting experience, the customers don't need to go on a spending spree to enjoy better services, ample legroom, priority check-in and boarding, eligibility for using the lounge, along with even more hand luggage.
British Airways has recently announced that they are giving a new experience to premium economy class passengers. The airline is celebrating its centenary this year and will invest £6.5 billion pound ($8.4 billion USD) over five years, including new aircraft, new cabins, new catering, new lounges, WiFi and new routes.
Carolina Martinoli, Director of Brand and Customer Experience for the company, said, "This latest tranche of our 6.5 billion investment is set to improve World Traveller Plus and customers will see a real change to the cabin. In February the new menus will launch, followed in the Spring by the introduction of new amenity kits, quilts and pillows for added comfort and a touch of luxury."
The new menu includes braised British beef with roasted new potatoes, onion soubise and bourguignon sauce, roasted guinea fowl with braised red cabbage, green beans, roasted potato and mustard and chive jus and rigatoni pasta in a creamy garlic sauce and herb sauce with leak, pumpkin and baby spinach.
World Traveller Plus passengers may pre-order their own meal up to 24 hours before departure online. The airline features a third main meal option and a more substantial hot meal later in the flight. According to Daily Mail, a pre-packed sandwich will be served currently depending on the time of the flight.
British Airways is not the only carrier making the enhancement. Earlier, Singapore Airlines has announced that premium economy class passengers may pre-order their meal choices anytime from three weeks before travel up to 24 hours before departure.
SIA's Book the Cook program lets Suites, First Class, and Business Class passengers pre-select their meals. The airline is now extending this service to premium economy customers as well.
Yeoh Phee Telk, the senior vice president customer experience for SIA said, "The response to our soft launch of the new meal pre-ordering service was very encouraging, and we are now pleased to offer it to all premium-class customers travelling across our global network."
In the meantime, Taiwan-based EVA Air also upgraded its premium economy class, the airline is in partnership with SPORT b. and Furla. Starting this month, premium economy class passengers may receive brand new amenity kits.
Expecting the economic growth, the demand of premium economy class has remained high, the airlines have to bolster its own facilities to compete with other rivals. Two to three decades ago, premium economy class was a new concept for passengers, nowadays we are all looking for an upgraded ride.

Will has been a travel agent in Hong Kong for almost three decades, as time goes by he hasn't lost his passion for his job, He still has plenty of enthusiasm for the airline industry and airport operations.