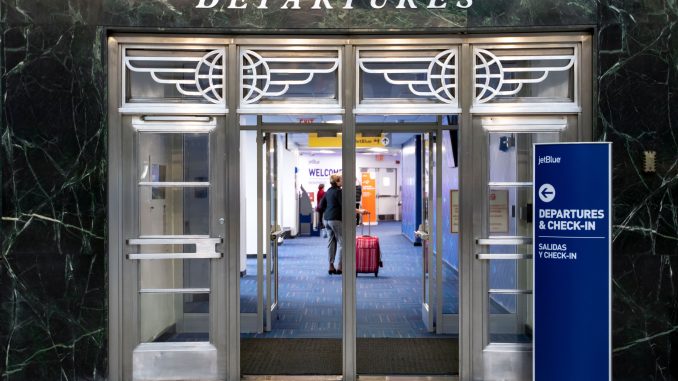 While Terminal B at LaGuardia Airport undergoes its $4 billion facelift, a smaller terminal on the opposite side of the airport is getting a renovation of its own. When construction began on Terminal B, many airlines relocated to neighboring terminals with. JetBlue Airways moving to Terminal A, LaGuardia's historic Marine Air Terminal. Previously occupied by Delta Air Lines for its Delta Shuttle flights to Washington, Boston and Chicago on Embraer E175 aircraft, JetBlue now operates all of its flights from the terminal to Boston, Orlando, West Palm Beach and Fort Lauderdale.
Built in the 1930s, the Marine Air Terminal was originally built to handle seaplanes, including the famous Pan American Clipper flights. Now home to JetBlue's LaGuardia operation, the only thing that remains is the historic rotunda with James Brooks' famous mural, "Flight." Although you're transported back in time when arriving at the terminal doors, as soon as you step past the doors that read "departures," the entire scene changes to the more modern and traditional feel of JetBlue and you're brought back to 2019.
Similar to JFK Airport's Terminal 5, one of JetBlue's flagship hubs, passengers check in and tag their own bags using the kiosks or can head to a customer service agent if they need further assistance. Immediately after the check-in area is the TSA checkpoint and from there its a short walk to the gates, one of the main features of the small terminal. With an already limited amount of spaJetBlueBlue managed to maximize all the space it had without making the terminal look congested.
JetBlue wanted to make the experience for passengers in the terminal quick and seamless from check in to boarding. Immediately after TSA are CIBO Express Gourmet Markets by OTG that sell everything a passenger may require before, during or after a flight. With passengers moving quickly in and out of the terminal, JetBlue embraced the idea of having a grab n' go concept through Cibo Express.
Despite its small size, JetBlue managed to carve out a small area in the terminal away from the gate away that seats about 15-20 passengers. The area is a good way for travelers to relax, get some work done or get a quick charge for their electronics before their flight. During our visit, there were three flights on delays along with scheduled departures but the passenger seating areas never seemed overcrowded or inconvenient. Additionally, JetBlue removed most of the white walls and empty space that Delta didn't fill while operating out of the terminal. The entire terminal is now filled with JetBlue branding, giving the terminal a much more vibrant feel.
JetBlue also brought its OTG experience partnership to Terminal A as the lone restaurant, Salotto, gives passengers the to opportunity to order Italian food to stay or to go. Passengers who decide to stay can sit comfortably while ordering their food from an iPad, a common OTG theme. The restaurant gives travelers a taste of New York either when departing or arriving into the city.
JetBlue will remain in Terminal A for a few more years while a decision looms whether to stay in Terminal A or move back into, what will be, the newly renovated Terminal B. However, based on the improvements made to the historic Marine Air Terminal, the airline might be better off staying place for the foreseeable future, with Terminal A acting as a nice reprieve to the hustle and bustle of the terminals across Runway 4.
AirlineGeeks.com began in February, 2013 as a one-man (er… teenager, rather) show. Since then, we've grown to have 20 active team members, and yes, we're still growing. Some of us are looking to work in the aviation industry as professionals when we grow older. Some of us are still trying to decide what we want to do. That's okay though, because we're all here for the same reason: we love the airlines. We're the youngest team of airline industry journalists out there.
Latest posts by AirlineGeeks.com Staff (see all)